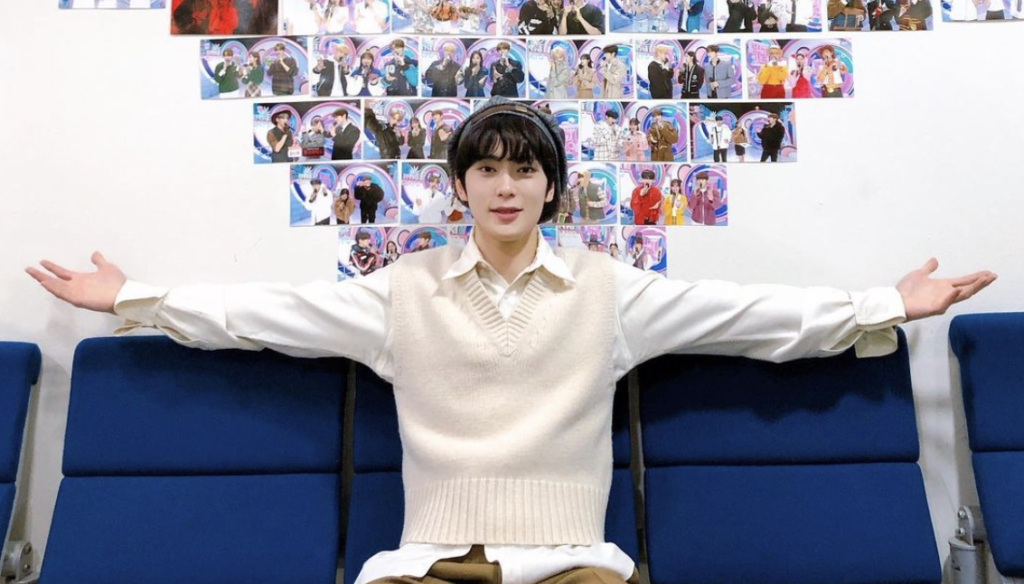 By Marbella Ramirez | @jaehvunity
Sundays are traditionally labelled as a resting day, but for NCT's Jaehyun,Sundays are meant for Inkigayo. All who are fond of Jaehyun have a special place in their hearts for Sundays. Those beautiful days, however, came to an end on February 28 of this year.
인기가요 MC 첫방 얼마 안 남았다!!
응원해준 시즈니들 너무 고맙구 앞으로도 많이 응원해주세요 ㅎㅎ이따 봐요✌️#JAEHYUN #NCT #NCT127 #인기가요 pic.twitter.com/GhjtqYEpHe

— NCT 127 (@NCTsmtown_127) October 20, 2019
A generous year and four months were gifted to fans of not only Jaehyun, but also April's Naeun and Monsta X's Minhyuk. Two of Jaehyun's birthdays, two Christmas, two New Years along with multiple other holidays have been shared during this journey. Here are a few reasons why Inkigayo made us feel all sorts of emotions.
Jaehyun's Multiple Personas
A pilot. A cat. A toy cowboy. What do they all have to do with Jaehyun? Inkigayo's various costume outfits were always something to look forward to. Through the help of Inkigayo, fans had the honor of experiencing Jaehyun as many other professions, and can we just say we loved each and every one! However, if we had to choose favorites, there may have been a few…
#ThankYouMCJaehyun#영원히_기억될_일요일의_재현이 pic.twitter.com/mIqkYSFIrP

— ً (@127SOURCE) February 28, 2021
Interactions! Interactions! Interactions!
Coming from a 23-member group you would think it would be normal to see Jaehyun interact with WayV or NCT Dream. However, it was always the opposite. The best interactions always seemed to be with his fellow members, although you can't forget some other iconic interviews.
jaehyun and winwin are always beside eo during inkigayo interviews ;~; pic.twitter.com/ZSOYEVWpNv

— 천재현♡̴ (@jaehvunism) November 29, 2020
Songbird Jaehyun
We can't ever get enough of Jaehyun's sultry vocals and Inkigayo made sure to help us out in that aspect. Making sure to include our favorite song lyrics in his script, we are now in possession of several extra Jaehyun singing clips such as EXO's "First Snow."
Jaehyun singing EXO's first snow because of the first snow in seoul today ❄ pic.twitter.com/308GXck3Is

— eh_ovo_nct ☆ taeyong (@taeyong1st) December 13, 2020
Third Wheeling?
For one reason or another it always seemed as if Jaehyun's outfits contrasted against his fellow MC's outfits. Whether it was a good thing or not, you can't deny it was at least a bit funny.
minhyuk and naeun said let's wear couple outfits and make jaehyun third wheel pic.twitter.com/iiUnErQhDc

— RAY? (@yunotingz) September 13, 2020
"He Breathed"
For Jaehyun fans, a social media drought isn't at all alarming. Without Inkigayo however, Jaehyun has lost part of his posting material for Bubble and Instagram. Get ready for a long wait…
View this post on Instagram
The Jaehyun Curse
Like Mike Wazowski in Monsters INC., Jaehyun seemed to live with a camera curse on Inkigayo. Blocking his beautiful visuals from the world, the logo box displayed by SBS became a real laugh for the audience.
jaehyun logo curse a never ending saga pic.twitter.com/qSws6iN3EC

— eada (@cloudybubby) August 16, 2020
Inkigayo Enchanted
Inkigayo seemed to be enchanted by Jaehyun. Some fans would say "they were whipped." For "Punch," a throne was put in place. For "Make a Wish" promotions, they set up a gallery with messages.
Inkigayo goes all out when it comes to Jaehyun. A throne for Jaehyun during Punch era, and now paintings for Make A Wish?

They really said, "Jaehyun supremacy." pic.twitter.com/1q6RopqYUz

— ً (@9597jaeyong) October 17, 2020
Inkigayo Fairy Jaehyun
Having gone through three different comebacks in the past year alone, Inkigayo always made sure to include Jaehyun in the ending fairy line-up. We aren't complaining though!
we're getting new jaehyun ending fairy on inkigayo tomorrow ? pic.twitter.com/GBz0U5i9VJ

— ashley? (@jaehyunzmilkGOs) October 17, 2020
MC Friendship
After filming for over a year, Naeun, Minhyuk and Jaehyun have grown close. Being an idol is difficult work, for these three, friendships are a different story. 
Last year, Jaehyun went for an overseas schedule and bought toblerone chocolate as gifts for the Inkigayo family too! He's so sweet and takes good care of the people around him? pic.twitter.com/XKAUTARwD7

— 린 ? (@jaehyunbom__) December 9, 2020
Special Stages
NCT has a specific concept going on, meaning that it is rare to see certain types of performances by Jaehyun. Luckily, Inkigayo has given a few surprises.
Reoccuring Outfits
Simple, yet beautiful outfits were given to the MCs to wear on their first day of the job. Nostalgia hit when these outfits reappeared for their final show. 
오늘 인기가요 엠씨 첫방 봤나요?
응원해준 시즈니들 고마워요~진짜 큰 힘이 됐어요!!
다들 주말 마무리 잘하구 담에 봅시다?#JAEHYUN #재현 #NCT #NCT127 #인기가요 pic.twitter.com/mZc26howQM

— NCT 127 (@NCTsmtown_127) October 20, 2019
View this post on Instagram
Goodbye
For their final speech, all three MCs held themselves together as they bid farewell to their post. Tears were held back by all MCs and a final group hug was given. If that wasn't enough to start the waterworks, we're not sure what is.
We've had a long run with our wonderful Inkigayo hosts. The best is hoped for them as they move along on their idol journey.
Check out the beauty production behind NCT 127's "Chain" here!