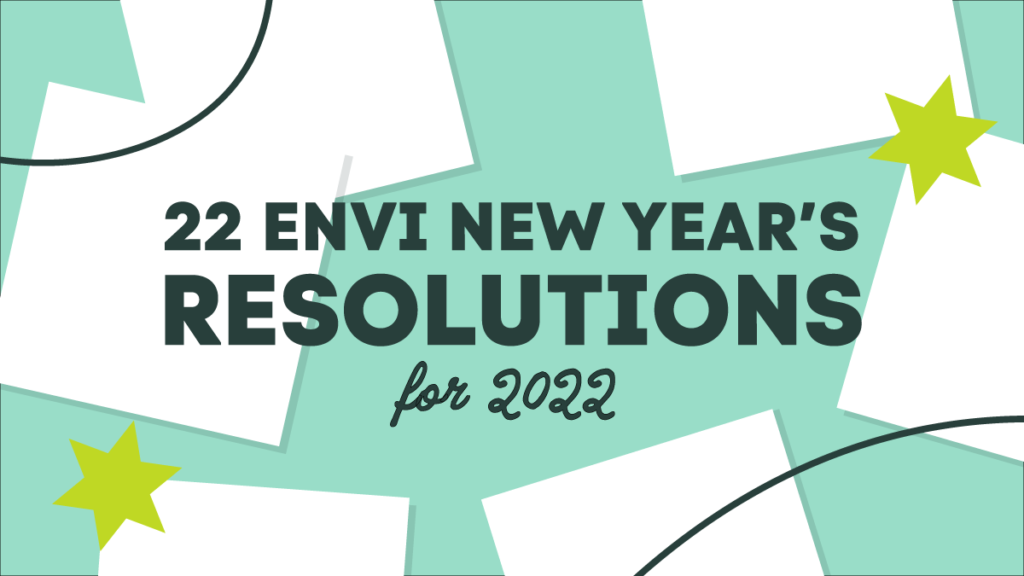 It's that time of the year to say "new year, new me!" 2021 was certainly an eventful year to say the least. With the ongoing pandemic, it was difficult for a lot of us but we all got through! For many, the start of another year means hoping to bring forth a positive change in their lives and Team EnVi hopes to do the same. Check out our new year's resolutions below!
Our Resolutions
Since the start of the pandemic, I feel like someone pressed the fast forward button on the universe and forgot to press play. This year for 2022, I want to slow down a bit and focus on myself. Maybe even stop and smell the roses every morning 🙂 -Sumaiya, Lifestyle Writer
I hope 2022 brings me more chances to get to know myself even better and more opportunities to work with wonderful people in the things I love. -T. Aquila, Junior Managing Editor
These past two years have been hard on everyone including me, it felt like I started to forget how precious every single moment is. In 2022 I want to focus on enjoying every situation, even the small ones like opening your favorite book or a casual hang out with friends. Additionally, I want to take care and improve myself. -Mafe Ramos, Features and ACT!ON Writer. 
During the pandemic, I've been slowly finding who I really am and what my own dreams are. I've been searching for answers of what happiness really is and one step at a time I am finding it. In 2022, I hope for big changes and new opportunities. I hope to go out there and enjoy what I really love to do….. and chase after it. Don't follow what others want you to do, follow what you truly want to do. Life is still young so do the unexpected! -Isabel Resendis, ACT!ON Writer 
2021 was a really big year for me when it came to changing my career path, so it's been an eventful year, to say the least! It was truly a moment where I decided to choose myself and my happiness over anything else. In 2022, I want to continue this and practice choosing myself more, in all capacities. -Nikole Ogilvie, Fashion Writer
2021 has been an eventful and challenging year for me, particularly regarding my mental health and confidence. I graduated college and have spent the year working on myself, beefing up my resume, and looking for jobs. In 2022, I want to be smarter with my money, go to concerts again, and think about what I really want to get out of life. -Diana, Writer/Podcast
2021 was one of the hardest years of my life, and I'm really looking forward to the new year. For 2022 I want to continue on my mental health journey and focus on creating more opportunities for Team EnVi! My resolution is definitely to help uplift my community. 🙂 -Azadeh, Editor in Chief
These past two years have been incredibly exhausting, mostly mentally. My situation has been preventing me from going to college and finding a good job—basically holding me back from starting my life—so in 2022 I hope to finally kick off both my academic and professional career. I also want to continue creating myself by practicing spirituality more often, working on my confidence, and working on my mental and physical health. As a bonus to make 2022 even better, I'd be grateful to have the chance to go to concerts and travel! -Crista, Spanish Translator and Lifestyle Writer
I have gained new experiences and have tried many new things in 2021 and have learned a lot! I have been on the road to getting my Bachelor's Degree in Film and in 2022 I will be fulfilling this dream and achievement of mine by graduating. In 2022, I want to be able to find a job that I will love and to be able to move out of my hometown to seek out new opportunities. I want to travel more, go to more concerts, and kick off my professional career and live a more healthy lifestyle. -Faith, Video Producer
In 2022, I want to focus on doing more of what I truly want than what other people want me to do. Hopefully, the pandemic situation gets better because I want to travel more and explore more. I really want to enjoy life before I have to start working full time. -Naema, Junior Managing Editor
I'm still processing 2020 so I'm gonna have to carry over some of those 2021 resolutions to 2022. Hopefully, this year is keeping me busy in a good way. I have things that I want to try and do, places I want to go, and people I want to meet. I want to let myself be and really connect with myself to find what I want. I hope everyone at EnVi continues to grow and develop to their fullest potential. Lots of Love for everyone this 2022!!! -Anabel Zaldivar, Spanish Translator
2021 had to be one of the hardest years of my life… So, I hope that I can use 2022 as a year to learn and heal. I held myself back from a lot last year, so it's important to me that I use next year as a chance to learn to believe in myself, my choices, and my potential. I want to travel more, experience new people and places, graduate college with honors and so much more. I spent the entirety of 2021 worrying so much about other people, that I didn't get to focus on myself. So, 2022 is dedicated to bettering myself and becoming the me I always wanted to be. 🙂 -Chanel Wilson, Beauty Writer
2021 flew by so fast, at first, I feel like I didn't get to really enjoy anything or focus on my passion, but when I look back at what I accomplished, I am so proud because I truly did not see myself getting this far. More than ever, I am inspired by my family, my friends, Team EnVi, and myself to continue to push forward, grow as an artist, and embrace who I really am. In 2022, I want to continue to grow artistically and help others like me grow and become confident in who they are and in what they do. 2021 was the year of me asking myself "what do I have to lose?" before I dive into anything, and I want to continue to do that because it allows me to be brave and secure in my skills and identity! -Kryscy Boulin, Beauty Editor
I feel like my past four years in college have been a blur and it's very much been just me doing stuff and going through the motions to get stuff done. In 2022 I want to properly focus on self-improvement and growing my skill set in areas I WANT to improve in. I want to devote more time to myself and also focus more on my mental health in a way I wasn't able to before. I'll be graduating in May and while it's very scary, I'm also so super excited for all that's to come and can't wait to keep growing into my own person. -Noor Haddad, Video Producer
Seeing EnVi grow from the very beginning has brought many surprises and celebrations for our team. I have never been connected to a team like this, and I appreciate the warmth, love, and support they give me. 2021 was okay, but so many things will be happening in 2022 that I am super excited for but very nervous about. I want to continue working on my growth and the work that I've put into things I love, and I also want to focus on my mental health and well-being. Life has taught me a lot about myself, how I fall down, and how I get back up again. So building myself up from my past experiences will not only be crucial for 2022 but my life ahead. -Arquala Davis, Managing / Lifestyle Editor
The past two years have been eventful and challenging for everyone. For me, I feel like I got to experience so much through these years both good things and bad things. In 2022 I want to learn to be kinder to myself and understand that not everything is going to be easy but that whatever it is I can get through it, I want to be more confident and be able to learn more about the things I love, I want to have more time to invest on myself and the people I love. I hope 2022 teaches me well. -Mafe Morales, Writer/ Photo Team 
Since the pandemic pushed my year abroad back, it gave me the chance to study more as well as a new language. For the year ahead I'd like to pass my placement exams for Korea and reach at least a level C1, in order to be comfortable with living out there for university. In terms of my personal hobbies, I would like to recreate costumes from some of my favorite animes and films, as well as gain the confidence to share them online. -Taylor, Beauty Writer 
2021 has been an eye-opening year where I finally started focusing on what I wanted to do. In 2022, I want to continue doing things that excite me. I want to travel more and further develop my writing skills. I want to live life to the fullest and enjoy every moment. -Khadija, Junior Managing Editor 
2021 was a chaotic year, to say the least! I finished college, made so many memories (both good & bad), and so much more! In 2022, I want to continue to learn and grow as I navigate adulthood, I want to have experiences that make me feel excited and fulfilled, and I want to travel with my friends (when things improve). Overall, I just want to be happy and live my best life in 2022. -Taylor R, Junior Managing Editor
2021 was a year of drastic changes for me–from making a career change to returning to college several years after my previous degree. Next year, I want to continue to enjoy what sparks joy in my heart, but embrace those hobbies and interests fearlessly, without worrying about what others may think or say. I hope 2022 becomes the year where I begin living authentically and unapologetically. -Sabrina, Senior Managing Editor
In 2022, I would like to act more courageously and work hard toward the skills and hobbies that are important to me. Regardless of others' opinions or what other people think is right for me, I want to forge my own path and break barriers, on my own terms. I commit to these healthy actions and habits that will help me grow mentally and intellectually. -Jannat, Video Editor
In 2022, I don't want to hold onto regrets from the previous years anymore. I want to be more confident in my choices and actions and keep my gaze to the front, striving forward into the new year. I want to be able to ask for help when I need it. I want to be unapologetic instead of feeling regretful and make decisions that make me happy. -Fathima, Junior Editing Manager
Want more lifestyle content? Read about self care products love by our team here!