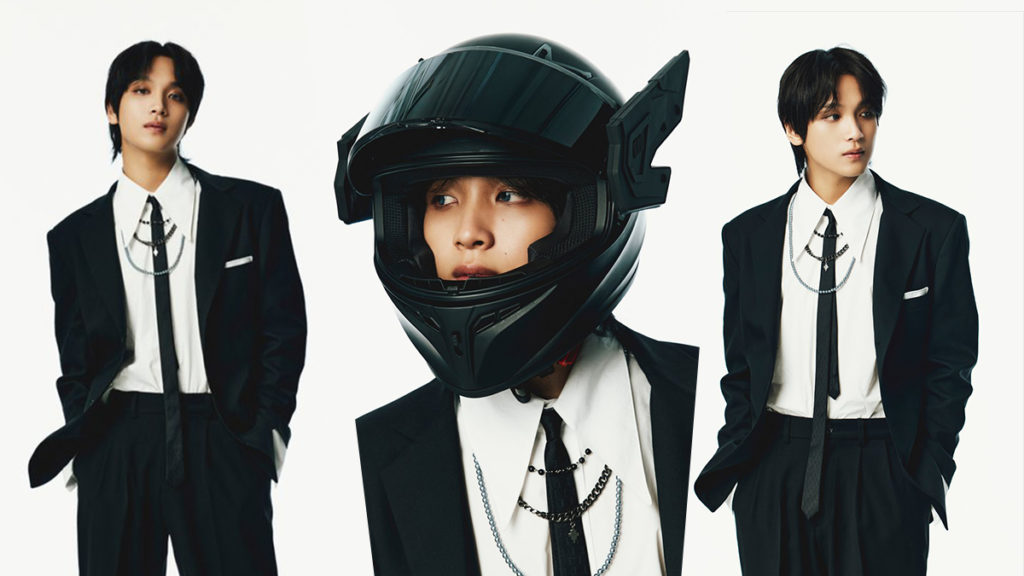 NCT DREAM's second full-length album, Glitch Mode, will be released soon. After the success of 2021's Hot Sauce and its Hello Future repackage, the group is set to show off a new image in the upcoming era. The septet referred to this comeback as an upgraded NCT DREAM. To celebrate, EnVi is reflecting back on each member's individual growth and evolution. With the comeback just around the corner, let's explore Haechan's accomplishments and various skill sets. 
The Honey-like Vocalist
Haechan is known for his distinct vocals, which have been described as sounding as sweet as honey by fans. He has become a regular for NCT's bridges and a fan favorite for his outstanding and unique vocal tone. From the high notes in NCT 127's "Highway to Heaven," to harmonies with fellow member Ten in NCT U's "90's Love," Haechan's vocals have captivated many.
Recently, vocalist Haechan caused a wave of excitement due to the release of his original soundtrack debut with a 2022 rendition of Korean rock band, Toy's "Good Person." Since its release, Haechan's cover has been climbing up the charts.
Radiant Visuals
In addition to vocal talent and skills, Haechan is also recognized for his good looks and self confidence. Beyond the concept photos for NCT's discography, his features in magazines and partnerships have highlighted Haechan's alluring visuals. In June 2020, Haechan, Jungwoo, and Mark graced the cover of at star1 magazine for its 100th issue. Haechan's dirty-blonde curly hair seen in the at star 1 feature became a memorable photoshoot among fans. Similarly, as ambassador for Nature Republic with NCT 127, Haechan's visuals have caused enthusiasm online. For a promotional video of Nature Republic's Chamomile Calming and Soothing Emulsion, Haechan flaunted in a lively garden-like setting. Though Haechan is yet to have a solo magazine photoshoot, there is no doubt he will thrive with his alluring appearance.
Mesmerizing Dancer
Though mainly recognized as a vocalist, Haechan has also garnered attention for his dancing. In a YouTube video from Studio K, Haechan mentioned his background in ballet, sports dance, jazz, and contemporary dance. With a background in different types of dance, Haechan's capabilities as a dancer are often praised by fans online. Whether it's his fluidity and attention to detail or his smooth and neat footwork, Haechan's dancing captivates fans. Haechan's dancing is highlighted in the YouTube video "'IDEA' Dance Tutorial with 탬또롤 | TAEMIN." In the video, SHINee's Taemin teaches Haechan the choreography for his song "IDEA:理想." Throughout the video, Taemin praises Haechan's ability to learn the dance moves quickly and his attention to the choreography's details. After Haechan requests to learn part of the choreography in the pre-chorus, Taemin expresses "You are too good. I don't think I'll even need to teach you that."
The Mood Maker
Haechan has been referred to as NCT's mood maker by his members. He received his stage name, Haechan, from Lee Soo Man, founder of SM Entertainment and was given this stage name due to his warm and bubbly personality. Haechan means "Full Sun" in Korean, which is why his fans are called Sunflowers. This was explained in a Hit The States episode with member Mark during their time in the U.S for their tour NEO CITY – The Origin. Despite maintaining a very busy schedule, Haechan always has a positive attitude and is always there for his members. On NCT Dream's THE STAGE video, Renjun explained his gratitude for him. Renjun said, "You never show us that you're tired and are always so cheerful, so thank you so much for that." He later explained how Haechan makes situations fun and that's why he's thankful for him.
Haechan's Hosting Abilities
Haechan has been able to brand himself through behind the scenes content and vlogs. In videos, he often pops up into the frame of videos and introduces himself with "I'm Haechan from HaechanCam with a 37.5 viewer rating." This joke then turned into reality with his radio show, 37.5MHz Haechan, where he invites different NCT members to discuss comebacks, album releases and different challenges. The first Haechan radio aired in 2020 to celebrate the release of NCT 127's second album Neo Zone. Haechan also makes sure to include fans by reaching out through social media to send in fun or interesting stories for him to share.
Another instance of his variety and hosting skills is on ☀️WELCOME TO SUN&MOON🌕 with fellow NCT member Taeil. The idea stemmed from Taeil's surname Moon, Haechan's stage name Full Sun and how the inseparable duo is always seen together, making the other members laugh.Their friendship can be seen through the various episodes they share with other NCT members.
A Talented Pianist
Haechan has also showcased the ability to play piano. One of the first moments that Haechan showed fans his ability to play the piano was on Korea's Mickey Mouse Club when he was a SM Rookie. Haechan performed a short song on the piano and left the hosts and audience in awe. In between schedules and while not actively performing, Haechan is quick to find a piano to play to entertain his members and the staff in the room. From the classic "Chopsticks" to more recent tracks from Justin Bieber and SHINee, Haechan shows off his versatility and diverse music taste. The most recent instance fans saw Haechan playing piano was during NCT 127's YouTube mini-series, Stick Together.
The Problem Solver
Haechan is known to be quite the problem solver when it comes to games and challenges. On the variety show Weekly Idol, some NCT DREAM members confirmed this when asked who among them is unexpectedly smart. Chenle and Jeno were quick to answer how smart Haechan is, saying "Haechan is smart," and "He's a quick thinker." Another admirable moment was on NCT WORLD 2.0 in 2020. Haechan was given a mission to draw a heart figure on a clear board. The instructions were to only use single strokes and only be able to go over a designated red line once. Within several minutes, he was able to complete the mission.
Haechan continues to showcase his abilities as a well-rounded entertainer while maintaining his deep connection with his members and fans. He recently opened his own Instagram account to showcase more sides of himself. His fans, aptly named Sunflowers, cannot wait to see what is next to come for the multi-talented artists.
If you'd like to stay updated on Haechan, you can follow him on Instagram and listen to his newest solo track, "Good Person," on Spotify. 
Want more NCT DREAM content? Get to know more about member Chenle here!