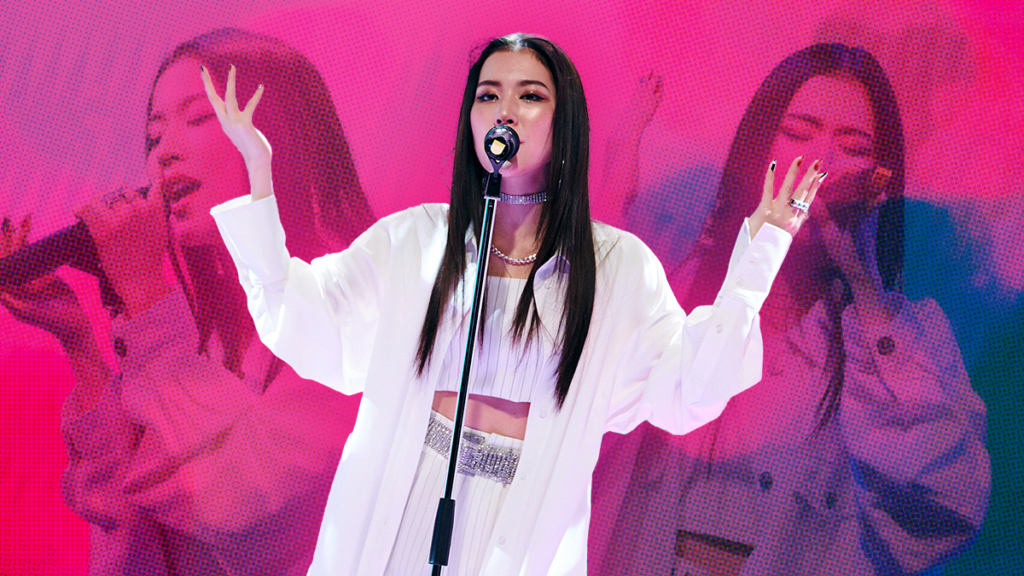 Our story starts in Osaka, Japan. Wide-eyed and full of wonder, a little girl is watching MTV Japan. On the screen plays Lady Gaga's 2011 hit, "Born This Way," an ever-iconic track about embracing who you truly are. "Don't hide yourself in regret," the pop star sings, "just love yourself, and you're set." Over a decade later, those lyrics have stayed with Japanese singer-songwriter MIREI. The 23 year old—an advocate as much as she is an artist—tackles love, mental health, and more through her music.
Back to the Start
Music's always been a part of MIREI's life. She grew up with music surrounding her, the melodies of evergreen American musicians like Stevie Wonder filling the Touyama household and on family car rides. "And actually," MIREI added with a laugh, "we would go to karaoke at least twice a week. So I grew up naturally playing with music." Fondly, she shares that her formative years were soundtracked by Y2K-era Top 40 hits from artists like Britney Spears, Christina Aguilera, and Usher.
Despite this, there wasn't a specific moment where it clicked for MIREI that music was her true calling. "It was gradual," she explained, "I wasn't good at building relationships with children in my neighborhood, so my friend suggested I go to a dance studio that they also attended." Performing started as a hobby and creative outlet for MIREI, but being a singer came to her first. A career as a musician became her dream as she fiddled with self-producing tracks in middle school. Her core memory of watching MTV Japan is reflective of how her exposure to the way Western artists could use their lyrics to explore ideas and tell stories inspired her to write her own music. And thus, MIREI the singer-songwriter was born.
Standing in the Face of Social Norms
MIREI made her international debut with the digital single "Tattoo" in 2013. In 2014, she entered the Japanese market with "Fallin' Out / I Wanna NO," featuring SHUN. "First, with my career just starting in Japan, I wasn't allowed to talk about sexism or violence against women because they were so taboo in the industry," MIREI recounted. "And I didn't know about it much, well, because I was underaged and my company protected me." With a bright outlook on life and herself, MIREI wanted her music to reflect who she was as an ambitious, bright teenager, and in doing so, encourage other artists her age to do the same with their art.
Of course, this shifted as she became of age. "You start to take responsibility for your actions when you turn 18," she said. "It's legal to go out in Japan then, and men start to become, dangerous." Though she's a self-professed homebody ("I'm really not an outdoor person," MIREI sighed) and wasn't one for bars and nightlife, she expressed frustration with the stories she'd hear from her friends about the overt sexism they faced. "They were always saying 'it's how we get our job,' or 'it's how we live, that's the system,' and I couldn't understand how they could talk about it like that."
As MIREI became more and more aware of the sexism surrounding the women in her life, she was growing just as aware of movements like #MeToo and Black Lives Matter. These conversations were happening around her online, and she mustered up all of her courage and bravery to start engaging with these issues on the internet, where she wouldn't be censored. With the same frustration as she had when recounting her friends' experiences, she told the story of Shiori Ito. A young and aspiring journalist, Ito was sexually assaulted by a high-profile television journalist in Tokyo. Breaking from social norms and expectations, Ito spoke out about her experience at a news conference. Now a journalist, filmmaker, and activist, Ito became a "symbol of Japan's MeToo movement," and won her landmark case in 2019.
"It's not a common thing to talk about that and try to change the system in Japan yet," she explained. "I want to be the first person to do that, but it's still not the right timing." Though MIREI calls upon her personal, lived experiences in Japan, her message can resonate with people worldwide who grapple with sexism, sexual violence, and speaking up against oppressive systems.
Blending Music and Activism
MIREI's latest releases dive deeper into the darker side of Tokyo. Marrying glitzy city aesthetics with delicate lyricism, the Japanese singer-songwriter takes an intimate look at love in the modern age. The titular track from her first English album in 2020, Lonely in Tokyo, explores the shadowy reality of the entertainment world and how a person can lose themselves in pursuit of creating the "perfect" idol.
Her most recent single, "Sell Me Your Love," is a glamorous alternative-R&B track that comments on the contemporary commodification of love. MIREI explores this through the lens of the inspiration for the track and its music video: the Kabuchiko Host Stabbing Incident. In MIREI's own words, the Kabuchiko incident refers to a woman who fatally stabbed her then-boyfriend, who was working as a nightclub host. MIREI's storytelling places the listener in the perpetrator's place. It challenges us to consider how we view relationships that hinge on consumerism. Exploring these complex, nuanced issues is a signature of MIREI's—she's an artist that's keen to use her art to explore social issues.
"It's a shocking thing, and it's a crazy thing," MIREI expressed. There was footage of the murder trial that had gone viral in Japan. "Seeing the trial records made me feel like it's so real, and it's not a crazy thing for me in some ways—love is a product. You can't touch it or feel the emotion, and you can empathize, but you can't feel or touch it." MIREI explores the transactional nature of love through the track and its accompanying video, using a host club as a case study. "People are struggling to feel love—through buying their love, or selling their love, or paying for champagne and time together."
MIREI drew parallels between the red-light district and the business of being a public figure. "Selling love, it's kind of similar to the relationship between artists and fans. Because I'm selling my records for money, and people are buying them or giving me their views. Even though I don't see my career as only business, this is still a reality."
MIREI, Behind the Scenes
The pandemic had put a halt on MIREI's in-person plans and in that time, MIREI indulged in anime. "When I was young, I was really into music, and I was busy," she laughed. "I didn't have much time to watch anime!" Demon Slayer was her anime of choice.
"At the beginning of the pandemic, my mental health was super unstable," MIREI shared in a moment of vulnerability. "Like, I have to stay home, and even though I'm a homebody, I like to eat lunch out, feel nature. During the first lockdown [in Japan], it was so hard for us." Her tour was canceled, and she felt aimless under the pandemic restrictions. But she battled the feeling by teaching herself new ways to connect with her fans. "I started MIREI TV, which I do weekly, and there were a lot of things I had to do for the first time, like dealing with software, live streaming—technology things." The challenges and uncertainty still impacted her mental health, and MIREI turned to Demon Slayer. Ever reflective, though, MIREI noted the messages she'd learned from the show. Kindness, trust, and the golden rule.
MIREI is also a K-pop fan. She rattled off with excitement that she's been listening to GOT the Beat and NCT 127 alongside some old-school idol groups. "I love BIGBANG!" When it comes to her music, though, fans can look forward to the singer-songwriter continuing with her alt-R&B sound. MIREI's planning additional installments of hazy looks into Tokyo's nightlife, continuing to bring light to topics deemed too taboo.
"I want to change our reality from outside of Japan if I cannot change it from the inside." MIREI said. "That's how I started this career, and that's how I stay motivated."
Eager to see what MIREI's up to next? Follow her on Twitter, and catch her MIREI TV livestreams on Instagram every Friday. For more on her music, check out our coverage of "Sell Me Your Love" here.
If you or anyone you know is in need of support, you can seek help online and over the phone by reaching out to RAINN. If you are outside of the US, visit the Rape Crisis Network Europe's international support listing.
This article originally appeared in our Women's Issue, be sure to read it here!