After debuting in the midst of the pandemic, having the opportunity to meet with fans face-to-face means the world. Wuzo Entertainment's seven-member rookie boy group, BLITZERS, was finally able to do this earlier this year. A rambunctious group full of boundless energy, the members shine on and off the stage. During their time in New York, the group sat down with EnVi on Valentine's Day for an exclusive interview about what touring was like and their plans as a group for the future.
It was just as the sun was beginning to set in New York City when the group got comfortable on the chairs of our studio to prepare for the interview. The boys, Go_U, Juhan, Jinhwa, Sya, Chris, Lutan, and Wooju all munched on various American snacks and spoke softly amongst themselves as we continued to prepare. We set up the seating for the boys in a cozy corner of the studio, though we had just enough seating available for them only.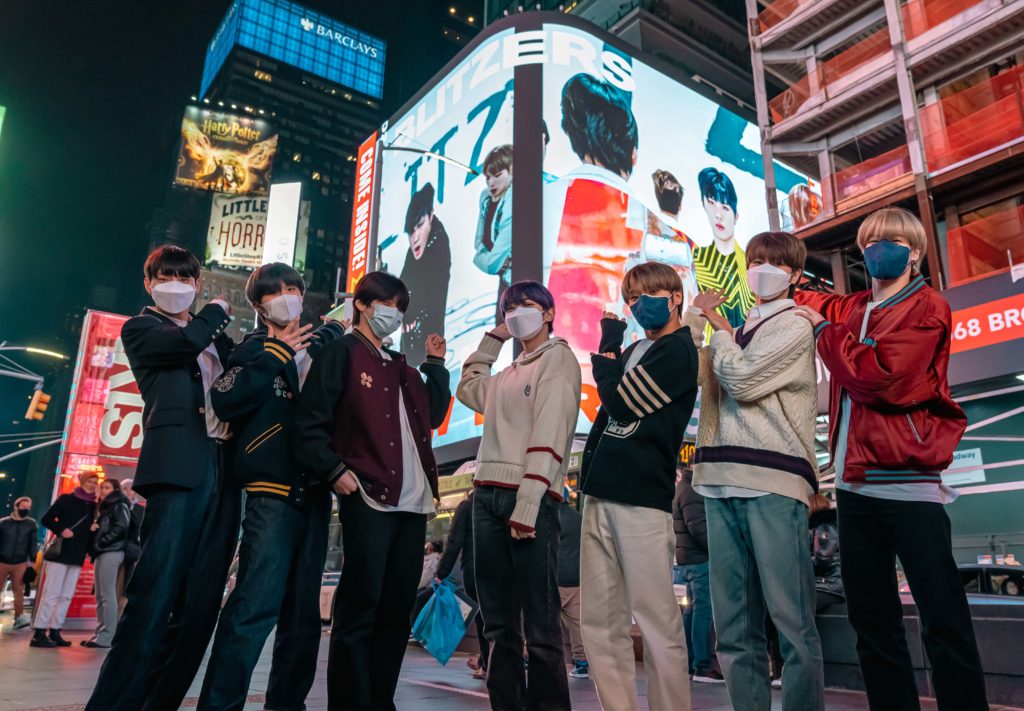 Kind to a fault, the moment I sat on the floor to begin, all seven of them began shouting and jumping out of their seats to offer me their own, a member even going as far as to shout, "I love the floor." Even after trying to reject their seats so they could be comfortable, they insisted, and would not settle until I accepted. This kindness and eagerness to please shines through in all aspects of BLITZERS' blossoming career. From their sweet personalities to their performances on tour—they show in all they do.
Blitzing Through Tour
As their tour was reaching its end, I asked the boys what the entire experience of touring for the first time had been like for them and their favorite parts. Chris, ever the mood-maker of the group, immediately began to list out what he thought were the group's favorites, "Number one: concert, number two—"
"BLEE!" shouted out Wooju to which Chris agreed.
"Number three, interview," Chris said, smiling as we all broke out in laughter.
"Food! Especially In-N-Out," Lutan cut in, the various open snacks on the table around them truly punctuating this claim. Wooju wrapped it up, saying that the last thing they enjoyed was a lot of fresh new experiences, like busking in Santa Monica and UCLA ("Oh yeah, oh yeah!" they all shouted, unable to contain their excitement. "Busking was really fun!"), watching a Lakers game, and attending an ATEEZ concert during their time in L.A.
On that same note when asked about the places they were most excited about visiting throughout their tour, Juhan jumped at the opportunity to answer. His animated personality shone through as he explained how every city was exciting for him because every place was a new experience. Though when it came to places that they had yet to go and wanted to visit in the future, leader Jinhwa couldn't wait to say "Las Vegas!" with a wide grin on his face. The other group members broke out in loud agreement as Chris sat bashfully when Lutan explained that Las Vegas was Chris' hometown. 
I told him that I hope they have the opportunity for them to go there and perform. With a small smile, Chris agreed. "Oh yeah, for sure."
Having only debuted in May 2021, BLITZERS have shown that when it comes to the stage, they dominate. This is backed by the fact that when it comes to what their favorite part about preparing for a performance is, Sya immediately said it was the rehearsal. And after inviting EnVi to their New York show, it's visible how they're truly dedicated to their craft. They perform in sync, with powerful energy, and on-point facial expressions.
The Start of Their Dreams
When asked about what brought them together, they immediately broke out into various different stories. Go_U shared that he was cast by their company. Meanwhile, Jinhwa laughed as he scratched the back of his head when he said, "I saw my friend dancing in front of a mirror and thought that I wanted to pursue something like that." 
Wooju tenderly shared, "My father loved music and was always singing when I was younger. I saw that and it made me want to pursue music." His eyes shone as he spoke, his love for his career obvious in his expression.
The other boys explained how they were inspired by senior groups they admire. Juhan said how he first decided to pursue music after seeing Beast, now known as HIGHLIGHT, on a music show. After seeing BTS performing, his dream only grew bigger. Lutan agreed that watching BTS was a great source of inspiration for him in wanting to pursue music. Chris's experience was similar. "While on YouTube, I found out about GOT7 and also BTS, and they inspired me a lot."
Although soft-spoken, Sya's eyes lit up when the question was turned on him. He smiled shyly as he explained that after he went to an iKON concert it became his dream to become an idol.
All About the Music
By now, the atmosphere in the room seemed to relax dramatically as we chatted about music. The very thing that united them as a group opened them up the most. 
With explosive tracks like "Simon Says" and "Breathe Again" in their discography, it's safe to say that BLITZERS is mostly known for their powerful, punk rock-inspired sound. This is a genre the boys execute well and seems to be made for them. Although this sound is easily becoming their signature, the boys were interested in trying other genres in the future. Juhan and Wooju both want to try R&B, inspired by Dean and Frank Ocean, and Sya wants to try hip-hop.
Jinhwa circled back to the current state of their discography and said he likes their sound and wants to incorporate more of a pop influence into their rock-heavy repertoire. As a lover of rock, however, Chris wanted to continue delving deeper into the genre. He leaned forward on his elbows and animatedly explained that he always liked rock, enjoying artists like The Killers, but really fell in love with the genre once they tried it out as a group.
BLITZERS started out with a relatively punk-inspired sound on their debut track "Breathe Again." Since the group has progressed, their latest releases "Will Make a Mistake" and "BOBBIN" are more heavily inspired by rock, becoming a characteristic of the group's sound.
A Trip to the Past and a Look Towards the Future
Although it's hard to believe, BLITZERS only debuted less than a year ago on May 12, 2021. They are relatively new to the K-pop scene but have learned a lot from their experience as idols. When asked what piece of advice they would have liked to have heard a year ago, the boisterous group became silent as they thought of their answers, considering the question sincerely. 
Wooju was the first to answer, saying "more practice," and to stay true to the group's incredible work ethic. Chris laughed before he looked at me directly. "Stay healthy. Yeah, you'll do great in the future."
Finally, Lutan sat upright as he shared that he wished he had told himself to "have confidence."
Alternatively, when asked about the things they would like to achieve as a group, the room erupted in a fit of laughter and conversation as the group discussed their dreams, big and small.
"I don't know if it's possible, but I want to perform in the Superbowl," Chris answered with a wide grin. Wooju shared a similar dream of wanting to do an even bigger concert and to see even more BLEE, the name of the group's fans. Addicted to the feeling of being with their fans, as they toured, the boys tried to find any opportunity to meet as many BLEE as possible. From busking to meet and greets, BLITZERS truly are indebted to their fans, this sense of gratefulness evident in everything they do.
Lutan was more concerned with the longevity of the group. He just hopes they stay safe and do not get hurt during their time as a group, to which Go_U solemnly agreed.
Jinhwa jumped in immediately after and shared that he just wanted to make music that comforts a lot of people. Sya nodded as his leader spoke, gesturing fervently with his hands. "I want to [have the opportunity] to perform music that we [as a group] have composed and written in front of a live audience." 
Juhan wrapped up the interview by stating, "I dream of wanting to make music as a group on our own," music that is utterly and completely theirs.
Interested in BLITZERS, But Don't Know Where to Start?
The boys shared their favorite tracks with EnVi that they recommended to someone who is just finding out about them! Take a listen to the group's picks below!
Jinhwa: "Blitz"
Go_U: "BOBBIN"
Juhan: "Simon Says"
Sya: "Will Make a Mistake"
Chris: "BOBBIN"
Lutan: "Will Make a Mistake"
Wooju: "Forever in My Heart"
Jinhwa laughed loudly once all the members answered and confidently declared that "all our songs are perfect," and I have to agree!
Keep up with BLITZERS and their upcoming promotions by following them on Twitter, Instagram, TikTok, and YouTube! Make sure to check our Get to Know Me Quiz that we filmed with them over on EnVi's Instagram!
Want to read up on more BLITZERS content? Check out our coverage of their New York show at Webster Hall and our vlog!