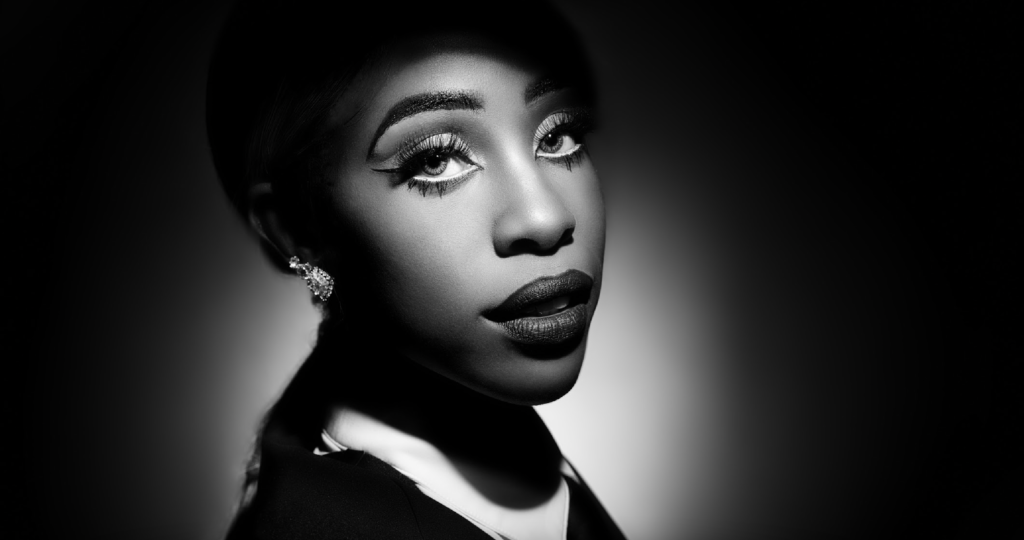 As she answered the Zoom call in front of colorful posters used to teach English, it was almost hard to recognize up-and-coming artist, Chantel Nicole. She's usually in a trendy setting, flanked by dancers as she performs an energetic song. However, as soon as she showed her unmistakable enthusiasm (almost immediately), it was clear that it was, in fact, "the good girl." From her newest release "Here I Am" to passing auditions for BlackSwan to going viral as Channie, the singer-songwriter-dancer told EnVi all about the eventful career she's had and what's to come.
Bad Girl Turned Good Girl
Funnily enough, Chantel was inspired to be an artist when she was "playing hooky," or skipping school. As she was watching television, she saw Shirley Temple tap dancing and singing in Little Miss Broadway and thought to herself, "this little girl is so cool," she told EnVi. 
Chantel began dancing at the age of 9 and doing vocal lessons at 15. Though she considered it a late start, she still went on to land lead roles in high school plays as a junior and begin intensive rehearsals. 
"Essentially, I received the kind of training that a K-pop trainee would get. I was dancing five times a week for like three hours a night, maybe four hours a night. I was singing every night," Chantel explained. 
On top of this rigorous schedule, she faced criticism for not being able to read sheet music. However, that only motivated her more. Though never able to learn, she went out of her way to practice and study on her own so that she could have everything memorized for rehearsals. It paid off as she was later on nominated for an award. 
For a while after, she stepped away from the main spotlight. In college, she dedicated herself to performing as a background singer, backup dancer, and creative director to other artists. When she later wrote her first song, she hesitated to record it out of fear. Her concerns grew over whether she was talented enough or if she could even find a safe place to record it where she would not be exploited or harmed as a woman. Eventually, a friend recommended an engineer to her and accompanied her to the studio out of caution. 
On Valentine's day of 2017, she released the single "I Like U" and an accompanying video that came out in May. She recounted, "People don't care unless I provide visuals, most of the time. When I put that video out, it became, Chan's not just a dancer. She can actually sing. She can actually write a song."
After releasing two more songs, "I Want U" and "I Miss U," the artist took a year-long break. She shared that she was unsure of her direction and struggling with imposter syndrome at the time. However, she persevered through it and returned with "Like It." 
As Chantel developed her music career, she also remained a passionate and accomplished K-pop fan. In addition to episodes on pop in general, she often discusses K-pop comebacks on  "CCTV Pop Show" with co-host Chris. Using her singing and dancing experience, her covers have gained thousands of views on YouTube. She has even gotten the chance to do a K-beauty segment with Fromis_9 and a dance video with (G)-idle.
A New Chapter
For the past year, Chantel has been preparing for her newest single "Here I Am." Written under the mentorship of multi-platinum K-pop songwriter Chikk, the song was originally intended for a girl group. Chantel had decided to challenge herself after writing songs for boy groups, but after finding a beat, the concept came to her easily. She was so pleased with the final product, she decided to do the song herself at the recommendation of a friend. 
The song and music video are inspired by the anime series, Sailor Moon, depicting Chantel as the hero who protects her loved one from a bad relationship. Flipping stereotypes, she is the "damsel in this dress." 
"I definitely want them to feel empowered as well because the song isn't just like, 'oh yes, here I am saving you from this terrible girl.' It's like, 'Here I am. You want something new? You want something fresh here? Here I am,'" Chantel explained. 
Though the song is a testament to her strength, she wants others to feel the same way. 
"I want listeners, I want viewers to look at this and be like, 'Oh, she did that. Oh, I can do something. I can do whatever it is that I want to do. I can do that as well. Like here I am, and here I am to stay,'" she said. 
Chantel also hopes to defy the status quo of the industry and show her versatility as an artist. She asserted that her sound does not fit into the categories of today's pop hits. Rather, she wants people to "see that a K-pop formula could be transferred over to the west" with this upbeat and positive song. 
Following her previous dance-centered videos, Chantel wanted to show her growth as an artist with this new release. Despite being a one-woman team, she has worked hard to produce not only the music video but also the teasers. 
"I'm excited to show them [viewers] everything that I worked on in the sense of conceptualizing everything," she said. Literally inside and out, aside from the production of the music and the choreography, I did everything. When it came to styling, hair, makeup, set design, [and] lighting design, I did everything."
When the full teaser dropped, she shared with her followers that the 27-second video took four to five hours of editing in total. And, in order to make it all happen in the first place, she uses the money she earns by teaching students all over the world English. But, she does it all for her fans, named Wings after her "childhood dance studio's mantra, 'Take Wings & Fly High.'' She's given this name to her supporters with the sentiment that they "have my back and take me high."
Behind all this hard work and dedication, she has an honest wish, "quite simply, I want people to say, 'wow, she's good.'"
Chroma Vision
This single is just part of a larger project, Chroma, "a palette for her mix of genres in Pop." Similar to K-pop albums, Chantel wanted Chroma to be a two-part album with a rerelease with a distinct concept. 
"I want this era to embody chromesthesia, sound-to-color synesthesia," she shared. It is a type of cognitive interaction in which sound evokes an experience of color, shape, and movement. Hence the CHANTONES, my version of the Pantone colors."
Her songs embody these different colors. The first was "Like It," her K-pop structured track sung in English and Spanish. The upbeat and catchy song has a lighthearted focus. "I just wanted to have fun because I usually sing about love and romance, but that song is strictly like, come and get me. I'm flirting with you," she explained. Fittingly, Chantel assigned yellow to the track, "When you think of yellow, you think of sunny, you think of bright, you think of just exuberance, honey."
The latest single, "Here I Am" is an ombre blue and orange to represent the sunset. The concept mirrors "how Sailor Moon says 'fighting evil by moonlight, winning love by daylight.'" To share that message she explained, "I wanted it to be warm, but also have a little bit of like sensuality and strength."
Want to check out another rising star? Take a look at EnVi's piece on Zoe Wees!
Thumbnail courtesy of Chantel Nicole/The C.Nic Sound