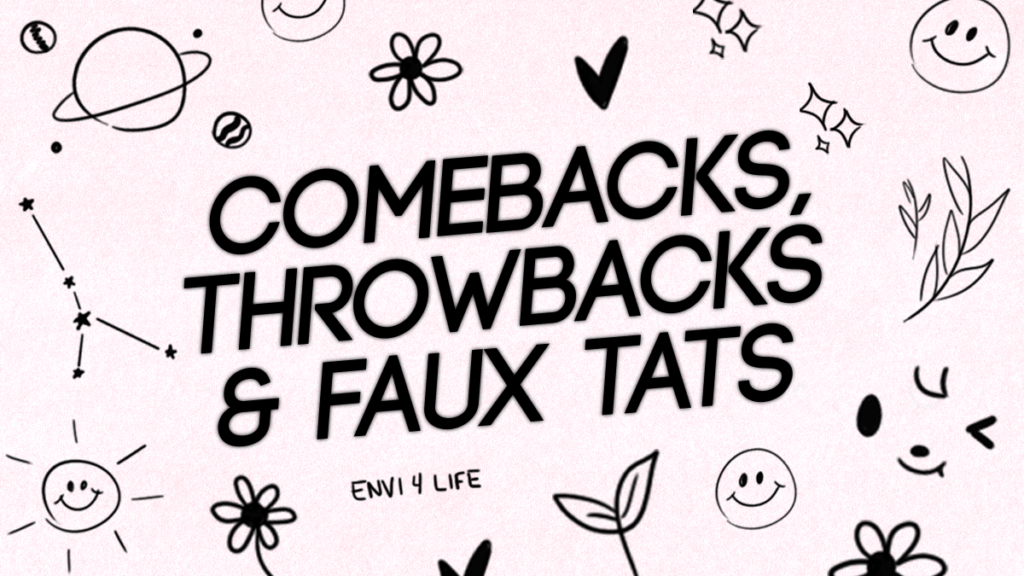 Within the past year, there's been a surge in K-pop groups sporting both permanent and non-permanent body art. Temporary tattoos are fast becoming a focal point of performance makeup and have been included in several successful comebacks. The trend has even been used to hint at tracks within album teasers. Here, EnVi has highlighted some of our favorite fake inks and how they were used for each era.
NCT
The 23-member boy group, under SM Entertainment, has a recent, but strong history in sporting faux tattoos for comebacks.
One of NCT's first appearances with short-term ink was by NCT 127. Surprising fans with large black faux tattoos, NCT 127 used fake tattoos for their 2020 repackage, "Punch." 
WARM UP : 2ND PLAYER

NCT 127 The 2nd Album Repackage
〖 NCT #127 Neo Zone : The Final Round 〗

NCT 127 〖 Punch 〗
?Music Release ➫ 2020 05 19 6PM (KST)
?Music Video ➫ 2020 05 20 0AM (KST)#NCT127 #Punch#NCT127_Punch#NeoZone_TheFinalRound pic.twitter.com/2RTAKYsufb

— NCT 127 (@NCTsmtown_127) May 6, 2020
Hand-drawn onto each member, artist Junkied shared behind-the-scenes photos of his artwork. The monochrome designs featured his signature style of line and dot work. It was followed through with the black grunge-like styling of their costumes, with leather pants, silver hardware, lots of straps. Each member's designs also hinted at their own personality and background, with smaller, customized designs such as Johnny's Chicago chest piece.
View this post on Instagram
The fake tattoos greatly impacted the repackage, giving a stronger vibe to the overall aesthetic and atmosphere of their track "Punch." Proving to be popular with fans, many expressed their positive shock at the use of the detailed designs that were found all over the members' bodies. Some even revisited the influential era months after. 
ARE THOSE TATTOOS ON YOUR CHEST JOHNNY pic.twitter.com/FqklYx4H5u

— johnny pics¹²⁷ (@suhjohnnypic) May 6, 2020
I'm still in awe that we got a concept like this. The fit, the chains, the tattoos, the hair, the makeup. Absolutely sickening. https://t.co/P09NXFWsRk

— grace ❣︎ (@jenluvvie) November 15, 2020
Following the success of faux tattoos in NCT 127's "Punch," SM Entertainment stylists chose to use the temporary ink again. They scattered more subtle transfer images over NCT U's "Make A Wish" lineup. Unlike before, the members mostly wore these designs onstage for performances, rather than in teasers. Likewise, a similar look was created for NCT Dream's 2021 repackage "Hello Future," with members' body's being covered in a fun, removable
View this post on Instagram
NCT's members loved them so much that, they took to their personal social media to share images of the fake tattoos, whilst other members included their designs in collectors photocards.
View this post on Instagram
View this post on Instagram
WTB want to buy
肖俊 XIAOJUN
PC
xiaojun tattoo photocard
DM pic.twitter.com/IXv8h2UZ3M

— Aru920111 (@elaineeee07122) June 21, 2020
Stray Kids
More recently, Stray Kids leader, Bangchan, was spotted teasing fake neck tattoos for their performance video "Unveil Track: '강박." 
View this post on Instagram
The performance video, posted 5th August 2020, featured members Bangchan and Hyunjin exhibiting their powerful dance moves. Just days before, in a youtube video, the members broke down some of the key aspects, including the fake ink. It showed behind the scenes filming the performance, sharing pictures of the members at the end. 
The short glimpse of the temporary tats shook fans, forcing them to express their enthusiasm by sharing posts on social media and leaving comments such as, "IM DIZZY." Whereas others focused solely on their surprise at the tattoos, "I didn't realize the tattoos!" Fans wait in anticipation, for the full-length music video, to see the faux tattoos up close and in HD.
ATEEZ
The eight-member group rocked tattoos with a similar purpose to NCT Dream's fake ink. For their Del Mundo Fan Event, the members were captured rocking neck, chest, and hand tattoos that spelled out 'Del Mundo' and their fandom's name, 'Atiny'. 
[UPDATE]

ATEEZ has fake tattoos for DEL MUNDO! #ATEEZ @ATEEZofficial pic.twitter.com/qm53h6xEWP

— ATEEZ Updates (@ateez_updates) July 27, 2019
The inclusion of their fans' collective name showed the boy group's support for their audience and was a direct hint to the importance of their fan event. The placing of each tattoo was carefully thought out, with intimate but visible areas being chosen. The designs were specific to the group making the inkings feel more personal to both them and fans alike. It built a stronger connection for the overall stage.
Many Atiny called the fake tattoos a "powerful concept," demonstrating how popular the makeup was. Some fans looked back to simply show their pure happiness for the use of the fake ink.
Oh…. my god…. This is a powerful concept https://t.co/oMJsyxEVQV

— Ice on my wrists ? (@bangtanstyle07) August 3, 2019
UGHHH I STILL LOVE IT https://t.co/l3lfvB4KmC

— Elysian ? (@ShushItAintMe) July 28, 2019
Honourable Mentions 
Faux tattoos are seemingly growing in popularity, for music videos and performances. A whole concept might not be built around the styling of tattoos but many idols have been spotted with fake tats. Here are some honorable mentions that couldn't be missed out! 
Kai 
EXO's member Kai has repped torso tattoos for multiple EXplOration tour performances. Some of the designs were originally drawn by Kai's father but were later touched up by a professional to create the final drawings used for the fake ink. 
V
During the filming of BTS's music video for "ON," BTS member V caught fans' attention with his large, fake neck tattoo and cheek tattoo. The under-eye piece read, "The shadow like me," The image covering his neck followed a cracked or vine-like design. V took to Weverse to share how the fake tattoos came about, explaining that he simply, "wanted to do it for this comeback." 
The use of the tattoos was V's idea, making it another very personal design for fans to connect with. The temporary tattoo also fits well with the rest of the imagery found in the music video. It even made it on stage during various performances. 
It's obvious that faux tattoos are becoming a greatly utilized design aspect of performance beauty. Although we have covered some of the most recent uses of fake ink, we hope to see this trend continue. 
You can read more about idols' permanent tattoos here! 
Thumbnail courtesy of SM Entertainemnt.