When acquiring a skill in a craft or career, proficiency is what most want to achieve. Knowing you are good at what you do is all you may need, but others strive to excel while adding an element of respect and delicacy. These traits are seen in DAVII, a rising artist from South Korea, who uses his expertise in music of all forms to show different sides of himself.
On December 15, DAVII released his second mini album, ?=1 RE:new. The six-track EP features an array of songs that show the multi-faceted colors of DAVII, including the title track, "Regret." The music video features DAVII surrounded by a somber and warm atmosphere, as the mellow song expresses the urge of wanting a person to reciprocate feelings. Just days before the release, DAVII sat down with EnVi over a video call to discuss his musical journey and inspiration rooted in faith.
The Fire of Music
Born in South Korea, DAVII began his musical journey when he led his church in song with the choir at eighteen years old. After this experience, he realized his true calling for music saying, "I thought I would be happy if I did music for the rest of my life." The process of making jazz and R&B-fused music requires a lot of diligence. Accompanied by ten years of playing the piano, he describes his music as "a tool that I have to be patient with."
DAVII uses his talents as an aid to express himself. He compared his music to a fire saying, "If I use the fire to cook, I can make delicious food. Or I could get too greedy, and make the food faster causing it to burn." Music is something delicate to him—a piece of art that holds information about an event he's lived, and the unchangeable emotions that came with it.
DAVII's growth as a person and an artist is shown in his discography, and his music is a diary of the memories he's collected. "Jamie Cullam," a song he named after one of his biggest jazz inspirations, describes his working hours in the past from 6 PM to 9 AM. He said, "Because I am a musician, my work hours are different from normal people. I don't think that way anymore though."
Listeners can see the evolution of what he saw as important and necessary for him at the time, adding a sense of genuinity to the stories that he tells. A consistent theme within all of his music is his relationship with God. He said, "A reason why I wanted to do music was to evangelize." With the start of his career being in a church, music is a way that he can say "thank you" for being placed in the position he is in now.
Learning Through Melodies
DAVII strives to challenge himself through music, and this was seen in his participation in the survival reality show, SuperBand 2. Broadcasted on JTBC, the show invites indie musicians to collaborate and create songs together as a band. Throughout the show, his beliefs in the importance of music and empathy for others were apparent. He describes the show as a challenge.
"The first round was hard because I tried to do everything. I was a producer so I thought I should be the leader. In the second round, I gave my job to others and it became easier. I used my talents to just be a producer and gave more chances for others to shine." DAVII was able to reflect on who he was and make the most out of his experience. Although difficult, he learned a lot about who he was as a person.
DAVII has also produced music for other artists including Heize, Paul Kim, and Super Junior. He sees each experience as something he can learn from. His favorite thing about producing for others is "learning about their stories and why they want to sing."

The Layers of DAVII
Music also gave him room to take on other ventures, like acting and modeling. He always wanted to be an actor, and sees his music videos as opportunities to pursue that. With a laugh, he said, "My dream acting role would be to be a genius musician," which to the eyes of most might be seen as an autobiography. In everything he does, from modeling for Vogue to performing on a stage, he moves through his faith. "I have to remember that I am a child of God."
To keep up with the adventures of DAVII, follow him on his Instagram, and listen to all of his discography on Spotify and Apple Music.
Want more music? Check out our interview with ATARASHII GAKKO! here!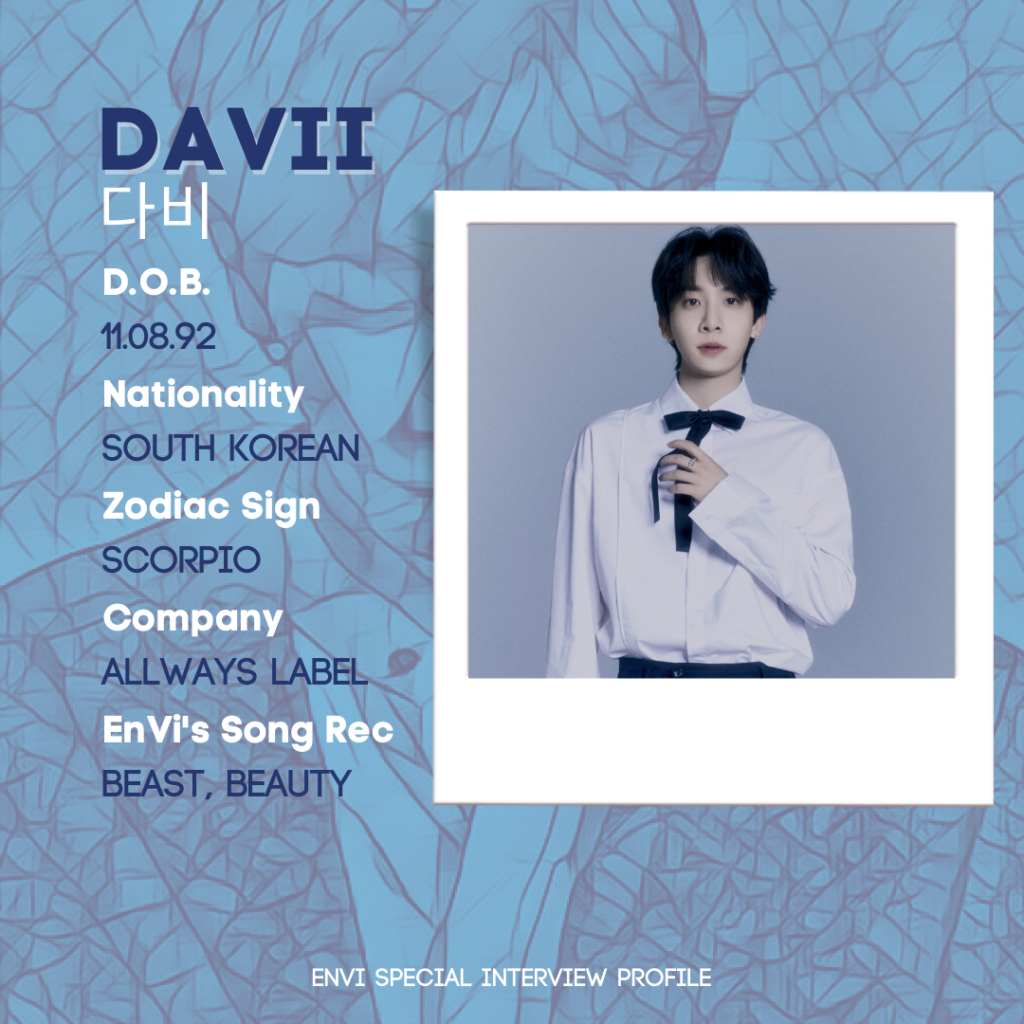 Photos courtesy of ALLways Label. Graphics by Laras.