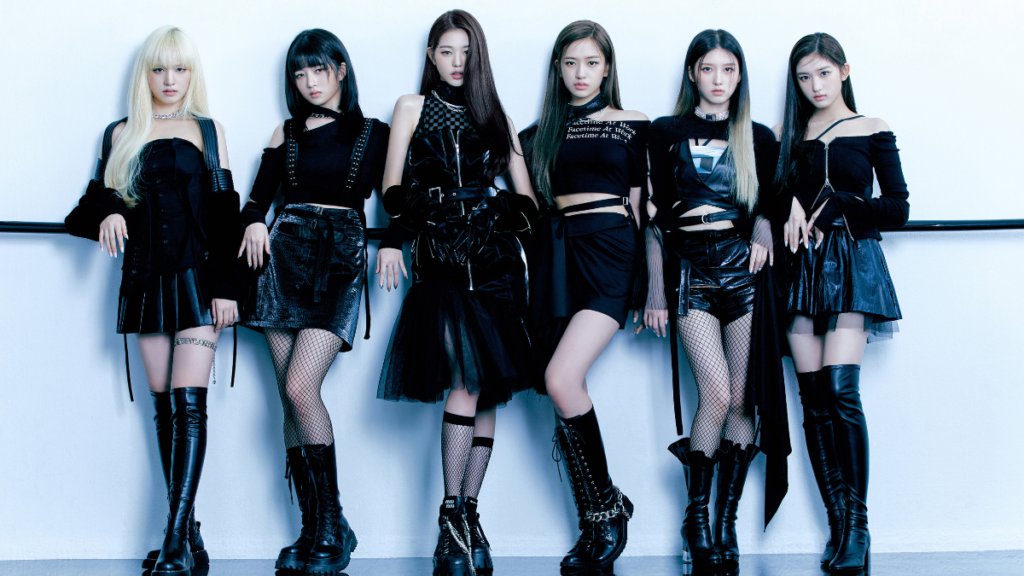 Only months into their career, IVE have reached another milestone to add to their long list of achievements. With just two single albums, the monster rookie girl group has amassed one million sales, making them the fastest girl group to do so on Gaon. To celebrate the trailblazing group's success, EnVi "dives" into some of the achievements on the girl group's already long list.
Sweeping Award Shows Since Debut
IVE's many successes with debut single "ELEVEN" proved that their career was off to a great start, with wins surpassing the number in their title track. Only a week into stardom, IVE were crowned as the fastest girl group to earn a music show win after their debut. The single alone brought home whopping numbers of 13 music show wins and three triple crowns (i.e. awards for groups that won on a music show for three consecutive weeks) for the rookie group. This makes them one of the K-pop groups with the most music show wins. Currently, the single's album has accumulated more than 360,000 sales. Topping music charts and peaking with countless Youtube views, the group brags an extensive list of awards with their debut alone.
Hold Your Breath, and LOVE DIVE Into IVE's List of Feats
LOVE DIVE, the single album that let IVE into the million-seller club, has sold over 650,000 copies. With eight wins, IVE's title track "LOVE DIVE" has already joined the list of songs with the most music award wins as per the first half of 2022. It has also made it to the hearts of the general public in Korea as the longest-charting #1 song for 53 days on Spotify Korea.
IVE's success does not end with their musical feats. The next thing you know is that they're everywhere. The group has been swiftly taking over other industries with advertisements, magazine shoots, variety show appearances, emceeing, and more.
You Know They're a Royal
As more people grow to love IVE, the six-member girl group has been collecting brand deals everywhere–not yet counting former IZ*ONE members Yujin and Wonyoung's pre-IVE gigs.
The group is no stranger to the fashion industry. Fourth gen It Girl and group center Wonyoung is the face of KIRSH and a house friend of the Italian brand Miu Miu. The superstar has also collaborated with Bulgari and Chaumet. Leader Yujin was recently invited to the launch of the GUCCI x Adidas collaboration in Korea and has flaunted looks for Versace, Burberry, CHANEL Beauty, and Yves Saint Laurent with the group's main dancer Gaeul. Main rapper Rei and vocalist Leeseo have also attended the 2022 Seoul Fashion Week, invited by BONBOM.
The group is also slowly taking over the cosmetics industry. Wonyoung is currently the face of Innisfree, which even labeled one of their products the Green Tea Wonyoung Serum. Yujin has modeled for DEWYTREE and Rei for Bonajour. Main vocalist Liz also landed a gig for OLIVE YOUNG's Vegan Beauty product line.
Think they're thirsty for more? The group has established deals with beverage companies, with Yujin for Gatorade and Wonyoung and Leeseo for PEPSI x STARSHIP.
Moving forward to a larger scale, Wonyoung graces the Korean public's mobile screens as she models for SK Telecom, Korea's leading telecommunications service provider.
The list of the group's brand collaborations makes it look like they have a checklist to take over the biggest brands. The group's promising (a rather humble term) start will only help them cross off more of their list in the future, even into the print industry.
On Point in Print
IVE have swept music award shows and made their marks in countless industries. In less than half a year, the sextet has also made iconic feats in print with multiple magazine photoshoots.
Right at the very start of 2022, the group kicked off the new year with a feature on DAZED Korea.
Following up with a February feature, they also showed their colorful side on COSMOPOLITAN Korea with a bubbly behind-the-scenes video showing their "explosive chemistry," as the magazine itself calls it. The shoot also gave us vibrant solo photos contrasted by a monotone, elegant group photo.
The month of May has further blessed IVE. Going international, IVE posed as the cover girls for Japan-based magazine S Cawaii. Certain members also took the spotlight with unit photoshoots. Gaeul, Rei, and Liz showed off a slightly mature and classy image with W KOREA. The group came back for another DAZED Korea feature with iconic duo Leeseo and Yujin. In June, they landed another Japanese magazine feature as a group with ViVi magazine.
Wonyoung and Yujin have also starred in solo magazine shoots. Yujin posed for Marie Claire in March, and Wonyoung stunned Y Magazine in April. More magazine shoots feature IVE in partnership with endorsed brands: Wonyoung for W Korea x MiuMiu, Yujin for Marie Claire & Burberry, and more.
Just the Beginning for IVE
While the LOVE DIVE era is over, the group's continued success promises more achievements in the future for IVE. With growing expectations from fans and the general public alike, IVE are only gearing up to add more titles to their name and prove their image as monster rookies.
Interested to know what's next for IVE? Make sure to follow them on Facebook, Twitter, Tiktok, Instagram, Youtube, and Spotify.
Want to celebrate more girl group success stories? Read our article on TWICE's record-breaking "III" tour in the US here.