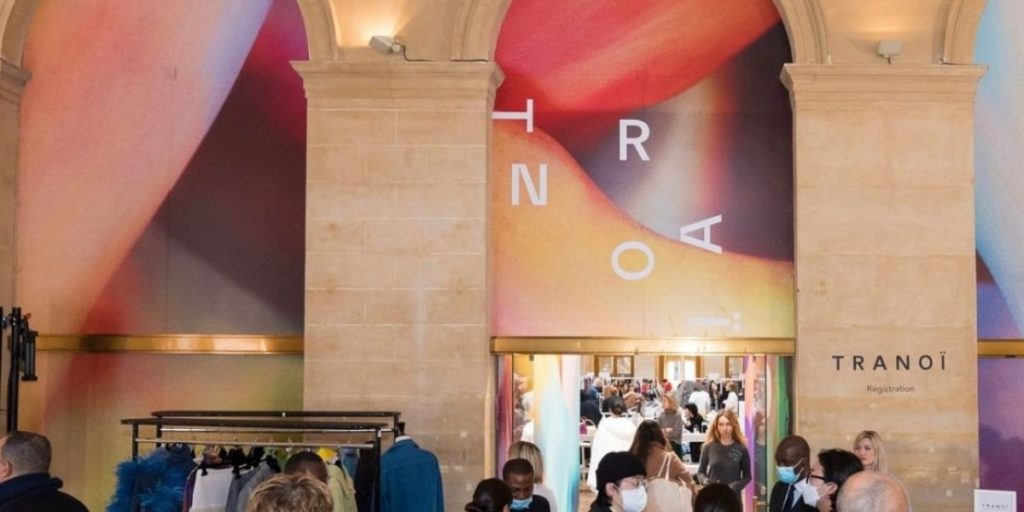 In a four-day event from March 4 to 7, Tranoï, a leading trade show partner in the high fashion industry, hosted their second exhibition of the year at the Palais Brongniart during the height of Paris Fashion Week. In concurrence with the quarterly event's theme of showcasing trending international fashion, the established event planner chose to partner with Seoul Fashion Week and the Seoul Metropolitan Government. As a result, nine up-and-coming Korean designers were presented exclusively at the show, along with over 90 other emerging designers from across the globe. 
Seoul Designers Meet Paris Fashion Week
With the goal of exposing collection buyers and fashion professionals to brands from the latest design hotspots throughout the world, Tranoï chose to collaborate with Seoul Fashion Week to feature emerging Korean designers. In doing so, the partnership attests to the growing popularity and integration of South Korean fashion and other cultural phenomena, such as K-Pop, on a global level.
"Tranoï is proud to sign this exclusive partnership with Seoul Fashion Week," announced CEO Boris Provost. "The Korean designers we will be welcoming at the next edition of Tranoï are part of a new generation of designers who have an ambitious vision of fashion. . . Korea is a great country for fashion, recognized for its influence, I am very happy to welcome these designers, and to value their work to all professionals."
The designers, hand-selected by Tranoï, the Seoul Metropolitan Government, and Seoul Fashion Week, reflect the innovation and know-how of a new generation born straight out of the city of Seoul. 
Meet the Designers
Out of the 12 featured Korean brands, nine designers were presented exclusively for this event in a dedicated space designed by the event's artistic director and photographer, Ella Bats. In addition to the space, four of the brands, EENK, LIE, WNDERKAMMER, and DOUCAN, featured their collections in a fashion show that took place on March 6. Get to know the nine designer labels here.
BEYOND CLOSET
Fashion label BEYOND CLOSET takes a look at style "beyond the closet." Instead, they value one's personality and lifestyle, encouraging the wearer to express their own individual style through the brand's streetwear-style clothing. BEYOND CLOSET takes inspiration from classic American preppy style, integrating the use of patterns, such as plaid, and collegiate-style graphics into their clothing. 
EENK
EENK, created by designer Hyemee Lee, transforms clothes into treasured one-of-a-kind pieces for the closet. Using the alphabet as a way to thematically design clothes for each collection, this Spring/Summer season's letter is "U." The design house uses the letter U to explore the theme of "Utopia," which can be seen through the use of symmetrical patterns and a lively pastel color palette.
BMUET(TE)
Since 2017, this ready-to-wear label is known for the marriage of rebelliousness and sophistication in their designs. Described as "a reinterpretation of classic and luxury with deconstruction-touch," they mainly take style inspiration from punk culture. This can be seen in their clothing through the form of dramatic silhouettes, voluminous dresses, tailoring uniform looks with a twist, androgynous jackets with meticulous cuts, and structured shirts.
DOUCAN
Characterized by ornate and luxurious handmade pieces, DOUCAN specializes in creating clothes for those who strive to be different from the rest. As a label that handmakes their pieces, they do not mass produce their clothing, but rather create pieces especially tailored to the wearer. The principal designer behind the label, Chung-Hoon Choi, created DOUCAN as a way to marry his passions for nature, history, art, and culture, which can be seen through his intricate designs and his use of earth-toned color palettes.
C-ZANNE E
C-ZANNE E believes that "fashion comes from those who wear it, and that it is "the individual who brings meaning to the outfit." Using the traditional Korean Hanbok dress as their main source of inspiration, they create pieces that are rooted in avant-garde minimalism. Their pieces, characterized by the sophisticated simplicity and clean lines, highlight the person wearing it, which is the final element to their design. 
BONBOM 
Launched in 2020, BONBOM takes the idea of luxury fashion and spins it on its head, constantly crossing the line back and forth between tailor-made clothing and streetwear. This brand emphasizes the sensuality that comes with the act of dressing up, an experience that all people have gone through throughout their lives. As a result, many of his pieces are unisex, taking both classic masculine and feminine silhouettes and combining them together as one. 
WNDERKAMMER
The name WNDERKAMMER is inspired by the German word wunderkammer, which refers to a private room securing a collection of items that brings a person back to certain memories. As a design house that reflects understated charisma in their pieces, they strive to create pieces that evoke personal memories through minimalist silhouettes, organic materials, and clean detail. 
SEOKWOON YOON
SEOKWOON YOON is a high fashion label that captures inspiration from historical and modern art. The designer behind the label, Seokwoon Yoon, particularly gravitates towards trompe l'oeil paintings as his main reference for his work. By creating pieces that are oversized and unconventional, his collections are a balance between conceptual ready-to-wear clothing and works of art. 
LIE  
The brand LIE, founded by brother-sister designer duo Chung Chung Lee and Nana Lee, redefines feminine athleisure. Through the use of "masterful blending of geometric patterns and shapes," this label strives to design collections for the "modern day creative woman." 
Tranoï's partnership with Seoul Fashion Week is just one instance of a new movement of South Korean designers being propelled onto the global runway. As Korean fashion continues to gain more popularity all over the world, the fashion industry's desire to give opportunities for emerging talent from the country is ever-present.

Interested in the latest news from Paris Fashion Week? Check out our coverage of BLACKPINK's JISOO at Dior's show here!