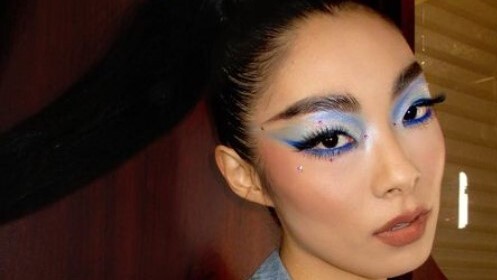 Coachella is one of music's biggest weekends in America. Held in Indio California, artists from across the world take the stage at the music festival. Some of the biggest highlights came from people of color, which speaks to the growing change in the musical landscape. Black artists, in particular, showed out this Coachella season incorporating Black-American staples such as acrylics, intricate hair, and accessories. This year also saw a wide range of Asian artists (many of them are Korean, Japanese, or Thai) who took the Coachella stage for the first time. Here are EnVi's favorite beauty looks from weekend one of Coachella.  
2NE1's Dara's Iconic Hair
Dara of 2NE1 graced the Coachella stage with her iconic spiked hair. Fans were brought back to the 2000s with a nostalgic performance of the hit "I Am The Best" by 2NE1. 2NE1 were famous for their experimental styles with fashion and beauty. Dara's hair at the music festival sent the internet ablaze.
Rina Sawayama in Sky Blue
Known for her bold and editorial style makeup, Rina Sawayama is no stranger to a dramatic eye. Donning sky blue on her lids by Alexandra French, she also shined with purple and iridescent gems. The look is a perfect match for her outfit, which is from area. 
The City Girls Give Y2K and Graphic Liner
Dressed straight from the early 2000s, the City Girls graced Coachella with diamond-studded outfits. Yung Miami wore a white graphic liner while JT had thin eyebrows and a smokey eye. They also took the stage with fiery red eye looks. 
Megan Thee Stallion's Angled Eyeshadow 
From wavy hair to a flawless face, rapper Megan Thee Stallion sported an angled eyeliner. Done by Lauren Elise Child, Megan was seen with a brown smokey cut crease and highlighted brow bone. It was only fitting that she paired this look with an afro-futuristic silver chrome outfit. 
Doja Cat in Pat McGrath
Ernesto Casillas is responsible for many of Doja Cat's iconic makeup looks, including her look at Coachella. What has become the signature look for this latest era of Doja Cat is a beautiful smoky eye. Wearing the Pat McGrath Bridgerton Palettes, the rapper sported a blue and brown smokey eye. 
MILLI's Bright Red Lip
Dressed in red, Thai rapper Milli graced the Coachella stage. She made history as the first Thai artist to perform at Coachella. She paired a natural, youthful look with daring red pigment on her lips. 
Bree Runway's Full Beat and Mint Green Hair
Wearing a full face of Mac Cosmetics done by Scott Osbourne Jr, Bree Runway attended the festival. The British pop star is known for her flawless skin. Harmonizing soft glam with bright colored hair, her look embodies the carefree and youthful vibes of Coachella. 
Jackson Wang's Bleached Brows
Jackson Wang took an experimental route with his brows for the weekend. With his light blue hair and blonde eyebrows, he immediately set himself apart from his male peers who took the stage that weekend. 
Rico Nasty's Eyeliner
Joining Doja Cat for her song "Tia Tamera," Rico Nasty had an intricate eyeliner look on the Coachella stage. Done by @deemakeupart, the look signifies her close ties to alternative aesthetics. Rico Nasty mixes her southern roots with alternative culture in both music and style. She often has colorful wigs and long nails, while being styled in more punk clothing. The rapper is known for incorporating editorial looks in her makeup. 
BIBI Shines with Gems
BIBI wore a soft makeup look, done by Minseok Choi, with white and red iridescent gems. Though the look was simple, it matched perfectly with her white and silver outfit.
Not only do these artists look good, but they also incorporate their musical identity into their outfits. Many of these stars collaborate with makeup artists and stylists who can help them fully realize their looks. Though Coachella weekend one is over, these beauty looks will still be discussed for months down the line. 
Want to keep up with more Coachella coverage? Read about 2NE1's reunion stage here.