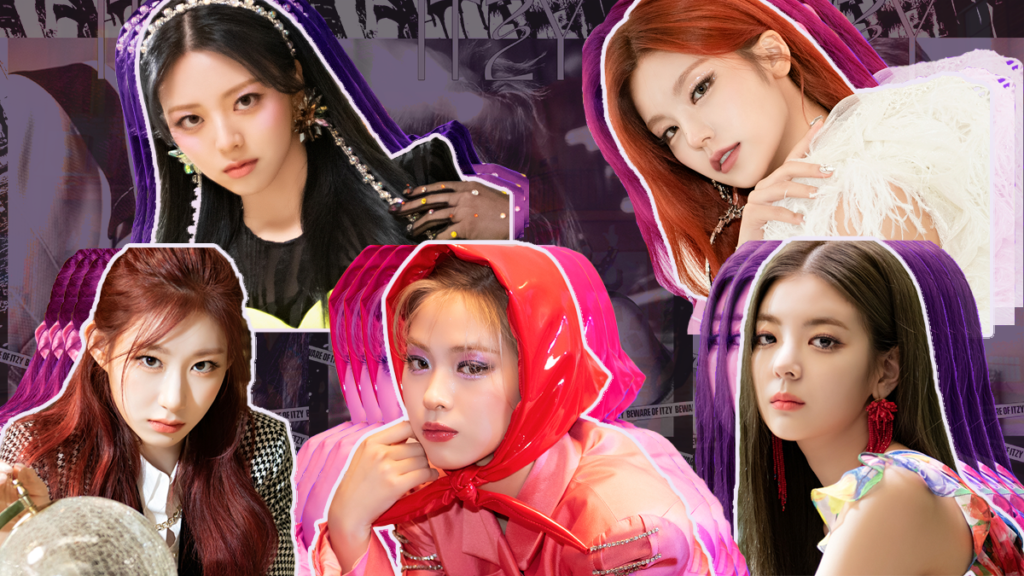 By Arushi Tandon | @arushiwrites
JYP Entertainment's quintet girl group ITZY made a fierce comeback on April 30 with their new EP, GUESS WHO. This was a much-awaited return after seven long months since ITZY last released their EP, Not Shy. Prior to this, ITZY had released their EP Not Shy (English Ver.), which had all their pre-released title tracks in English.
ITZY Ventures Into a New Musical Space
ITZY members Yeji, Lia, Ryujin, Chaeryeong, and Yuna exhibit a more badass, trap-based title track "In the morning" for this comeback. The song itself has a heavy hip-hop influence and the music video is reminiscent of the same. "In the morning" begins with a hard-hitting rap by ITZY's main rapper, Ryujin. The song echoes that quintessential funky ITZY vibe that has previously been seen in tracks like "Dalla Dalla" and "Not Shy." However, "In the morning" has a darker visual appeal to it. Moving away from ITZY's usual concept of bright colors, this music video has deeper undertones than their previous work.
While ITZY is known for hard-hitting choreographies, the choreography for "In the morning" is groovy and lyrical. The focus is not on blunt energetic movements anymore, it's more about the feeling that the song emits. The overall visual appeal of the music video is alluring, and matches the vibe of the song perfectly. From samurai swords hanging in the background to a wild west aesthetic, similar to "Not Shy," can be seen here.
GUESS WHO's Diverse Sounds and Mature Beats
GUESS WHO as an EP also made it clear that ITZY is maturing and diversifying with their music while remaining true to their roots of empowering anthemic songs.
"Sorry Not Sorry" is a fun anthem, ideal to sing along to with your besties at a sleepover. The strong guitar sound is hooking along with an enchanting pre-chorus that loops you in before the chorus hits you like a massive bass-heavy wave. 
ITZY's signature badass energy is evident in "KIDDING ME" where the girls deliver with a strong EDM song. It has an underlying dubstep sound that consistently grasps the listener's attention.
While "Not Shy" last year was ITZY dipping their toes into the wild-west concept, it almost seems like they are informally trademarking it with GUESS WHO, be it the wild-west influence in the music video for "In the morning", or the song "Wild Wild West," which further sets the foundation for them owning this concept. In true ITZY style, the song is funky, and has a classic pop sound that makes it ideal for a dance party.
"SHOOT!" is probably the song that steps away from ITZY's typical sound the most, and successfully. The R&B track has a consistent flute, coupled with strong bass. These two elements seem to contradict at first, but they blend splendidly to make "SHOOT!" an instant hit.
GUESS WHO concludes with "TENNIS (0:0)." This song has a ballad-like feel to it but it's not entirely a ballad. The chorus blends into an acoustic R&B sound that makes this song the perfect wrap-up to a hard-hitting, electro-pop EP.
Watching ITZY transform themselves with this release, yet stick to their signature sound, is almost like watching a butterfly emerge from its cocoon. The girls introduced us to this comeback during their showcase, and fans can look forward to the enrapturing stage performances by ITZY while they promote this album on music shows. 
Listen to GUESS WHO on Spotify and Apple Music!
Thumbnail images courtesy of JYP Entertainment, designed by @clau_klau_
For more comeback coverage, check out EnVi's article on BIBI's Life is a Bi…!