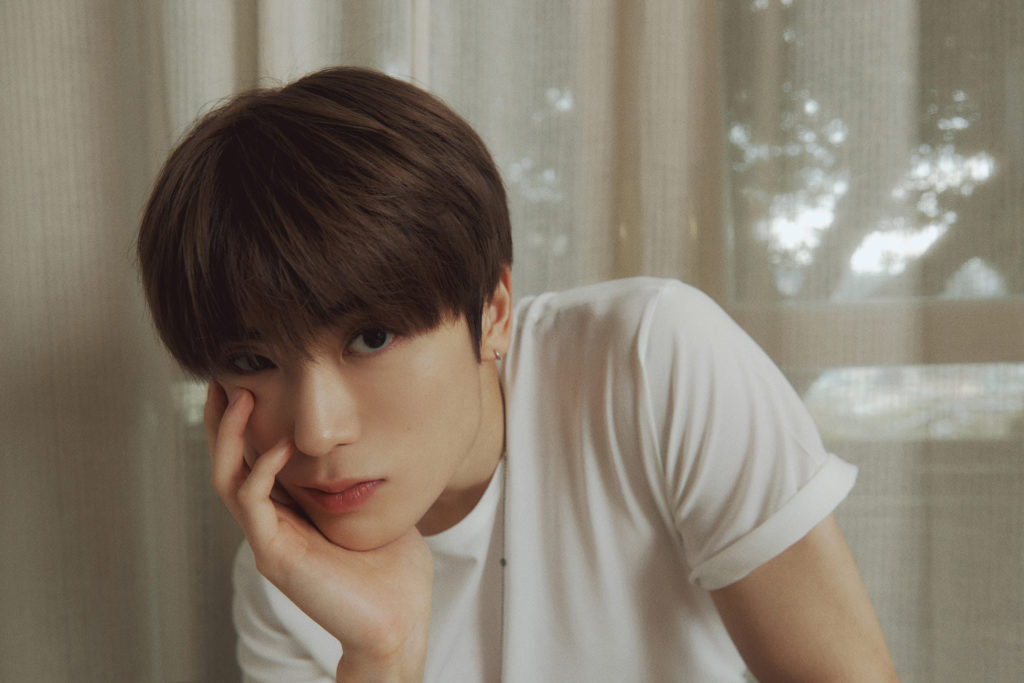 On August 18, Jaehyun dropped "Forever Only," his first solo single since debut under NCT LAB, NCT's very own take on the SM Station. "Forever Only" was first teased via an NCT News episode hosted by co-members Johnny and Ten. The single's main teaser reads as Jaehyun-core: a blurry, B&W image of Jaehyun wearing a leather jacket at a beach shoreline.
[STATION : NCT LAB] JAEHYUN 재현 〖Forever Only〗
➫ 2022.08.18 6PM KST#재현 #JAEHYUN #ForeverOnly#NCT #NCT127 #NCTLAB pic.twitter.com/LClW9Pc1QD

— NCT (@NCTsmtown) August 16, 2022
Beach motifs become even more evident in a later set of teasers showing Jaehyun in now-colored seascapes, wearing a flowy white shirt and feeling extra homey and cozy. Speaking of home and coziness, these are also seen in a set of teasers taken at a house. The teaser images give us a quick look of what to expect for "Forever Only," and according to Jaehyun himself, he's pioneering the "sexy lonely" movement.
[STATION : NCT LAB] JAEHYUN 재현 〖Forever Only〗
➫ 2022.08.18 6PM KST#재현 #JAEHYUN #ForeverOnly#NCT #NCT127 #NCTLAB pic.twitter.com/wfHjyh3d97

— NCT (@NCTsmtown) August 15, 2022
The Year of Jaehyun
2022 has been quite the year for Jaehyun so far. Over the past few months, he's been able to snag the coveted Prada brand ambassador title. Fans and fashion aficionados alike have been highly anticipating his assumption of this role, given his wide roster of campaigns and collaborations with the Italian fashion house even prior to his ambassadorship. As ambassador, he has attended Prada's Milan Fashion Week show in person and graced the August 2022 cover of ELLE Korea.
Outside his feats in fashion, his much-awaited drama, Dear.M, finally went on air after more than a year's worth of postponement. His acting debut, where he plays computer science student Cha Minho, is available to watch on Viki and iQIYI.
Throughout 2022, Jaehyun has also been touring with his NCT 127 bandmates through Neo City: The Link, where he's performed "Lost," an unreleased self-composed solo song of his. At present, he's gearing up for 2 Baddies, NCT 127's 4th album set for release this September. Before that, though, he embarks on another journey of his own: that of his solo artistry through "Forever Only."
Delivering and Exceeding Expectations
"Forever Only" is a mid-tempo R&B song dominated by a resounding guitar melody that seems to pay homage to 2000's R&B. Anyone who's been able to keep up with one of NCT's main vocalists is likely aware of Jaehyun's affinity towards all things R&B. With that in mind, many expected Jaehyun's first official solo release to exude all things R&B, and exude it did.
The song is R&B to its core, from the swoon-worthy vocals and adlibs to its wistful lyrics penned by Jaehyun himself. Not to mention, like many music videos of R&B songs from the 2000s, the music video for "Forever Only" also features a scene where Jaehyun dramatically wades in and emerges from the water.
the blurry effect giving me r&b mv like boyz II men, the lyrics "so close i feel you but never have you" damn jaehyun you were made for solo album pic.twitter.com/SUp471iKpv

— ✧ fil (@tonicyuno) August 18, 2022
The music video is also quite the visual delight. As previously seen in the teasers, the music video  shows Jaehyun pondering at home, wandering around a beach, and brooding as he rides a motorbike and wears a leather jacket at night. Throughout the varying settings and scenes, one thing remains clear: Jaehyun simply cannot stop yearning.
Beyond the melodies and visuals, Jaehyun's songwriting basks in the spotlight for "Forever Only." While he's dabbled in lyricism and self-composition for NCT's discography, his work for his first official solo release is significantly closer to who he is and who he hopes to be as a solo artist. As best said by Jaehyun himself, "Forever Only" is "sexy lonely" in such a way that he craves the warmth and presence of a lover—hence sexy—who has long departed—hence lonely. 
Keeping It Real
For the release of "Forever Only," Jaehyun's been able to share a lot about the journey leading up to his single and his overall creative process. In his Music Space episode, the singer-songwriter mentioned that his favorite part of his single was the bridge he wrote himself. The bridge of "Forever Only" was also a fan favorite, as listeners immersed themselves in the vivid image he was able to capture in his songwriting.
Jaehyun's favourite lyrics that he wrote in Forever Only was the bridge:

Two pairs of eyes swaying and painting
above the darkening sea
Underneath the invisible night sea
The warmth that grows deeper
as time goes byhttps://t.co/sPNLxws0TT#JAEHYUN #ForeverOnly pic.twitter.com/MOPT2ZqYRI

— JAEHYUN CHARTS (@jaehyuncharts) August 21, 2022
Meanwhile, in an Instagram live the night before his single's release, Jaehyun revealed that he filmed the music video of "Forever Only" in just a day. Additionally, he shared that the preparation for "Forever Only" as a song took about one or two months in an interview for Billboard. Fans more or less agree that the overall production and rollout of "Forever Only" were quite rushed, with a teaser period only lasting for three days. However, it wasn't hard for them to enjoy Jaehyun's first step into his solo artistry once "Forever Only" finally reached the airwaves.
#JAEHYUN said that he thinks they prepared the recording, the production and the MV in a rush and that the MV was filmed in just one day

— ciel (@_jaehyuniverse) August 17, 2022
Reception-wise, "Forever Only" is loved by fans and Jaehyun's co-bandmates alike. In an interview with GQ, Jaehyun reveals that Johnny was one of the first members to hear the new single. The latter echoed fan sentiments by feeling the mix of "sexy lonely" vibes as he listened to the song. Further, leader Taeyong shared on his personal Bubble messaging app that he was able to listen to Jaehyun's single prior to its release, also noting that the song suits Jaehyun well. Beyond these anecdotes, many NCT members showed their support during release day through their personal Instagram Stories.
TAEYONG 💬

"Jaehyunie
I've listened to JAEHYUN's song because he told me to, I listened to it using JAEHYUN's earphones"

"How should I say this? ㅎㅎㅎㅎㅎ It suits well with JAEHYUNIE"

— jai (@valentyongf_) August 17, 2022
Valentines, as Jaehyun's fans call themselves, have been nothing short of elated for the release of "Forever Only." It goes without saying that Jaehyun's first solo song was long overdue, and as previously established, he delivered and exceeded expectations. Jaehyun has acknowledged his fans' desires to see and hear him sing more often, and "Forever Only" has been able to satiate them for the time being.
this part in forever only blew my mind off for real.. my r&b king jeong jaehyun 🫶🏼 pic.twitter.com/DVUWL9c5ro

— 🐝⏳ (@yunotized) August 18, 2022
"Forever Only" goes to show that Jaehyun's paving his own way for his artistry. While it seems to be a far cry from the bombastic Neo concepts he's grown used to as an NCT member, this "simple but not common" side of him is more than welcome. As a multi-hyphenate with limitless potential and ever-growing talents in music, fashion, and acting, among other fields, the best is yet to come for NCT 127's main vocalist.
Watch the "Forever Only" music video here. For more Jaehyun, follow his personal Instagram account and give our Jaehyun Core article a read!