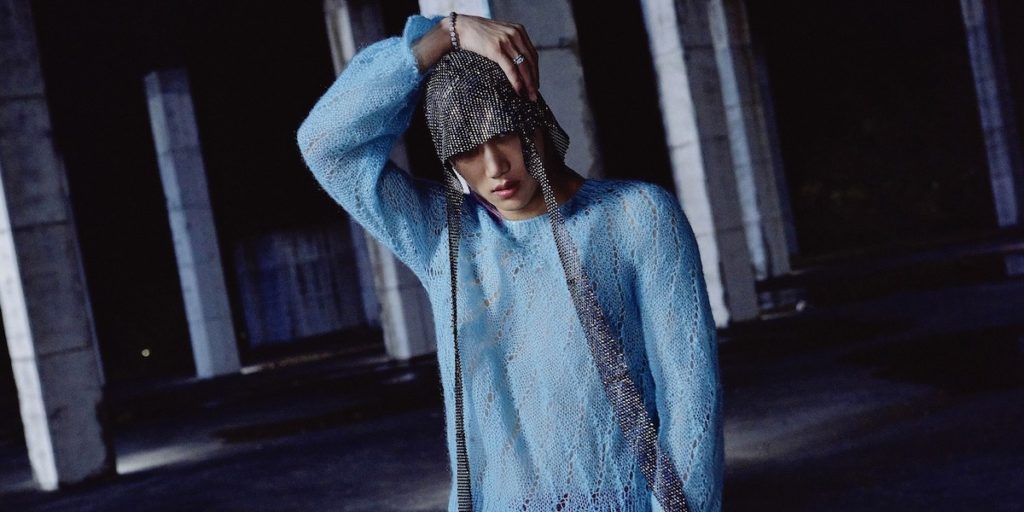 If one could describe Kai's debut EP in a few words, it would be sensual, with a hint of playfulness. As one of the most anticipated solo albums of the year, Kai's six tracks including the title track, "Mmmh," captivate you. With his charming dance moves and soft voice, you're lured into his world in a way few other artists have done before.
The album opener "Mmmh," adds on an R&B pop sound, with an alluring, and addicting melody, on a minimalist track. "It's definitely very unique and fits him so well. It's the perfect fusion between R&B, pop, urban/trap with all of those cool elements that K-Pop is known for," said producer Alawn, who's worked with various artists under SM Entertainment.
When asked about the music video, Alawn described it as, "Aesthetically beautiful, all of the teleportation shots are so cool. The final scene where he is dancing and his moves get frozen and turn into particles—it reminded me of the Matrix movies."
The inclusion of Kai's teleportation, his superpower from EXO's universe, was not at all shocking, as SM is known for the creation of a multiverse where their artists' personas exist with each other; it is no wonder that EXO's universe was included as well.
The sensuality of the album is not lost on "Nothing on Me," an indie R&B vibe with a heavy bass groove. The singer's soft melodic voice pleasantly delivers the subtleness of his feelings—longing and hypnotic. From the moment one hears that first melody, they're given a glimpse of the charm that is "Amnesia." An R&B Trap sound, with its attractive melodies and grooves blaring through. Kai's enchanting voice wows listeners, pulling them through until one is lost in the feeling of remembrance.
"The song wasn't all the way R&B, it was very simple, and minimal, and made everything blend together," said Mike Daley, who along with Mitchell Owens, and song-writer Mike J teamed up to create the progressive R&B sound of "Reason." The track's compelling bass pattern, its simplicity, and the use of minimal club music sets the stage for an atmosphere of playful top-down temptation, as the mood continues with Kai's sweet voice breaking through.
On the next track, the singer switched up the ambiance of the album ever-so-slightly. "Ride or Die," incorporates oriental guitar sounds, and a dreamy vibe, where Kai embraces an atmosphere that resonates with music from the 1980s, an era known for its experimental sounds and aesthetics. The song resembles a feeling of peace and tranquility while trying to enjoy life as it is.
It's on "Hello Stranger," that the singer dwells into the feeling of nostalgia, where the elements of hip-hop take on an electrifying calmness that seeps into the melodies. Kai's voice works in delivering a soothing placidity while at the same time, his vocal intonation emits a melancholic perception. The lyrics themselves depict this melancholic setting, where two strangers meet and share their woes—their bond is built upon the mere sympathy of each other's story.
The wait for Kai's first solo album was certainly worth it. KAI (开) rose to the top of the iTunes charts, ranking No.1 in 50 countries, and No.1 in the Chinese music chart 'QQ Music, Kogou Music, on its release day. In the first 24 hours, he achieved 8.4 million views on Youtube, and certified Triple Gold status on QQ music, achieving 750,000 RMB in sales for a total of +41, 667 digital albums sold. Within just two days of its release, the album sold a total of 182,169 copies on HANTEO and ranked as No. 2 on the US iTunes album chart.
After nine years of being in the industry, the singer delivered the most wonderful gift to his fans, an outstanding work of art where he was able to show his growth as an artist, dancer, and soloist.