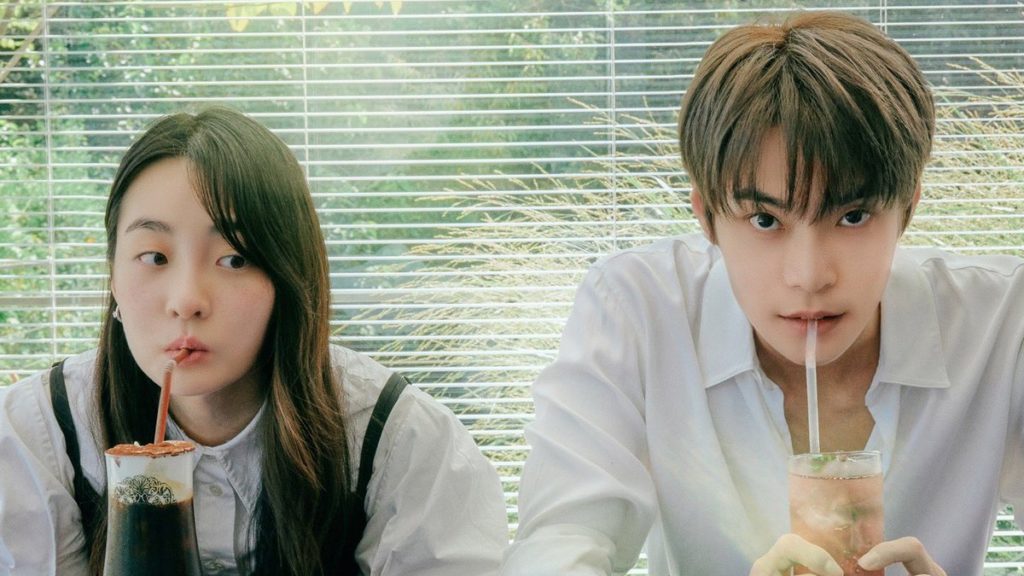 South Korean actor and member of the K-pop group NCT, Doyoung, continues to build on his career portfolio. Following a slew of projects in 2022—including acting, modeling, and music gigs—the poly-talented star surprised fans with the release of "Fallin'." Just like the name suggests, the single, a collaboration with Pachinko actress Kim Min Ha, is the perfect addition to any fall playlist. 
Fallin'
NCT's Doyoung has done it again. Adding to his abundant music catalog, the K-pop star delivered a duet with up-and-coming actress and Roger Vivier ambassador Kim Min Ha. Announced on October 19, the collaboration was written and composed by SM Entertainment's icon BoA and musician Shaun Kim.   
After a short preview released on October 24, "Fallin'" officially premiered on October 25 with an accompanying music video. Laced with season-appropriate imagery and lyrics that reflect on the feeling of falling in love, the song showcases the mellow yet powerful vocals Doyoung is known for, as well as Kim Min Ha's sweet voice. 
Kim Min Ha 
After successfully breaking into the acting and fashion industries, "Fallin'" marks Kim Min Ha's first foray into the music scene. Kim has previously starred in movies such as The Call (2020) and dramas like School 2017 (2017). However, her international breakthrough came as part of the cast of the Apple TV+ series Pachinko, alongside the likes of Youn Yuh Jung and Lee Min-ho. Her role earned the actress the "Rising Star Award" at the Asia Star Award and the "Beyond Cinema Award" at the Busan International Film Festival. The actress has also been listed in Forbes Korea's 2022 Korea Power Celebrity 40.
View this post on Instagram
Additionally, Kim Min Ha has been making waves in the world of fashion. A regular at fashion events, she was ultimately selected as Korea's brand ambassador for the French footwear brand Roger Vivier in May 2022. Talking about the appointment, creative director Gherardo Felloni remarked on Kim Min Ha's "colorful acting spectrum."
The Doyoung Effect
Meanwhile, Doyoung has established himself as a force to be reckoned with in the entertainment industry. In addition to landing a leading role in TVING's Dear X Who Doesn't Love Me (2022), this year, the star has proven his all-rounder title through his participation in SBS's television program Master in the House. As part of the main cast of the show, Doyoung has showcased his chops as an entertainer.
View this post on Instagram
In one of the most popular moments of the show, Doyoung introduced what is now dubbed the "baby butt bread pose," to actors Lee Jung-jae and Jung Woo Sung. Doyoung's pose quickly gained traction with stars across fields joining the trend of posing with their hand under their chin. The pose has even reached Thailand, with popular celebrities like Billkin and the cast of KinnPorsche mimicking the pose. 
From spearheading international trends to bagging star-studded collaborations, Doyoung has demonstrated time after time his talent and popularity. His latest duet is no different and it continues to add to a versatile resume that also flaunts several awards and other accolades. 
Interested in more new music releases? Check out ITZY's exploration of teen pop in "Boys Like You" here.