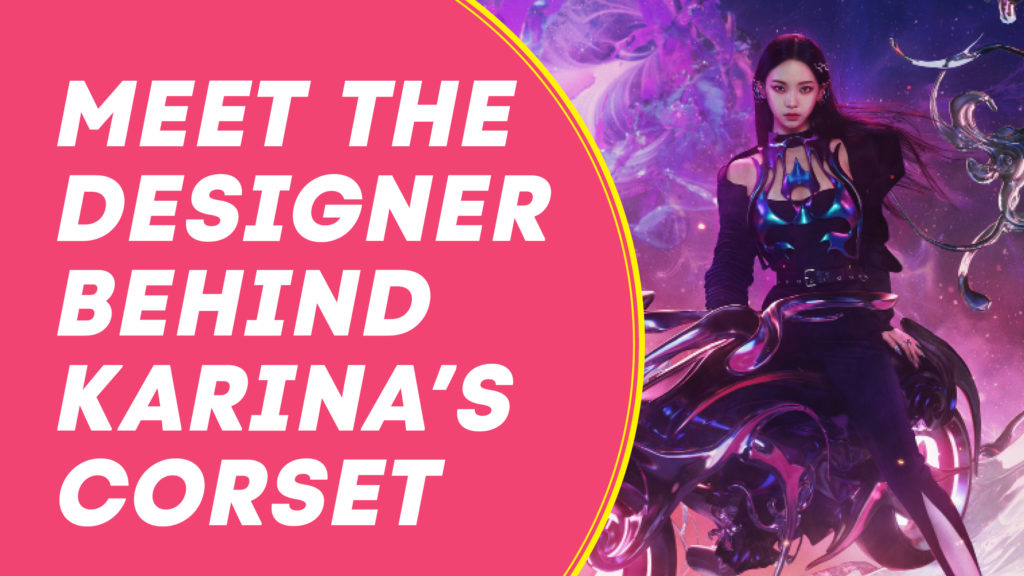 æspa's latest comeback has continued to capture the attention of K-pop fans, from the "Next Level" teasers to their detailed make-up looks in the SM Culture Universe. It all started with Karina's solo pictorial teasers, capturing the group's leader riding a motorcycle in a vibrant, futuristic setting. Fitting the theme, the singer wore a Nusi Quero corset, as many eager fans noted. Allow EnVi to introduce you to the designer behind the iconic piece.
aespa 에스파 〖Next Level〗
➫ 2021.05.17 6PM KST#KARINA #카리나#aespa #æspa #에스파#NextLevel pic.twitter.com/jzhGuR1O4R

— aespa (@aespa_official) May 7, 2021
Beginnings 
Quero himself began in the music industry as part of a band. Since then, he's gone from architecture to rendering to couture. However, all these combined experiences have led him to this point.
"I think that there's a vocabulary of principles that I've been able to think about as like, cross-disciplinary or cross contextual. And then I've been able to practice in all different versions of these fields. I don't know what to call it. I think about words like composition, contrasts, melody, harmony. All of these words are rhythm," he told EnVi. "They're all things that are all present in architecture. It was like a synonymousness that I found between making music and then practicing or designing architecture." 
Though seemingly different, each of the roles he has taken on has given him perspective. He explained, "I think there are certain intuitions, mostly that I've been able to develop from practicing all these things, but keeping these sorts of concepts that span the fields between them in mind while I'm working on them."  
With his previous work, especially in architecture and compositional art, he was able to establish himself as a designer with his own niche in couture. From the start, his work has been impactful.
"It was a really profound feeling for me the first time I made a piece. I had a friend come over, and I was like, 'Hey, can you try this on?' I didn't know if it would fit. I didn't know if it would work. Or if it would be uncomfortable or ridiculously not proportioned right, or whatever. So, I just had a friend over and she tried it on," Quero explained. "And luckily, I mean, miraculously, kind of, it fit her perfectly. And she was really into it. She was feeling herself, strutting around… and, I thought that it was amazing I made this thing that empowered someone, that made them feel different, and I kind of love that feeling. I love the idea of doing that for people and doing that for women."
View this post on Instagram
Nusi's Work In Fashion
Quero has built a large portfolio. In the process, he has been able to work with many celebrities and has gained plenty of attention for his creations. Since the start, however, he has been committed to letting the pieces speak for themselves. 
"I'm pretty straight to the point. I actually have a pretty big issue, usually with metaphors in art. The neck thing on the pieces I make, it really just makes your neck stay up. And, when I do renderings and stuff, I really try to get rid of any ambiguity," he stated.
"With my pieces, I want them to be sort of like armor simultaneously, sort of something just peculiar. And definitely, a sort of empowered sexiness, hopefully, that is felt by the wearer. I think that we're at a time right now, in the sort of Zeitgeist when people are tired of containing themselves… They're tired of not being allowed to, like, celebrate their sexiness without being under threat of sexual assault and stuff," he expressed. 
View this post on Instagram
Vision of Femininity 
It seems that women have always played a strong role in Quero's life. Growing up with his mother, he cherishes that his upbringing gave him the space to be creative, in contrast to those with more traditional parents. 
"I'm a mama's boy. I was raised by my mom. I wouldn't call her stereotypically feminine, but I do feel that I was raised under this sort of nurturing and empathic environment, and whether or not that's feminine, I'm not sure." 
With these influences, Quero continues to explore femininity as a designer, creating pieces with a purpose, "I don't pretend to solve those problems, but I do want to make things that when people wear them, they feel powerful, they feel a new way." 
For the designer, this goes further than just saying so. He incorporates these elements into his designs themselves. "I've done some intentional things with the designs on some of them. I've added a collar that's built into it. I did it originally, just because I love this aristocratic sort of way it looks. I thought it was beautiful. But what I noticed, just like when someone put it on, they couldn't put their chin down. They couldn't look at the ground. They kind of just had to be this like, bad bitch." 
This revelation led Quero to center his work not only on style but also on significance. 
 "I thought that that was an amazing thing. You know it's almost like a corset or a trainer for confidence. There's the sort of intentions that I have with pieces in terms of how they are embraced or worn by people who identify as feminine."
When creating, he has a strong image in mind. He has translated that to his physical work.
"When I'm designing these pieces for women to wear, I always imagine this sort of archetypical, shamanic Goddess woman, who's just way too cool, way too hot. And like, has a pack of wild cats following her around," he said.
This has been influential imagery throughout his career as an artist.  "Before I was making the couture that people would wear, I was just making renderings. I was making images and in the images, I got kind of fascinated with this like empress archetype, then I would often try to interpret it in pieces I was making. "
View this post on Instagram
Jumping into K-pop
Quero's work appealed to Cece Liu, the stylist for æspa's teasers. She reached out to him to feature his pieces in the photos that would be taken by Bryan Hyunh and designed by Rodolfo Hernández.
"They asked me for a while to make a piece for this. And I had a very complicated couple of months. And it was very hard. I ended up only being able to ship one. I was hoping to be able to do a look for all, but I was very glad that I could get a piece out there. And, I thought that it worked really great. I really wasn't involved with the styling of it, though. I'm really, really happy with how it turned out though."
Fans were just as pleased with the look and quickly rushed to thank the artists behind the work. For Quero, seeing the power of K-pop fans was unique. 
"It was my first time making something for an artist in K-pop. And I think the most interesting thing was how a lot of the æspa fans, what most of them said to me was, 'Thank you. Thank you for making this for this person that we adore,'" he shared with a laugh. 
"I thought that that was really sweet and unique. And I also thought it's a different sort of fandom that exists for K-pop artists. It's really amazing to see like 10 minutes after this image goes up that there are already people finding out all of the things that everybody's wearing and getting a link and showing the price and everything on a document they've already photoshopped together. It really was mind-boggling to me. I think that was the biggest takeaway from it was just how amazingly dedicated K-pop fans are. It's really, really special."
Looking Forward
Having gotten a taste of working in the K-pop industry, Quero is eager to continue collaborating with K-pop stylists and working with their vision. 
"All of their worlds are so amazing and inspiring. All of the walls of the room are painted and it's very, very interesting. And, so, I would say that if someone wanted to work with me, that the more they bring to me, the more that will come back because I've been really yearning to have a more involved sort of co-designed commission, or like a collaborative process in making a piece for somebody or a look or more," he shared. 
View this post on Instagram
A New Form of Fashion Shows
In the meantime, Quero's gearing for his first show, set for the fall of 2021. However, like the rest of his work, he promises that it will stray from the traditional fashion scene. "I don't like fashion shows," Quero stated. His avant-garde pieces made from futuristic techniques are very much pieces of art. Rather, his show will be able to further display his development and purpose as a creator. He has a clear goal in mind. 
"I've decided I'm decidedly not a fashion designer. I'm not. I'm not a musician. I'm not in the music industry. I'm not in the fashion industry. What I've decided is that I'm kind of in the goosebumps industry. That's what I want. That's what I want to give people. I don't care if they have that piece, I want them to have a feeling. I want them to have goosebumps," he said. "I want them to feel funky and uncomfortable or amazed from it. And, so, on that note, when I do a 'fashion show' where I essentially showcase people that are wearing the things that I make, I've decided to do an experience. I'm going to call it a ritual that people witness."
With such a unique career, Quero's creative direction has continued to stun the fashion industry. Now that he has done the same in the K-pop world, there are surely plenty of eyes on Quero, waiting for his next big move.
Interested in reading more about fashion? Check out the jewelry trends worn by your favorite idols!
Thumbnail by EnVi Graphic Design Team.