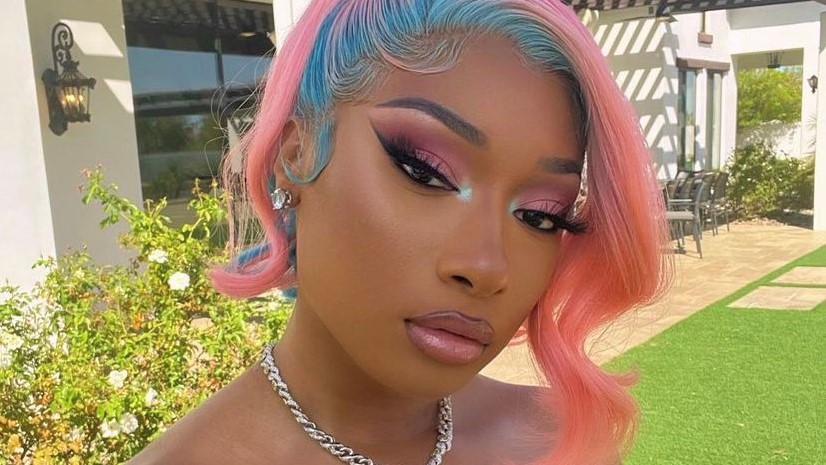 On August 11, Houston's finest, Megan Thee Stallion, surprised fans by announcing her sophomore album, Traumazine, would be released the next day. This is a step in a new direction for the artist as she unfolds a new chapter in her life—one full of self-reflection, acceptance, and healing. The second studio album demonstrates how well-rounded she is as an artist as she experiments with new genres and styles, while never losing her original flavor. The LP has a total of 18 tracks—including hit singles "Plan B," "Sweetest Pie" featuring Dua Lipa, and "Pressurelicious" featuring Future.
Traumazine is defined as "the chemical released in the brain when it is forced to deal with painful emotions caused by traumatic events and experiences." During a Twitter Q&A session, the rapper opened up about the album, sharing "I wrote this album for myself." Ultimately, Traumazine is the product of a long journey of self-reflection for Megan. Though she doesn't have it all figured out yet, she is still happy to take this new route of vulnerability. The rapper hopes the album will give her fans, Hotties, a better understanding of how she's been feeling as of late.
A Look Into Thee Stallion's Mind
The album kicks off with "NDA," a warning shot to those who continue to disrespect her and her boundaries. With lyrics like, "And the next one of y'all blogs wanna spread lies, I'm gone sue you / And the next bitch that breaks my NDA, they goin' for you too," the artist is letting it be known that haters are going to have to put their money where their mouth is.
"Ungrateful" is the second track on the album in collaboration with rapper Key Glock. Thee Stallion touches on her Tina Snow persona as she comes out swinging on her verse about being tired of these "fake-ass, snake-ass, backstabbin', hatin'-ass, no money gettin'-ass bitches." This song was right up Glock's alley, the featured rapper gliding across the beat almost effortlessly. Thee Stallion's powerful delivery worked well with Glock's laidback performance, making for a clean fit for the two's verses on the track.
Done People Pleasing
The third track, "Not Nice" brings more of a 90's old-school flow to the album. It is an anthem for those who are tired of having their kindness taken advantage of and being walked over. Thee Stallion didn't hold back with lyrics like, "You got roaches in your crib sharin' snacks with your kids / Delinquent on your payments, ho, go and post this." The rapper had to get disrespectful in the booth to remind people that things like kindness and respect are earned.
What's The Price? Up It.
The fourth track on the album is "Budget" featuring Atlanta-based rapper, Latto. The song is a shoutout to those who try to copy the Hot Girl, but just fall short of the original as shown in the lyrics, "Every time I peep, hoes moving like me, I gotta switch it up / For the shit don't never hit quite like this, 'cause your budget ain't big enough." Latto comes out the gate with high energy, opening her verse with "Latto don't do budgets," letting it be known right then and there, that whatever she wants, she can get. The Atlanta rapper even touches base with the obsessive behaviors of haters, "First to watch my story but don't like me, bitches weird."
Drawing Attention Like a Centerpiece
The fifth track "Her" took listeners by surprise with the appearance of a house beat. The song is sickening as Megan's delivery is humorous, almost borderline taunting, with lyrics like, "Bitch, you do you and whatever that is, I'ma do it better." The lyrics ooze confidence as she reminds everyone she truly is "that girl"—she is Her. No matter where she goes, or what she wears, she will always have all eyes on her.
It's Lonely At The Top
Thee Stallion lets it be known that she knows her worth and messing with her is a "Gift & a Curse" on the sixth track of the album. The lyrics are nothing but confident as Megan raps sex-positivity. Though the lyrics carry such energy, the underlying themes of loneliness that accompany being strong and independent are what make this song even more interesting. The artist is grateful she knows her worth, but coming to this realization and removing what no longer belongs in her life, can feel very isolating. In her Rolling Stones cover interview, the rapper shared, "It's a gift that I'm so strong, but I feel like it's also a curse because it makes things get kind of lonely sometimes."
Don't Be Shy, Open Wide
The seventh track, "Ms. Nasty," has that signature Tina Snow sound to it—giving the same vibes as "Good At" and "Cognac Queen" from her 2018 album, Tina Snow. The rapper is known for owning her sexuality and never shying away from voicing her desires, this track was no different. She takes on the name, Ms. Nasty, as she lays all her wants out on the table, almost in bullet-point fashion, of how she wants her partner to have her.
Shots Fired
Next is, "Who Me, featuring Memphis-rapper Pooh Shiesty. Thee Stallion opens the song up with one point to make: she never has to beg a man for anything. The Hot Girl caught many people's attention mid-verse, when she took a direct hit at Lanez, saying, "I feel like Biggie—who shot you? But everybody know who shot me, bitch" referring to her case against the male rapper after Lanez allegedly shot her after a dispute in 2020. Shiesty doesn't hold back his feelings either when he directs his verse toward the officers and detectives handling his current case either.
Let's Get Wine Drunk
Thee Stallion is tantalizing on the track, "Red Wine." The beat is already sensual, but even more so when paired with the rapper's moaning adlibs. Hotties joked that Thee Stallions' "inner Janet Jackson" popped out due to the provocative sound of the track. The lyrics reveal her desire to have her partner get drunk off her body with the lyrics, "I'll make you mine / Drink up, come get some of this red wine."
Goons and Goblins
The tenth song of the album is "Scary" featuring alt-rapper Rico Nasty. The two come together to make the perfect Halloween anthem—the use of horror movie elements gives the track an eerie feeling. The song stands out amongst the other songs on the album due to its spooky nature. Though it's different from what the Houston rapper usually does, this is right where Rico Nasty belongs.
Candid and Vulnerable
Despite its upbeat sound, "Anxiety" is one of the heavier songs on the album as the artist uses the track as a moment to vent. Being in the limelight is not easy, especially when people constantly wish for the rapper's downfall. Thee Stallion is vulnerable as she opens up about her wishes for reassurance. This is a more personal side of the artist that we rarely see, but the lyrics also serve as a reminder that it's ok to feel and have those bad days.
"Flip Flop" follows suit as another personal song on the album. She opens up about her trust issues and the struggles of not knowing who is really on her side. It's hard to continue to let people in and trust them when so many of them switched up before. The theme of this song resonates even more with the lyrics, "Your people ain't your people / They just want what you got." It's hard when people stick around for what you have and not actually for you, which can also speak to how the journey to success can be lonely sometimes.
Late Night R&B
"Consistency" is the first time that Megan Thee Stallion has collaborated with Jhené Aiko. The two are known for their sensual lyrics, so they made a great pair on the track. Sampling "Between the Sheets" by The Isley Brothers, this track is smooth; making it an easy listen for anyone who comes across it. Thee Stallion's sultry voice paired with Jhené's dreamy vocals will have listeners playing it on repeat.
The next song, "Star" featuring singer Lucky Daye, shows the range of the Houston rapper as she leans away from a more rap-heavy approach by showing off her vocals throughout the song. Daye supports her vocals gracefully with his smooth voice. Paired with his vocals, the lyrics read as admiration for his "Star": "Gotta be a star to jump over the moon / Come fly with me / You're a superstar / I know you got somethin' for the world to see."
Slowed And Throwed
"Southside Royalty Freestyle" is an ode to the rapper's hometown, Houston. Any listener can hear the influence—the chopped and screwed scratches hitting your ears as soon as the song begins. This song is special to the Texas hotties, especially the ones from Houston. Having legends like Big Pokey, Lil Keke, and Sauce Walka featured on the song, gave it that Texas twang that no one else can master. This song is a true Houston tribute to the 90's Cadillac cruisin' music that many of us grew up with and come to love.
A Multi-Faceted Work of Art
Traumazine is a perfect example of how versatile Megan Thee Stallion is. The album takes listeners on a journey with every song, each showing listeners a different side of the rapper. From calling out haters to opening up about her anxieties and struggles to self-confidence empowerment, and owning her sexuality—Thee Stallion did it all in 18 songs. There truly is something for everyone in this album.
Make sure to keep up with Megan's future releases by following her official Instagram and Twitter. Also, subscribe to her YouTube channel, here!
Want more music? Check out EnVi FORMATION's "6 SOCA  Artists You Need On Your Playlist" here!