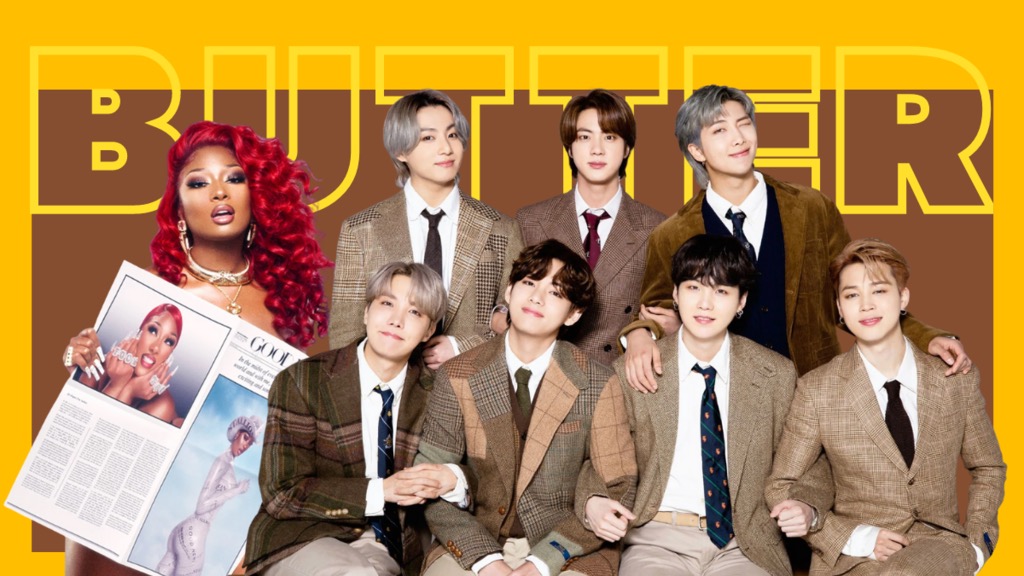 BTS and Megan Thee Stallion have joined forces for the latest version of "Butter." This new rendition featured the Grammy-award-winning rapper on the summer song topping the charts.
Megan's opening lines introduced the powerful collaboration and were followed by her rap signature. She delivered the second verse and ad-libs throughout the track. Calling herself the "Hot Girl Coach" and giving a shout-out to her hometown, Megan's charisma and flow added a hip-hop flair to the dance-pop track. Combined with the original vocals and rap of the group, the project showcased both artists' talents.
In less than 12 hours, "Butter (ft. Megan Thee Stallion)" gained over 10 million views on YouTube. While streaming, fans took to Twitter to give their praise.
Hottie Army
Megan's Hotties and BTS's Army enthusiastically relayed their reactions and thoughts about the single. These dedicated supporters caught every detail and were sure to pay their compliments.
the thing i love the most about the collab is that megan is all over the song. she didn't just have one verse and dip. she gave us an intro, she gave us adlibs, she was rapping with yoongi. she even got the "hotter" part in the ending. she understood the assignment.

— ally??‍♀️ (@btsxnormani) August 27, 2021
megan's ad libs during "hate us love us" singing with bts it feels so good like we are all partying together oh I love this part so much

— .·͙☽ (@taeteland) August 27, 2021
Really enjoying #BUTTERTHEEREMIX – great song to start the Friday heading to weekend!

I love that Megan has significant part of the song – it adds to it, not just supports it pic.twitter.com/Kmsy2kNvRE

— Jin˚s Korё ⁷ ? (…?…) (@Jins_Kore) August 27, 2021
With pink icons to celebrate the collaboration, the fanbases used Twitter tags for their edits, artwork, and plenty of fun jokes.
butter ? with megan ?#BUTTERTHEEREMIX pic.twitter.com/7kjdWP3lqz

— emi quaphie⁷ 쿼피 (@quaphadoodle) August 27, 2021
BTS Butter ft. Megan Thee Stallion ? pic.twitter.com/WHcXOynBp4

— Di verse⁷? (@Taelentedme) August 27, 2021
BTS MEGAN y ARMY pic.twitter.com/0mUEPWOiRA

— Azul⁷??tengo limit (@azul_blue8) August 27, 2021
Megan herself joined in on the fun, sharing her excitement for the new release. She also took the time to express her appreciation for the warm reception and philanthropy projects organized in the artists' names.
Smooth like coca butter ?? pic.twitter.com/upgz0bfAre

— TINA SNOW (@theestallion) August 27, 2021
I can't even begin to say how much this means to me! Thank you ?? https://t.co/fHeL1CJ7T1

— TINA SNOW (@theestallion) August 27, 2021
Forces to be Reckoned With
Both Megan and BTS have hit a number of milestones in the past few years. Megan recently released her song "Thot Shit" and has already reached 25 million views in just two months. Previously, she took home three awards and performed at the 2020 Grammy Awards.
BTS also performed at the Grammy Awards and became the first K-pop group to receive a major nomination for "Best Pop Duo/Group Performance." Following the release of "Butter," the group dropped the "Hotter," "Sweeter," and "Cooler" remixes. The group came back soon after with "Permission to Dance."
From Texas to South Korea
In addition to impressive accolades, this project brings together diverse artists and audiences. Appealing to an international community, the track shows that music truly has no borders.
Looking for more new releases? Check out Mirae's comeback here!
Thumbnail credits to Astrid.