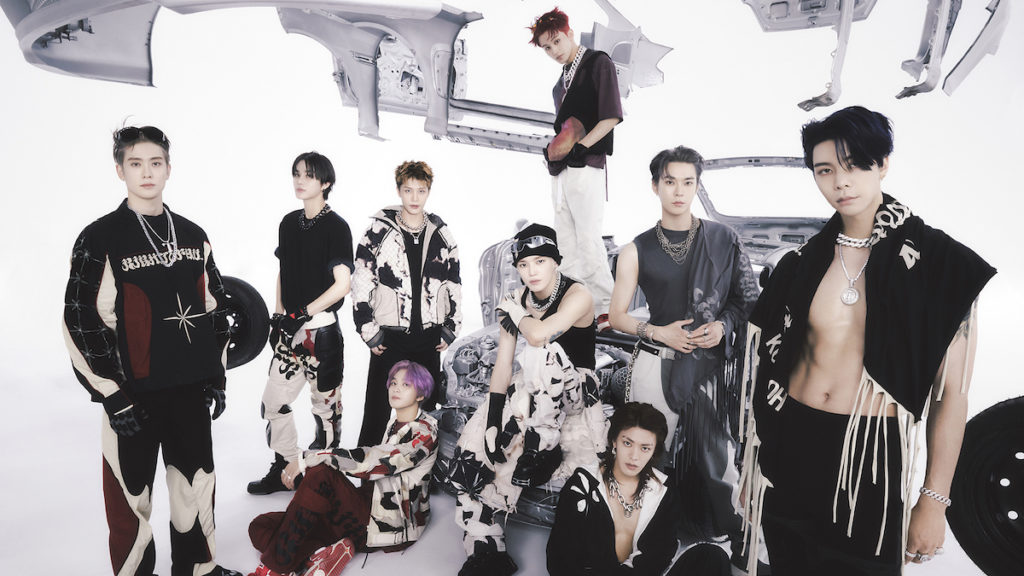 Innovative trendsetters NCT 127 rolled up with their fourth full-length album 2 Baddies on September 16. Released nearly a year after their third LP Sticker, 2 Baddies takes listeners on a journey with themes of confidence, perseverance, and romance. Taeyong, Taeil, Johnny, Yuta, Doyoung, Jaehyun, Jungwoo, Mark, and Haechan pulled up to the starting line ready to deliver the best album of their career thus far.
Moving at 127 MPH
Energy is high at the start of "Faster," the album's opening track, comparable to that at a race's kickoff. It continues to heighten as the tempo increases, eventually bursting into a hot, rhythmic beat. Accompanied by smooth raps and immersive sound effects ranging from car engines revving to shrill whistles being blown, NCT 127 embrace their group's experimental concept of neo culture technology. NCT 127 display their tenacious attitude as they remind listeners they have always been trendsetters with lyrics such as "I'm a new record." The group kicks off their newest chapter confidently with "Faster," as they drive home the theme that they are unstoppable.
"2 Baddies" doubles as the album's name and title track and follows the fast pace set by "Faster." Continuing the playful imitation of car sounds created with electronic instrumentals, this hip-hop-influenced song is an auditory treat for listeners. NCT 127 did not miss their chance to showcase how well the nine of them work together. From highlighting their ace rap skills to the versatility of their vocalists, "2 Baddies" is one of the most impressive title tracks of their discography.
The music video for "2 Baddies" is also a visual experience filled with clever animation and use of UV black lights. Neon colors take over the screen and immerse viewers in the radiant world of NCT 127.
Nearing the end of 2 Baddies, "Tasty" is highly reminiscent of the album's openers with its confident and bombastic energy. Provocative lyrics show a more mature and sultry side of the NCT 127 members, as they confidently proclaim that they'll be sweet as honey and "butter on scones" to their lovers while voraciously preying on any nightmare that haunts their object of affection. "Tasty" will leave listeners feeling like they are being chased down with the utmost desire.
Tugging on Heartstrings
Yet another lovable quality of NCT 127 is their ability to create a whimsical air with their music, and these B-sides from 2 Baddies certainly tug on listeners' heartstrings. "Designer" is an overwhelmingly sweet confession of love. The delightful energy from the twinkly, upbeat R&B-influenced track cannot be described as anything but perfect for NCT 127.
On a more melancholic note is "Black Clouds," which compares running into an ex-lover on a rainy day to a black-and-white film. The soft R&B track is delicate with a lullaby-like synth and soft guitar strumming. With heavenly harmonizations, the track finishes with the romantic gesture of longing for never-ending rain so that there will be no end to their love story.
Listeners are engulfed in the sugary-sweet memories of young love in "Playback." The members' vocals are coated in infatuation as they reminisce on a love they once had. Though playful in its sound, the lyrics hold a hint of bittersweet nostalgia: "You are in the sad memories / That I always replay countless times." Packed with their heavenly harmonies, fans can't help but play this track back for hours.
"Vitamin" is a playful pick-me-up, as Johnny opens the track with a declaration stating that he'll be your therapist for the day. As a huge source of happiness for their fans, known as NCTzens, NCT 127 embody what it means to be a happy pill as they sing about being shoulders to lean on. The groovy hip-hop B-side is reminiscent of '90s hits and sends a clear message to listeners that they can always rely on their vitamin NCT 127 to brighten their day.
"LOL (Laugh-Out-Loud)" is the second to last song on the album and continues to reassure listeners that NCT 127 will be their support system through their music. The group urges fans to laugh off stressful matters because they shine the most whenever they smile. Filled with fun 808 beats and guitar riffs, this jazzy neo-soul track is an upbeat anthem to lift your spirit.
Smooth, Classic 127 R&B
Typically recognized for its experimental sound, the unit is also acclaimed for its collection of smooth R&B tracks. NCT 127 have mastered the ability to have their distinct sound travel across genres and have embraced their R&B influence on 2 Baddies.
"Time Lapse" welcomes fans with spiraling retro 8-bits followed by the memorable "incoming," which can be recognized from the intro of the group's hit "Sticker." But the recurring motif found within NCT 127's discography is better known as the signature tag of music producer Dem Jointz. The notable producer embraces the distinguished neo culture technology sound and gifts it a classic R&B twist supported by 127's smooth vocal arrangement. The members take listeners on a heart-wrenching tale full of longing in hopes of salvaging their relationship with their lover. Credited as co-writers, members Taeyong and Mark prove their songwriting skills as they immerse listeners in that somber state of replaying the memories of a love that once was: "Even if I try to forget you, it repeats." Some say that time heals all wounds, but in this thought-provoking melody, they are only haunted by memories.
NCT 127 take listeners out of this world with the groovy, sci-fi-influenced R&B track "Crash Landing." Sounds of wavering stellar synths surround listeners to create a celestial world that is a means of escape for a pair of lovers. The song reads as a confession, with Johnny opening the song with "Look, it's you I live for." The singers yearn for nothing more than to flee to a place of solace to indulge in the comfort and love of their partner. This romance is otherworldly as they are able to create this world that's only for the two of them.
"Gold Dust" immediately greets listeners with Doyoung's sweet falsettos that create a dream-like atmosphere for fans to submerge themselves in. The group sings of a fairytale-like love, showing how enthralled they are by their lover as they compare the shine of their beloved to the glow of the moon and the brilliance of the stars in the night sky. MoZella, writer of the hit single "Wrecking Ball," is credited as one of the songwriters, which explains the raw and wistful sound exuded in the R&B track. "Gold Dust" carries a distinctive magic that NCT 127 only elevate with their soothing vocals. Just as the song starts with Doyoung's dreamy notes, it also ends with a set of falsettos from Jaehyun that takes you to the moon, and Jungwoo's closing honey-like vocals are the perfect cherry on top.
2 Baddies closes off with the sentimental and nostalgic "1, 2, 7 (Time Stops)." Paying homage to their group name, the heartfelt track is all about cherishing memories with a loved one and wanting time to stop. Lovely and ecstatic, "1, 2, 7 (Time Stops)" is dedicated to none other than their beloved NCTzens. The warm finale is comforting and a testament of the adoration they hold for their fans.
What It Means to Be Neo
NCT 127 have never shied away from their eccentric concept of neo culture technology and have sped ahead of the current musical trends with 2 Baddies. Fully embracing the term "neo," their fourth LP encompasses the path the group is making for themselves. Taeyong, the unit's leader, beamed with confidence as he shared in a press conference, "Neo no longer means to be weird; to us, it means to stand out."
The experimental K-pop group has always pursued unique sounds that can be considered ahead of the times, and it is wonderful to see them continue to do so as their discography continues to grow. Although it has been nearly a year since their previous album, Sticker, was released, vocalist Doyoung hoped that the fans would enjoy 2 Baddies the most. He stated in a press conference, "We hope that our fans feel that this album and this team are worth the wait…What matters the most is our fans thinking, 'This is why I waited so long.'"
From embracing their bold concept to radiating confidence, 2 Baddies will surely win first place in NCTzen's hearts. To keep up with what NCT 127 next brings to the table, make sure to follow NCT 127 on their official Instagram and Twitter accounts. You can now listen to 2 Baddies on Apple Music, Spotify, and YouTube!
Want more NCT 127 content? Check out how NCT 127 are introducing the latest menswear trends in their new album 2 Baddies here!