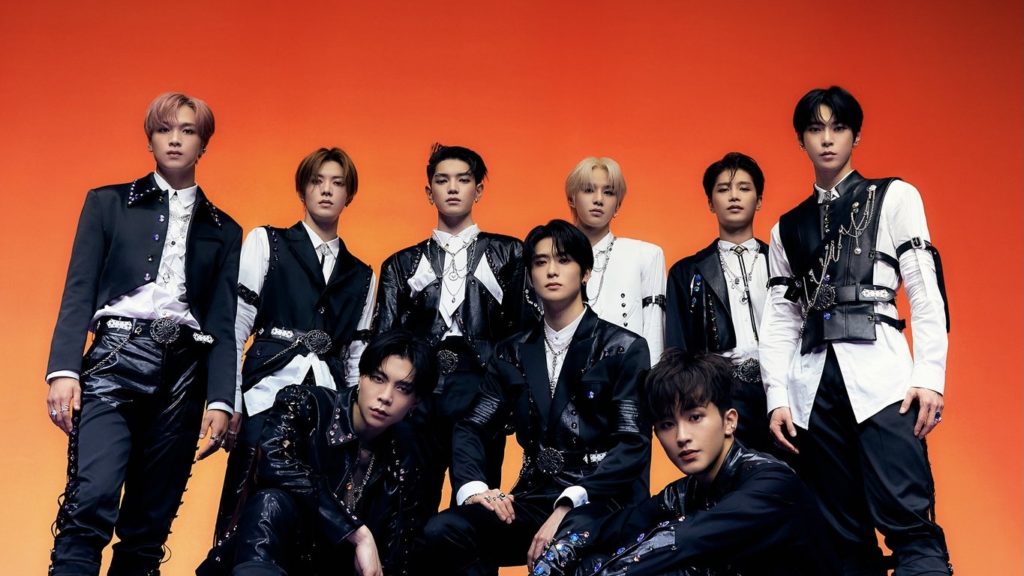 On September 17 at 1 PM KST, NCT 127 came back with their title track "Sticker" from their full-length album of the same name. "Sticker" is a hip-hop song with heavy bass and an addicting flute sound throughout. The song is a catchy track that talks about NCT 127 wanting to keep someone special close to them, just like a sticker.
The music video has a huge western influence with video game elements that showcase the charismatic charm of NCT 127 that NCTzens are drawn to. The western theme is felt throughout, with the opening scene of Taeyong and Jaehyun decked out in western outfits, topped off with a signature cowboy hat. There are various mentions of rodeo, with a rope being a common theme throughout the music video. The cowboy hat is also a recurring theme, with a cute appearance by the lovely chihuahua, Malraeng.
Records
Just one hour and 50 minutes after the music video release, "Sticker" had amassed 2 million views on YouTube. It is the fastest NCT video to do so. The music video also became the fastest SM video to get to 1 million views with a record of 21 minutes!
10M views after 10 hours since the mv was released! neozone era czennies would cry at this milestone 😭💚 #NCT127_Sticker pic.twitter.com/fp9mE0py1C

— 재혀니편 ♡ 127 (@mylightjaehyun) September 17, 2021
.@NCTsmtown_127's 'Sticker' had 39,140 unique listeners in its 1st hour on MelOn, the highest for a boy group since the chart's reform.

— NCT Charts (@nct_charts) September 17, 2021
Attacked by Visuals
NCTzens couldn't help but be stunned by the visuals from the MV and the members
#JAEHYUN pic.twitter.com/cebLIMSxuk

— ً (@JJHLOOKS) September 17, 2021
NOBODY CAN TOP TAEYONG'S BREATHTAKING CHARISMA!! #TAEYONG #태용 #NCT127_Sticker pic.twitter.com/CElATfhxzi

— vics♡ (@neotyongg) September 17, 2021
STICKER IS BEYOND MASTERPIECE 🔥 pic.twitter.com/TXxRdtJ7Pf

— bibble 🐱 (@dailynjaem) September 17, 2021
YUTA AND JAEHYUN IN ONE FRAME… THE POWER?!?! pic.twitter.com/J0us1s238S

— ELLIE 𖤐 (@_ikykleeknow) September 17, 2021
accurate description on what Jungwoo Is doing to my heart while watching the music video #NCT127_Sticker #JUNGWOO #NCT127 pic.twitter.com/sNjPPDeVVZ

— cherryverse 🍒 (@cherrie_verse) September 17, 2021
Sticker Praise
The praise continues as fans can't stop raving about the song
"you're the main character in my masterpiece"#YUTA #유타 #NCT127_Sticker pic.twitter.com/Exvoat9HBT

— 스키나유타🍒 ⁰⁷ (@sukinayuta) September 17, 2021
I REALLY LIKE THIS PART 🤩🤩 "ROLL UP TO THE PARTY" 🙌🤪#NCT127_Sticker      #NCT127Sticker_Accessed #시즈니랑_붙어있자_STICKER @NCTsmtown_127#TAEYONG  #태용 pic.twitter.com/3nZupq09eR

— 🌹 (@nctairong) September 17, 2021
I'm still not over this Taeyong is incredible!! The balance and core strength required for this move is crazy, and yet Taeyong just makes it look so easy 😳 pic.twitter.com/DGewI3jw5c

— Resident of Ncity (@musetaeyong) September 17, 2021
this is the representation of all our hearts after we watched the MV#NCT127_Sticker #JUNGWOO pic.twitter.com/QXPgZUqcLo

— dearysse_ (@dearysse_) September 17, 2021
The Song, choreography, MV, and Visual are so perfect, let's streaming harder czennies #NCT127_Sticker pic.twitter.com/4hZyBKtiEW

— cloudy❣ (@tyongjaejen88_) September 17, 2021
Before NCT 127 released "Sticker," fans had been blessed with multiple waves of content to hype up the release. NCT 127 will promote "Sticker" and "Lemonade" on music shows and appear on various variety shows this comeback.
Interested in hearing the rest of the album? Listen on Spotify and Apple Music. 
Read all about the "Sticker" press conference here!
Thumbnail courtesy of SM Entertainment.