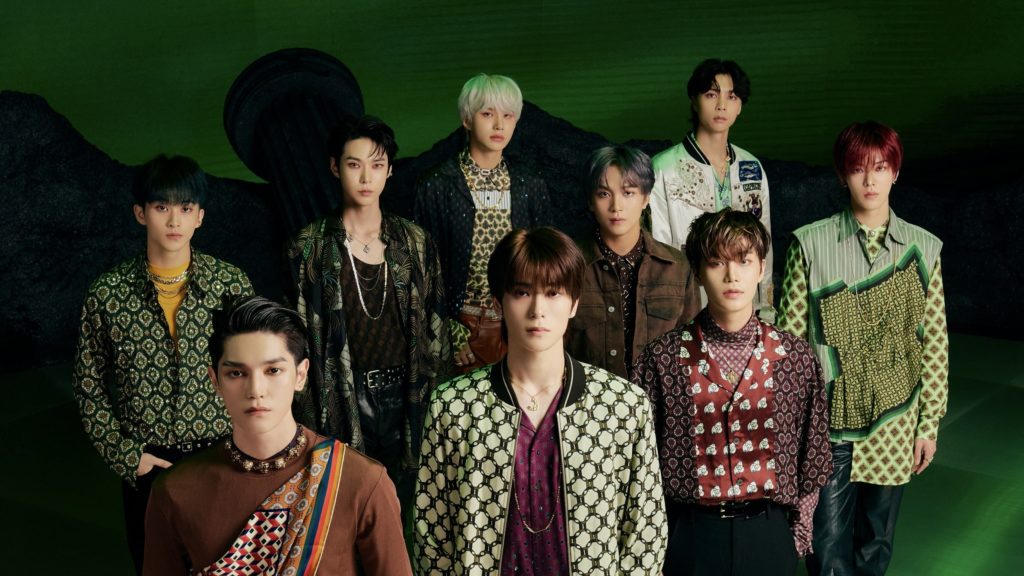 On October 25, just a month after their Sticker comeback, global group NCT 127 released their third album repackage titled Favorite. The 14-track album features tracks from their previous studio album Sticker, along with three new tracks, "Favorite (Vampire)," "Love On The Floor," and "Pilot." 
Like A Storm You're My Favorite
The title track "Favorite (Vampire)," is a dark and sexy R&B pop track with addictive whistle sounds, harmonious vocals, and a drum line type beat. It is written and composed by Kenzie, Rodnae "Chikk" Bell, and Rodney "Darkchild" Jenkins. The harmonious vocals of the artists complement one another and the interplay of the vocals is seductive. 
NCT 127 sing "I want to hurt even more desperately in this destiny /  Wide eyes, all of your existence / Girl, you're my favorite. / I burst into tears and fall apart / When I kiss you in this heat. / Like a storm, you're my favorite." They sing about the intense affection they feel for their lover, despite the impassioned love being a danger to their existence. Their love can be compared to a venomous vampire bite that although addicting, can also be fatal. "Call it playing with fire (Quit that) / You have thorns (Hands down) / The fragmented crown (Take that) / That pure poison I took a bite and swallowed it all." 
The vampire-themed music video's visuals immediately capture one's attention. The opening scene illustrates the members of NCT 127 laying on a silk bed, alongside each other, within a blood-red room. A white-colored butterfly seemingly approaches vampire Taeyong and awakens him. 
The dark and eerie video exists as a parallel between two realities: one where the members are sophisticated performers and the other where they live as royal and lonely vampires. Appearing as a lucid dream, these interplayed realities encapsulate the deepest desires within the hearts of the members, desires that would consume them forever. 
Twitter Excitement
"Favorite (Vampire)" is already a favorite among NCT 127 and NCTzens. NCTzens have been praising the song, the vocals, and the production since the music video was been released. 
Aaaand we are back with a new song!! The song is called favorite, and I would be lying if I said it isnt one of our favorite songs! Hope all of our NCTzens enjoy☺️#JOHNNY#NCT127 #Favorite#NCT127_Favorite

— NCT 127 (@NCTsmtown_127) October 25, 2021
no unit of nct ever disappoints, nct 127 once again did something they've never done before and slayed it as always.
so proud of them! #OurFavoriteNCT127#오늘6시_NCT127_페이보릿#NCT127_Favorite #NCT127 pic.twitter.com/mk8YYvzozQ

— vee❁ (@m0stly0ffline) October 25, 2021
It's been a hot minute since I've been so speechless about an nct release like I cannot even form my words. It's freaking EPIC

— YUTA DAY vahn two seven 🧛🏿‍♀️ (@CENTERlTUS) October 25, 2021
Y'all have been waiting for me to say it, the chord progression on that chorus?!? Favorite is a hit I fear.

— homo la flor ³³³ (@FuckMontanaaa) October 25, 2021
just got done listening to favorite, going in my top five tt's for 127 I fear pic.twitter.com/tNjtWde114

— niah ✧ yuta day 🥺 (@niahemile) October 25, 2021
Captivated by Visuals
The music video was already a sight for fans, but the members' visuals only added to NCTzens excitement. 
i thought my phone was broken during this part, but not complaining tho i can stare at that face all day#NCT127_Favorite #TAEYONG pic.twitter.com/gYM9GhepqF

— ÷ (@mahaelee__) October 25, 2021
This has got to be one of my favourite parts in the mv. Mark taking the lead in the formation is 🙌🏼🙌🏼 And the transition to Haechan is just the icing to the cake dude 🤌🏼 #NCT127_Favorite pic.twitter.com/rRuHHWBG9B

— era 🐯 | STREAM FAVORITE 🧛🏻 (@_m0rkl33) October 25, 2021
One of my favorite parts of the mv too. Haechan was oozing with charm!#NCT127_Favorite #OurFavoriteNCT127 @NCTsmtown_127 #HAECHAN pic.twitter.com/mJ64Vmsa8b

— michi | Favorite Out Now!🧛🏼‍♀️🥀 (@michinmichii) October 25, 2021
Yuta you're my favorite always#OurFavoriteNCT127#오늘6시_NCT127_페이보릿#NCT127_Favorite @NCTsmtown_127

— Grazy🦋| YUTA DAY (@YUT4POEM) October 25, 2021
I'm currently trying to recover from this mv 🙃#NCT127_Favorite #nct127 pic.twitter.com/RpUWwDSPDP

— ✨𝘙𝘦𝘎𝘶𝘓𝘢𝘙 𝘩𝘜𝘩✨ (@kelibrin) October 25, 2021
Charts and Records
In just 49 minutes, "Favorite (Vampire)" was the second fastest NCT music video to reach one million views. Favorite entered the top ten on U.S. iTunes and peaked at #1 on Melon's real-time chart. With over 1 million pre-orders, Favorite has secured NCT 127 a spot as double million sellers. 
It's safe to say the Favorite era is off to a great start with positive reactions and new achievements. NCT 127 has cemented their spots as top artists, and NCTzens are in for a treat with the new promotions.
Interested in listening to the album? Listen on Spotify and Apple Music.
Want more NCT coverage? Read about Winwin's acting debut here!
Thumbnail courtesy of SM Entertainment.