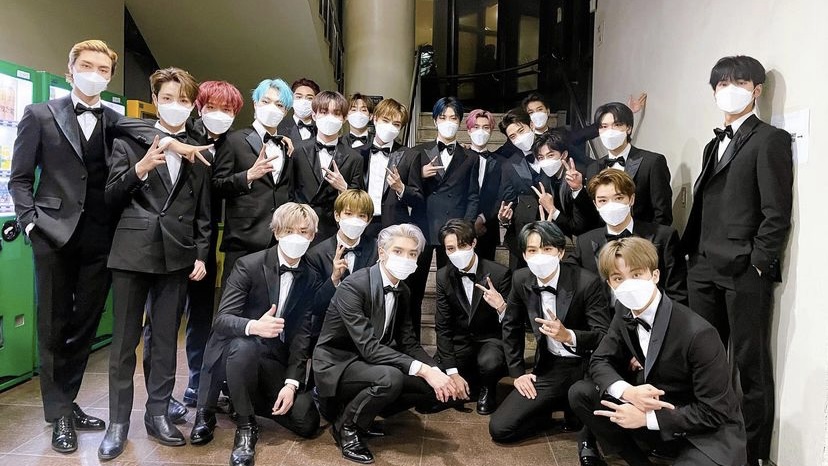 To the world, here comes NCT! SM Entertainment's largest multinational boy group is set to assemble once more in their upcoming third album Universe. On November 13, 12 am (KST), the official NCT account — along with its' subunits NCT 127, NCT Dream, and WayV — changed their social media layouts to the identical NCT 2021 logo, a set of metallic gray lines forming the numbers 2, 0, 2, and 1 on a black background.
Additionally, they also posted a teaser image that sent the NCTzen fandom into theory mode. Labeled "2-0-2-1 Assembly Instructions," it features a blueprint for one of the segments, namely one of the moving walkways, in the NCT 2021 logo. A detailed depiction of the segment's inner structure also appears below the simple logo diagram. At the bottom right corner of the blueprint is the highly anticipated announcement: Universe is coming on December 14, 2021.
NCTzens, Rejoice!
The announcement surely sparked surprise and joy online. While the project has been consistently teased since the middle of the year, the teaser came out of the blue. Brimming with excitement, NCTzens have tweeted their expectations and wishes for the comeback, ranging from new members to subunit lineups. After all, this marks the group's first full-team comeback since RESONANCE in 2020. With more updates to come, fans can't wait to step into NCT's universe.
Going Way Up
So far, 2021 has been an immensely productive year for NCT. On February 17, NCT 127 opened the year with their third Japanese comeback, LOVEHOLIC. Originally planned for release in late December 2020, the title track "gimme gimme" was a pleasant apéritif for what was to come. Less than a month later, WayV made a rebound with their second mini album Kick Back on March 10. Both albums gained positive reception, with LOVEHOLIC topping the Oricon Albums Chart upon its release and Kick Back debuting first on iTunes in 25 countries.
May and June saw two back-to-back NCT Dream releases. This era featured a lot of firsts: their first comeback as seven since 2018 was coupled with their first ever full-album, dubbed Hot Sauce, on May 10. Mark's return to the subunit only amplified their stark presence and camaraderie. From there, Hot Sauce became SM Entertainment's most pre-ordered album at the time with a whopping 1.71 million copies. The repackaged version of the album, Hello Future, soon followed on June 28. Compared to its predecessor, the song, "Hello Future" is lighter and more vocal-oriented, with a strong message of preserving love and peace.
WayV proved their versatility with their summer projects. On June 16, Kun and Xiaojun became the first duo to come out of the subunit with the soulful ballad "Back To You." Later in August, Ten took the stage with "Paint Me Naked" and joined forces with Yangyang on "Low Low," all in the span of two weeks. All three songs offered distinct musical styles that only solidified WayV's artistry in the Asian pop scene.
Finally, after more than a year-long wait, NCT 127 released their third full-album, Sticker, on September 17. Its eponymous title track "Sticker" featured a catchy flute hook and powerful vocal performances. After the announcement of its release, Sticker reached 2.12 million pre-orders, breaking Hot Sauce's previous record. Later, the album was repackaged under the name Favorite on October 25. "Favorite (Vampire)," the title track, is a melancholic R&B pop song with passionate lyrics. With record-breaking releases back-to-back, NCT has made 2021 their year.
Craving for more NCT? Take a look at our coverage of NCT 127's most recent comeback, Favorite, here.
Thumbnail courtesy of SM Entertainment.