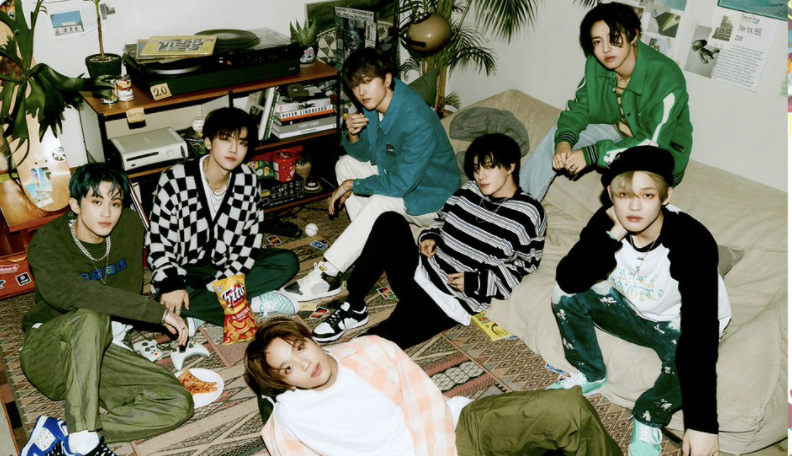 By Mafe Ramos | @mafeerpaulo  & Mafe Morales | @MafeMoralesl
On May 11th, following the release of their first full-length album 맛 (Hot Sauce), NCT Dream had their first-ever album showcase. The album contains 10 songs of various genres that "will make you truly feel NCT Dream's unique style," Chenle explained. The album was a long-awaited one from fans all over the world.
Opening up the showcase, the group showed performances of their popular hit songs 'Boom' and 'Ridin,' this time including the unit's leader Mark Lee, who originally was not part of both songs. 맛 (Hot Sauce) is their first album as seven since their EP We Go Up in 2018. 
"The choreography itself, it's difficult too, but what's harder is to change a song that's meant for 6 people to be performed by 7, all the guys were so nice to me and I was so comfortable," said Mark. 
The show continued with an interview hosted by fan-favorite MMTG JaeJae, who previously worked with the group on the NCT 2020 RESONANCE live event. The interview continued with the members showing the 'A to Z Cuts' they took of each other while working on the comeback, and lastly played a game of 'This and That' reminiscing Chenle and Jisung's YouTube series. 
New Song Stages
To kick it off with the first stage from the new album, the group performed '고래 (Dive Into You)', an R&B track with a synth-pop sound, where the members showed their chemistry on stage with fresh choreography.
and ofc dive into you stage wow?
? https://t.co/J9SHfA4zpz#NCTDREAM_COMEBACKSHOW#NCTDREAM_맛_HotSauceNCT #NCTDREAMpic.twitter.com/RJtnlILLtP

— (o゚ω゚o)/??️ (@leexcia) May 11, 2021
Even if I look around, there's dark blue light everywhere
Pitch-black night, as if I'm submerged in deep water
In silence, only your voice is clear
What should I do#칠맛쇼 #NCTDREAM_COMEBACKSHOW pic.twitter.com/XME7oXnHyM

— mark pics⁰² (@nctmarkarchive) May 11, 2021
Later on, the members went to their break room where they answered questions from Haechan's iconic 37.5 % viewer cam and talked about their favorite tracks from the album.  
"Countdown is my favorite from the album. For this album, I think [it] is the fiercest song, so I wanted to show the maximum level of Dream's fierceness," said Jeno. 
Up next, the group showed their charisma and powerful vocals with a stage of the R&B pop song 'Rainbow (책갈피)'  and the dance-pop song '주인공 (Irreplaceable)'.
I LOVE RAINBOW STAGE THE MOST I CRIED FR WHEN I WATCHED IT LIVE????
? https://t.co/OPhvdqKeQI#NCTDREAM_COMEBACKSHOW#NCTDREAM_맛_HotSauceNCT #NCTDREAMpic.twitter.com/Rz5965meu8

— (o゚ω゚o)/??️ (@leexcia) May 11, 2021
Spicy Performances
With their song 'Diggity' the members had a powerful performance. Starting strong, Dream's maknae Jisung 'ripped the stage' as he had previously expressed on 'Haechan's Cam' backstage. The members followed with stable vocals and rap and carried the song smoothly giving a cool vibe to the hip-hop track. 
JISUNG'S PART HERE IN DIGGITY HES AMAZING YES HE ISpic.twitter.com/v09P6d7Npf

— naiema | 7dream edit ? (@heavnlysung) May 11, 2021
MY FULLSUN ? MY BABY ? MY DONGHYUCKIE ? MY SUNSHINE ?#NCTDREAM #NCTDREAM_COMEBACKSHOW #NCTDREAM_맛_HotSauceNCT pic.twitter.com/DoHGqgOex9

— lov (@erizenbabii) May 11, 2021
The members held their own album unboxing of the three versions and played alongside NCTzens online to guess which member photocard they would pull from the album. The members also thanked fans for their support and for waiting so long for the release. 
Lastly, the group closed the showcase by performing for the first time the album title track "맛 (Hot Sauce)" described as a Latin Hip-Hop song with impressive afrobeat. The members showed up wearing the outfits from the music video and delivered a powerful choreography with colorful visuals and an energetic dance break. 
If you want to know more about NCT DREAM  맛 (Hot Sauce) check out more write-up here!
Thumbnail Courtesy of SM Entertainment