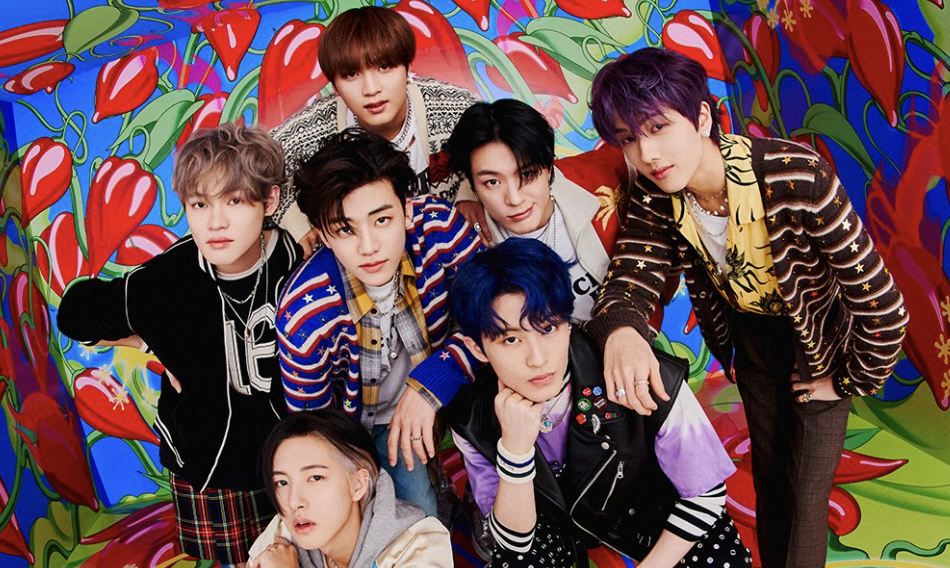 By Heather | @jaehyuniepot
It's been 24 hours since NCT Dream has come back with their first full-length album, "Hot Sauce" and they're already making history – breaking records left and right. NCT Dream has been SM Entertainment's longest-running group to release their first full album coming in at 1,719 days since their debut on August 25, 2016. With Mark Lee's reinstatement into the now forever fixed unit, the build up for this comeback has been extra special for fans.
The album is described by Chenle as "a record of the 7 of us growing together as well as our friendship," so understandably the anticipation for this album has been high. In fact, "Hot Sauce" has already surpassed NCT Dream's previous records with 1.71 million pre-orders and is expected to reach 2 million sales in the near future. They've proven their growing popularity once again as this is a 243% increase in sales compared to last year's comeback with mini album Reload. Even abroad QQ Music, China's streaming chart certified "Hot Sauce" as a Platinum album when sales reached 50,000 digital copies. With only a day in since its release, it is well on its way to becoming SM Entertainment's best-selling album of all time. 
NCT DREAM breaks their own record with over 1.71 million pre-orders for NCT DREAM The 1st Album '맛 (Hot Sauce)'! A 243% growth compared to their previous album!
Title track '맛 (Hot Sauce)' and its MV to be released today at 6PM KST!#NCTDREAM #맛_HotSauce#NCTDREAM_맛_HotSauce

— NCT DREAM (@NCTsmtown_DREAM) May 10, 2021
History is Made on YouTube 
The music video for "Hot Sauce" premiered on May 10, 2021, and has already racked up 34.2 million views, becoming NCT's and SM Entertainment's most viewed music video in a 24 hour period. By the 20 hour mark, the music video quickly reached 25 million views – breaking the record previously held by NCT U's "Make A Wish (Birthday Song)" MV. "Hot Sauce" is also the most viewed K-pop music video of 2021 in the first 24 hours. With increasing views and 1.5 million likes, it was easy to see why it eventually became the #1 Top trending music video on YouTube worldwide. 
Top of the Charts
The fervor for "Hot Sauce" was rampant as NCT Dream swept the top spots on digital music charts within 24 hours. In an hour from the release, the group achieved the highly coveted "all-kill," on MelOn – South Korea's number 1 music streaming platform. The hot new single stayed in first place for 23 hours on MelOn, becoming the longest standing #1 NCT track. Domestically on all South Korean music streaming sites, they've risen among the ranks. Their title track, "Hot Sauce" dominated #1 on digital charts MelOn, Genie, FLO, and Bugs. They became the first boy group of 2021 and the second boy group ever after BTS to reach #1 on FLO's platform after the revision of their chart standards to reflect more accurate music trends. On Spotify Korea's Daily chart all ten tracks from the album debuted in the top 30. They even earned the title of most outstanding K-pop streaming debut in 2021 on Spotify garnering 4.29 million streams. All tracks also continued to peak in the top 20 spots on the music charts with "Hot Sauce", "Dive into You", "Diggity", and "My Youth" especially grabbing the top four for MelOn. 
.@NCTsmtown_DREAM achieved ALL KILL on MelOn Real-Time. pic.twitter.com/bGdu3tP1hw

— NCT Charts (@nct_charts) May 10, 2021
Overseas loved poured from all over the globe as the album reached #1 in 37 countries on iTunes Top Album charts. On Genius they became the highest rated K-pop act ever on the All-Genre chart by grabbing #10 beating out Rosé's "Gone". NCT Dream truly continues to show their global status as a top K-pop group. 
Buzzing with Excitement 
The excitement behind this comeback had fans and the public buzzing about NCT Dream with "Hot Sauce" trending across multiple platforms. In South Korea, NCT Dream trended at #1 on MelOn's real-time search. On an international scale, #NCTDREAM_맛_HotSauce became a trending topic on Twitter in several countries such as Singapore, Poland, and France. Worldwide #TasteTheHotSauce peaked at #1 with close to 928,000 tweets. 
It comes as no surprise that NCT Dream has accomplished these amazing feats this comeback. Their power and popularity has been clear since their debut as they became the first NCT unit to grab a music show win with their title track "My First and Last." They also went on to become the first NCT unit to reach number 1 on Melon's real-time chart with "Ridin." Now with the outpouring love from NCTzens towards "Hot Sauce," they can only go up from here. Congratulations to NCT Dream for the well-deserved reaction to their first full-length album! They're sure to continue making fans proud, after all, it's only been one day. 
Craving more spice with NCT Dream? Check out what you missed at their Showcase here! 
Thumbnail Courtesy of SM Entertainment