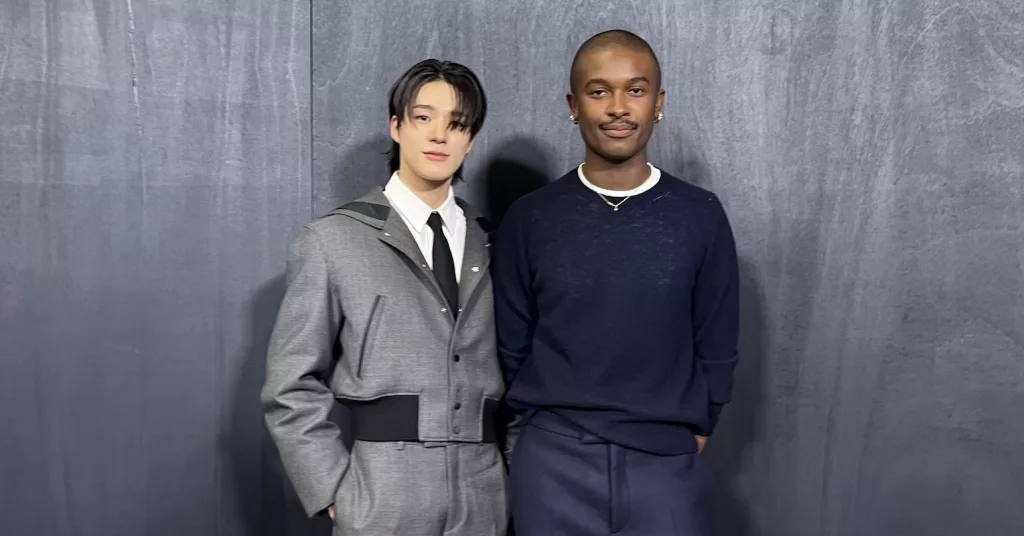 Fashion houses from around the world are heavily relying on the power of Asian celebrities, particularly K-pop idols, to bring star power to their front rows. Whether they are sitting in the VIP section or supporting the brands remotely, Asian stars are now regulars among the A-list crowd. The unveiling of Ferragamo's Fall Winter 2023 collection was not any different. Sitting front and center was Jeno, member of K-pop group NCT, who made his debut appearance at Milan Fashion Week.
Jeno Takes Over Milan
Jeno was formally announced to be partaking in the Ferragamo show through a tweet from Dazed Korea. Besides announcing the idol's attendance, the publication also posted a teaser video where Jeno sported an all-white Ferragamo outfit. The singer posed and turned under flashing lights and flashes of red and blue, clad in a white puffer jacket paired with matching utility joggers, and a sleek hairstyle. 
The singer then was spotted at Incheon airport, heading to Milan in head-to-toe Ferragamo. The idol wore a full-length olive brown trench coat with matching trousers and a white sweatshirt with graphics underneath. Jeno oozed an effortlessly cool aura, letting his natural hair and beauty complete the look.
Jeno at Ferragamo
For his first Milan Fashion Week showing, Jeno opted for a matching set featuring straight-leg trousers and a woven bomber jacket with a sailor collar. Jeno's look was previously seen at Ferragamo's Pre-Fall 2023 collection: a gray ensemble, equal parts casual and elegant. The outfit was paired with patent leather Chelsea boots and worn atop a white shirt and black tie. Jeno also sported a medium-length hairstyle carefully gelled at the front with loose strands that offered a twist on the wet looks and shaggy fringes — both currently popular hairstyles. Needless to say, Jeno's arrival at Via Gattamelata, where the show took place, gathered a large crowd of fans and set the internet ablaze.
This is not the first time Jeno rises enthusiasm during Fashion Week. The singer has previously made waves in New York, opening runways — a first for a K-pop idol at NYFW — and attending Vogue's anniversary runway. Jeno's attendance at Vogue World, specifically, created high Media Impact Value™ (MIV®) numbers. As per the fashion data and technology company, Launchmetrics, the post on NCT's Instagram account documenting Jeno's appearance at the event racked up $1M in MIV®. Not only the Instagram publication became the highest-performing placement for Vogue World, but it also was the best-performing placement for New York Fashion Week.
NCT's Fashion Takeover
Over the past few years, NCT has risen as the It Boys of K-pop, nurturing associations with several fashion powerhouses. From New York to Paris, the members of the group have taken over the runways and VIP sections, starred in global campaigns, and cemented their style influence through impressive MIV® numbers with every move. Alison Bringé, Chief Marketing Officer at Launchmetrics, tells EnVi, "NCT has emerged as one of the K-pop star groups seen on numerous front rows and bringing a significant uplift in brand exposure during Fashion Weeks."
With NCT's proven track of being at the forefront of trends and the members repeatedly asserting their relevance in the world of fashion, it's no surprise to see Jeno gracing the front row of Ferragamo. The singer's Milan Fashion Week debut adds yet another milestone for the band and raises anticipation for his and NCT's future fashion activities.
Want to read more Jeno fashion content? Check out the third installment of our series "Core", where EnVi broke down the idol's fashion and beauty, here.