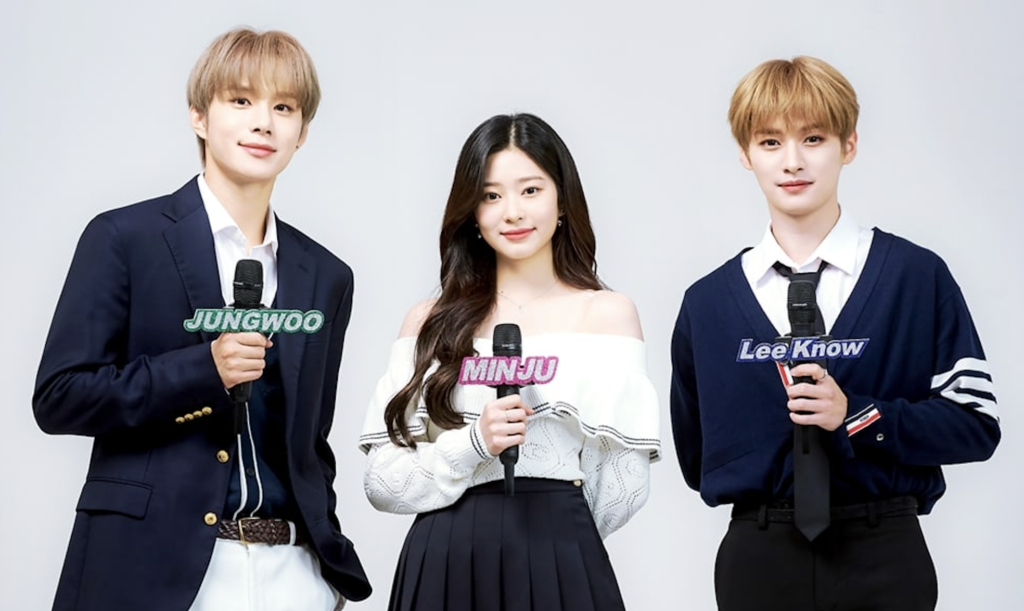 MBC's "Music Core" has new MCs, and they are none other than NCT's Jungwoo and Stray Kids' Lee Know! The two idols will be joining the show starting August 14, Music Core's first show back after the program's week hiatus due to the Tokyo 2020 Olympics. The boys will be joining current MC, actress and singer Kim Min Ju, after the departure of sf9's Chanhi, who was part of the show for over two years.
This is the first opportunity for both Jungwoo and Lee Know to be official MCs for a music show. Lee Know had previously worked as a special MC for "Show Champion" in April 2017, but this time, viewers will get to see more fun and personality from both idols. 
Jungwoo took to NCT's SNS after the announcement to share the good news.
시즈니 여러분~ 저 정우가 반가운 소식을 가지고 왔는데요! 이번에 음악중심 새로운 mc로 합류하게 되었어요! ᄒ 저에게는 또 다른 도전이자 새로운 경험인데요 긴장도 되고 설레기도 하지만#JUNGWOO #정우#NCT #NCT127 #음악중심 pic.twitter.com/amRn0mt0RC

— NCT (@NCTsmtown) August 9, 2021
The Stray Kids' official Twitter account also shared the news of Lee Know joining the show.
Stray Kids(스트레이 키즈) 리노 '쇼! 음악중심' MC 발탁, 14일 첫방!https://t.co/5CEuWzjJhH#StrayKids #스트레이키즈#리노 #LeeKnow#쇼음악중심 #MusicCore#YouMakeStrayKidsStay

— Stray Kids (@Stray_Kids) August 9, 2021
In an article for Naver, Lee Know spoke about how even though it was a burden to be in an honorable position he wanted to be an MC that left a mark on the music show.
Although MBC made the official announcement on August 9, some NCT members had spoken about it when the rumors had surfaced a few weeks prior. On July 17, Jungwoo took to Bubble to speak about the MC role, and referred to his groupmate Mark, who was MC for Music Core in 2018, saying he would work hard learning from him. Mark took to Bubble the same day to express how excited he was for Jungwoo, and asked NCTzens to support his groupmate.
Stray Kids' Han also spoke on Bubble about Lee Know's new MC role, asking Stays to take care of him. Lee Know is the second Stray Kids member to join Music Core – Hyunjin had joined the show in 2019 before departing due to his hiatus.
NCTZens and Stays Show Their Excitement
Both groups have strong fan bases that didn't think twice before taking over Twitter to speak about the new additions to the show. The 98-liners' potential friendship has fans eager for the start of the show.
jungwoo and lee know mc it's a win for stayzens pic.twitter.com/gbi9y5Ehix

— lia ? CHANGBIN DAY (@lixiezeus) August 9, 2021
Today is so perfect, finally an official notice from MBC that Jungwoo will be the MC for Music Core with Lee know and Kim Minju ?#JUNGWOO #정우 #NCT정우 pic.twitter.com/nfkm7D0x4O

— ً (@LOOKSKJW) August 9, 2021
OMG OMG MC JUNGWOO AND MC LEE KNOW IS GONNA START THIS SATURDAY ON MUCORE !!AAAAAAAAAAAAA PLEASE THEY ARE SO PRETTYYY pic.twitter.com/2L9fzJPQzw

— aj ★ | nsd ? (@Y0NGLIPS) August 9, 2021
God he used to be so shy ?? I'm so excited to see him as an mc pic.twitter.com/YVBxyaNv4k

— ²⁹Dean⁰⁵? (@LuvJyani) August 9, 2021
Music Core took such good care of Hyunjin and skz so I'm happy to see Lee Know join the mucore family … hoping to see other skz members as special guest mcs again too pic.twitter.com/uMc9bdYWv9

— JJ ? (@ABlackParadise1) August 9, 2021
Cannot wait to see new Music Core MC LEE KNOW pic.twitter.com/AnljNBmnKd

— Stray Kids Propagandist ? (@cloudyXOXOXO) August 9, 2021
future music core mcs #leeknow and #jungwoo pic.twitter.com/xtnf43AjPO

— ً (@STRAYCTarchive) July 18, 2021
Music Core MC Jungwoo ?

To new beginnings & experiences!! You'll do great, just like you always do ☺️ pic.twitter.com/bZ40Irtz1Q

— ㅈ☺️ (@jungwooallday) August 9, 2021
MBC has already shared the official profiles for their new MCs, and to officially introduce them, a special stage is scheduled. MBC also announced their hopes that Jungwoo and Lee Know can bring their energy to the show, and create good chemistry alongside Min Ju.
Despite their busy schedules and upcoming comebacks, both boys will start their new journey as MCs. Undoubtedly, the charisma and energy of new hosts will bring a fresh spark to Music Core.
To stay up to date with both members, follow NCT and Stray Kids on Twitter, and keep your eyes peeled for both groups' upcoming comebacks!
Looking for more on what your favorite idols are up to? Check out EnVi's coverage of HYO's new single, "Second," here!
Thumbnail courtesy of MBC.