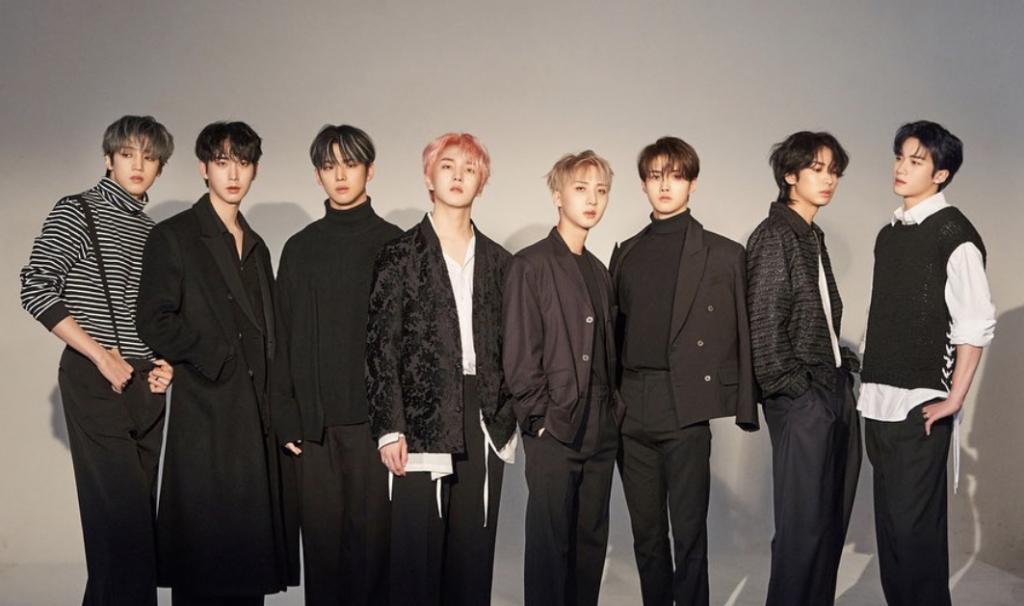 By Chyenne Tatum | @chyandblack
Following the success of their tenth EP, We:th, last October and the momentum gained from their participation in the MNET competition show, Road to Kingdom, it would be an understatement to say that the pressure was on for Pentagon to deliver on another high note and successfully manage to keep both new and old fans satisfied. Thankfully, the group's 11th EP, LOVE or TAKE does just that while still maintaining some of the most unique qualities of a Pentagon comeback.
The Careless Anthem We All Needed
On March 15, eight of the nine members (vocalist Jinho is inactive due to military service) dropped their lead single, "DO or NOT," and its coinciding music video, showcasing the bright and lighthearted side of the group that many have grown fond of since "Shine" in 2018. So, if you were a fan of that breakout hit, "Naughty Boy," or "Humph!," then this will be right up your alley. 
"DO or NOT" is a modern take on the 50s and 60s era, similar to "Critical Beauty" in 2017, but with a doo-wop intro sung by main vocalist Hui, featuring harmonies by the other members and an amazing alt-rock chorus. Instantly, it's enough to make anyone smile as the boys try to "whoo" the video's leading lady while pretending to not care whether or not she likes them back. Wooseok, one of this song's best highlights, even name-drops the Rolling Stones in his first verse and that's just the icing on the cake. 
Overall, this is the type of song that needs to be screamed at the top of your lungs with a group of friends or Pentagon's concert, whenever the world allows for it again.
Cruising Through the B-sides
The B-side tracks bring a refreshing mix of upbeat jams and one painfully emotionally ballad, all written by Hui, Wooseok, and Kino. "10 and" (also translated to "10 Seconds Ago") is described as a pop song about falling in love and counts down the seconds until they're able to see their loved one. 
"1+1," arguably the album's best and most interesting track," is Pentagon's first track produced by hitmakers LDN Noise, Cazzi Opeia, and Gabriel Brandes. There's a fun bounce to the R&B-driven song that makes it a perfect summer bop straight out of the 90s and transported to the year 2021. It's addictive and an earworm, the only flaw to "1+1" is that it needs to be at least 30 seconds longer — you can never have too much fun.
Moving on to "Baby I Love You," it settles into the calming spring season vibes with an electric rap from Yuto and cotton candy vocals, particularly from Hongseok, Yanan, and Shinwon, especially in its live performance. "That's Me" takes an entirely different approach to the album and introduces electronic music and uses some type of vocoder on Wooseok's voice in the chorus. It's a nice change of pace towards the end of the tracklist, but with its surprisingly atmospheric and calm opening, it would've been nice to see them play on that retro style a little more and go full 1940s or 50s with it.
Continuing with the spring/summer vibes from the early tracks, "Sing-a-song" encourages the listener to let their hair down, put on some music, and celebrate the good times. 
A lot of this EP oozes nostalgic school dance vibes and that's equally true for the closing song, "Boy In Time." In context, this would be the heartfelt ballad you shyly ask your school crush to slow dance to while awkwardly avoiding eye contact. But for Pentagon's leader, Hui, it's a sweet gift for his fans who will miss him while he's serving in the military. 
This solo song is nothing short of magical as Hui pours his heart out into every syllable and crescendo. As per usual, his voice soars into unfathomable heights and comes back down, light as a feather and completely unwavering. Since he had already enlisted before the release of this album, it'll be the last we see and hear from him for a while.
Succeeding On Their Own Terms
LOVE or TAKE reintroduces casual listeners to the fun and energetic sides of Pentagon, while also bringing back fan-favorite themes from previous eras. Part of the group's appeal is the amount of creativity and versatility the members have been able to weave in and out of without losing their sense of identity. 
It even showed through the rollout of the album release and all the different concepts they showcased throughout the teasers — romantic vibes, sporty vibes, even cute comic book versions of themselves were created to amplify the excitement. And although they've had to work for it, the group has finally earned the #1 spot on Genie's Real-Time chart and have achieved their highest first-day sales with over 35,000 copies sold as of 5:20 PM KST (on March 15).
As a self-producing group, Pentagon's true potential is fully being recognized and hopefully, the trend continues as they find new ways to bring the fun back into K-pop. Congratulations, Pentagon!
Listen to LOVE or TAKE here on Spotify and Apple Music! 
In case you missed it, check out PURPLE KISS' debut with Into Violet here!
Thumbnail Courtesy of Cube Entertainment