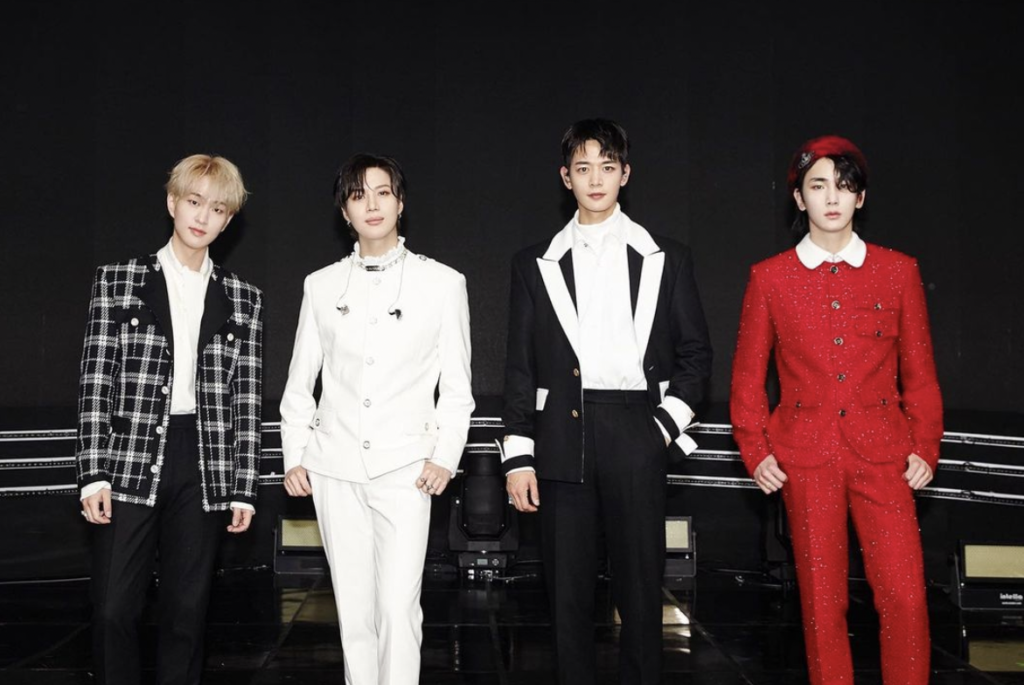 By Chyenne Tatum | @chyandblack
The globalization of K-pop over the last four years has undoubtedly resulted in one of the largest Western influxes of new fans, specifically those of a younger demographic who have grown up social media savvy—Gen Z. If K-pop is a relatively new experience for you, then you're probably already familiar with powerhouses like NCT, BTS, BlackPink, and ITZY. But for the ones who have hung around the K-pop scene long enough, your most beloved groups might still be the reigning kings and queens of second-generation idols — SHINee, 2NE1, BIGBANG, Girls' Generation, etc. For years, there have been polarizing discussions amongst fans as to whether or not newcomers need to check out groups who are considered veterans in the industry — after all, many of them did inspire the young artists of today. Luckily, 2021 seems to be shaping to be an interesting year for both newbies and returning stans.
The second generation of K-pop is said to have started in 2003 with the debut of TVXQ in SM Entertainment and marked the revival of the K-pop industry after previous acts such as H.O.T and S.E.S had declined in popularity, with the former disbanding in 2001. It also solidified K-pop's presence in other countries across East Asia, where more groups started seeing outstanding commercial success, particularly in Japan and China — although BoA had already been ahead of that curve in 2002. A lot of what we know K-pop to be today, including the personal connection between artists and fans, was formed and perfected during the 2000s and continues to evolve with the expansion of culture and technology.
Since this expansion and the rise of younger idols, many veteran groups ended up losing members or eventually would disband altogether (Sistar, Wonder Girls, 4Minute). However, many of the most popular boy groups of the time have been on hiatus due to the military service mandate in Korea and are slowly reforming for what appears to be some of the most epic comebacks of 2021. Here's a list of the second gen's finest men who are finally scheduled to return with new music after the respective hiatuses and how they've impacted the industry thus far:
SHINee
Since their last studio album, The Story of Light, was released in 2018, Onew, Minho, and Key have completed their enlistment duties and are ready to rejoin Taemin for their seventh studio album, Don't Call Me, scheduled to drop on February 22. When it comes to SHINee, many different aspects have catapulted the group into their current legendary status: strong vocal performances, complex and intricate choreographies, bold fashion statements, and most importantly, their innovative and experimental approach to their music — continuously blazing the trail for those following in their footsteps.
SHINee and its former sister group, f(x), dominated the electronic music scene in the early 2010s and both went on to popularize the deep house trend in Korea in 2015 with "View" and "4 Walls", respectively. Whether it's contemporary R&B, dubstep, or electro-house, SHINee's willingness to venture out into the unknown is part of what makes them so appealing and unpredictable. Even with their solo works, each member has been able to define who they are as individual performers and artists by inviting the audience to get to know them on a more personal and emotionally intimate level — Taemin's Never Gonna Dance Again and Jonghyun's Poet / Artist are two prime examples of deep, out-of-body experiences in music. With the "SHINee Trend" influencing entertainers all over Korea, both sonically and stylistically, we can certainly expect to see another boundary being shattered as the legend continues.
2PM
The six-piece group has been on official hiatus since 2017 with members Jun. K, Chansung, Taecyeon, Wooyoung, and Junho fulfilling their service duties after the release of their sixth studio album, A Gentlemen's Game. With almost all of the members currently discharged, 2PM is expected to make their comeback after main vocalist Junho returns in March.
While SHINee executes sharp and precise choreography, 2PM is most known for heavily incorporating acrobatics into their dances and portraying a more masculine image than most boy groups from their generation. Despite the controversy in 2009 surrounding their former leader, Jay Park, 2PM rose in popularity across Korea and Japan with electronic dance hits like "Again and Again" and "Hands Up" — the latter still being considered a party anthem and is guaranteed to get people on the dance floor. Among other staple tracks, "My House" is one that many young idol groups cannot stay away from when paying homage to their seniors — everyone from TWICE's Momo to SF9's Youngbin has posted dance covers of the suave choreography. In 2020, "My House" unexpectedly rose in popularity five years after its release, leading to a spike in views on the official music video and JYP Ent. releasing a bonus concert performance of the song in response.
With most of the members having several solo albums under their belt and the group leaning more towards smooth, sexy R&B these days, it'll be interesting to see where their creativity takes them next in 2021.
BIGBANG / G-Dragon
There isn't much that needs to be said about BIGBANG — the name itself can be heard from every corner of the world with the drop of a dime. The four members were initially scheduled to make their long-awaited comeback at Coachella 2020, but of course, the event was swiftly canceled due to the COVID-19 pandemic. Regardless, reports have confirmed that plans for both a BIGBANG album and a solo G-Dragon release are underway for the new year. This will be a huge deal for YG Entertainment and the K-pop industry as a whole, as BIGBANG have set record-breaking standards and have torn down idol stereotypes since their debut in 2007.
While most groups were seen as "manufactured", the members of BIGBANG took creative control over their music in terms of writing and production to ensure that the music they made was reflective of their taste and artistry — this can especially be seen in solo works, such as Taeyang's very successful career with R&B. In terms of style, G-Dragon exhibits every facet of what a fashion icon is and should be right down to a tee, collaborating with brands like Chanel, Vogue, and even started a brand of his own titled Peaceminusone. He's always had a way of turning even the most outlandish outfits into tomorrow's new trend without even batting an eyelash — a truly fascinating ability.
The group's last studio album, MADE, was released a whopping four years ago now in December 2016. With Taeyang, T.O.P, Daesung, and G-Dragon all in attendance for this upcoming release, K-pop will surely experience yet another shift in dynamics by the end of the year as one of the best-selling bands in the world returns to the throne.
HIGHLIGHT
Formerly known as the six-member group Beast under Cube Entertainment, the remaining four members have been promoting as Highlight since 2017 when they departed from Cube and established their label, Around Us Entertainment. Initially overlooked upon debuting in 2009, Korean media outlets were not impressed by the group and quickly dismissed their talents. However, with the success of their early tracks like "Mystery", "Fiction", and "On Rainy Days", Highlight was able to win over not only the industry but also the Korean and Japanese public and are now one of the most awarded groups of all time for the major Korean award shows.
Members Doojoon, Yoseob, Gikwang, and Dongwoon have all participated in their solo endeavors, but now that they've all completed their mandatory enlistments, this will be their first group release three years since the Outro EP.
Although these are only a handful of active acts from the second generation, there are plenty of others who have been active for a while now and have hardly missed a beat — TVXQ, Girls' Generation (mainly as soloists), Super Junior, APink, and HyunA. It's reassuring to know that some of our favorite artists are only getting better with age and continue to strive in creating music that people of all ages and ethnicities can enjoy. There's no shame in discovering K-pop and wanting to know more about the pioneers of the industry, even if it doesn't turn out to be your cup of tea. But, if you're looking for some blasts from the past but with a more modern take, then your time is now.
Check out KANGTA's SMTOWN Live recap here!