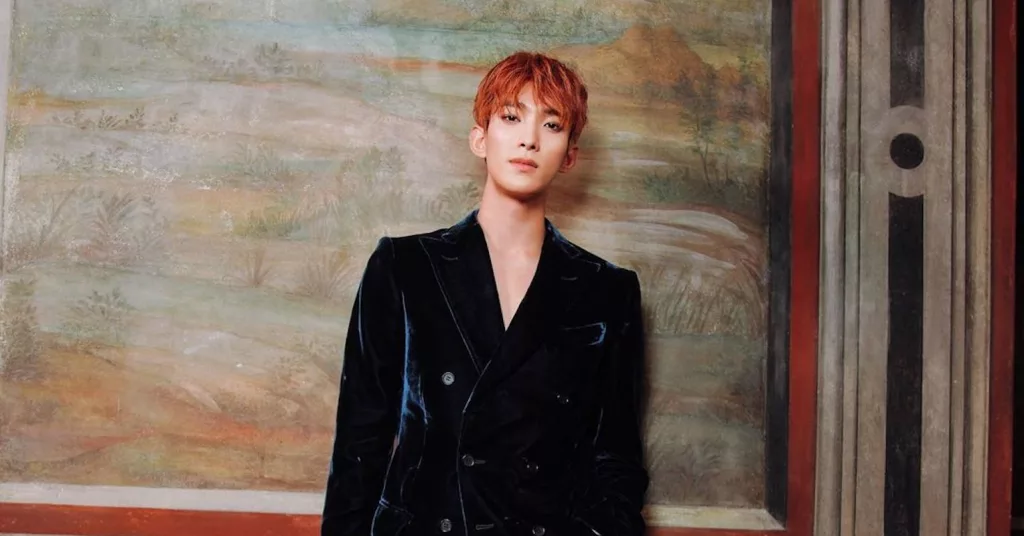 K-pop group SEVENTEEN has recently stepped under the fashion limelight as various members jet set around the globe. During Paris Men's Fashion Week, Jeonghan became the latest addition to Anthony Vacarello's lineup of Saint Laurent friends. Meanwhile, Hoshi shone brightly at AMI's collection unveiling. In Tokyo, Mingyu and Joshua were spotted attending Marni's whimsical runway and now, the group takes over Milan Fashion Week with their main vocalist, Dokyeom — better known as DK. Attending Bally's Fall 2023 presentation, the singer proved that dapper dressing is always a winning formula. 
Starting Off with Style
Ahead of turning up to Bally's FW2023 show in Milan, DK was spotted at Seoul's Incheon airport dressed in a smart-casual fit. The idol wore a blue navy cable-knit wool sweater, with Bally's new logo embedded in the center, along with beige linen trousers and Bally's Weky Leather sneakers. To top off the look, DK accessorized with a pair of round glasses and a black leather camera bag from Bally. Waving to the cameras and fans, DK looked like the main character in a drama.
After arriving in Italy, DK made his first public appearance at Milan Fashion Week for Bally's latest show. The singer stepped out in a deep blue two-piece velvet set from the brand's Spring 2023 collection. The suit follows a double-breasted silhouette giving the piece a more dandy, retro look, balanced out by a deep neckline, which added a touch of sultriness and edge. 
A Velvet Blast from the Past
Regarded as one of the most luxurious textiles, velvet has been making a comeback on the runways. In recent seasons, brands and designers across the world, from Versace to Gucci, have sent their models down the catwalk clad in velvety ensembles that range from sultry sexy to formal. This renewed interest in all things velvet, paired with the Y2K renaissance, has brought velvet suits back. Last year, for example, Alessandro Michele reintroduced the iconic red velvet suit that Tom Ford popularized during his tenure at Gucci in the '90s. 
Since then, velvet suits have been spotted on the runways, red carpets and slowly have become stylish options for men. Celebrity endorsers of this trend include the Italian rock band Måneskin, the Bridgerton star Rege-Jean Page, and now, the K-pop powerhouse DK. And he did it with an added retro twist: he paired them up with snakeskin boots, channeling rockstars of eras past — not without a dose of elegance and poise. 
For the love of Prep
Prior to his appearance in the Bally show, DK has flaunted his preppy and dandy style, often sporting button-ups, wool coats, and knitwear. His ability to layer these staples and match them with the perfect accessories, clearly, hasn't gone unnoticed. If his Milan Fashion Week front-row first showing is anything to go by, it seems like the fashion world is well aware of DK's dressing know-how.
Want to read more about Milan Fashion Week? Read everything worth knowing about GCDS' latest collection here.