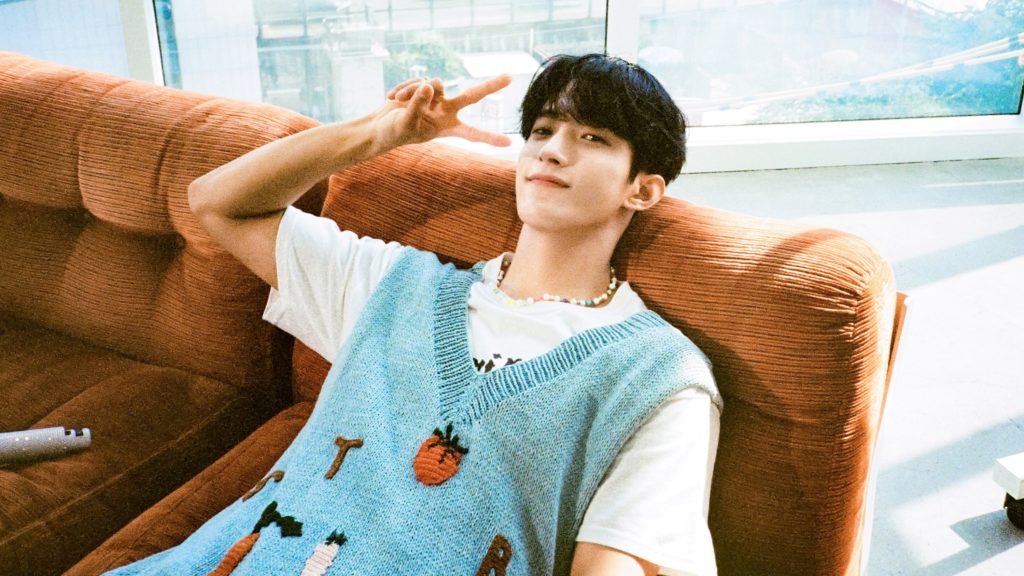 On September 17, SEVENTEEN's main vocalist DK surprised fans by unveiling a cover of Wonpil's "A Journey." Posted on SEVENTEEN's YouTube channel, the video highlights DK's powerful vocal range. Set in a brightly-lit room with several props, he shows his playful side throughout the video. The electronic-ballad elements of this song further display DK's vocal capabilities to both fans and casual listeners alike.
Graphics are sparsely featured throughout the video as illustrations are drawn around DK, while highly saturated primary colors are embedded in all aspects of the set. In the final scene, various close-up shots of DK are shown as he charms viewers further in the live cover. 
Upon release, DK posted pictures on Twitter and Instagram on the set of the video recording. Wearing a bright blue sweater vest and red headphones in both sets of photos, he poses freely to match the carefree concept.
DK As a Soloist 
Previously posting a cover of Yang Da Il's "She Didn't Love Me" on SEVENTEEN's YouTube channel, DK presents his vocal versatility. From soft ballads to electronic-pop songs, he has effortlessly shown his capabilities to adapt to new concepts. Launching his solo activities with several OSTs, DK has offered his vocals to well-known dramas such as Twenty-Five Twenty-One (2022) and Tempted (2018). Constantly improving his vocal technique since his debut, fans have praised DK for his everlasting passion for singing.
Speculating with SEVENTEEN
Hours prior to the release on SEVENTEEN's official Twitter account, an image of two cassette tapes and a microphone were teased with the hashtag #17spoiler. With much speculation from fans, many quoted the tweet with their guesses about the release and who took part in it. As many made connections to potential covers, fans suspected DK because of the Weverse Magazine article. Recommending "A Journey," DK said, "This is a good song to listen to when you want to give someone happiness, or when you want to support someone or need it yourself, so I'm recommending this one!"
Dedicated DK fans
Support for DK did not run short as many fans shared their positive reactions to the long-awaited cover on Twitter.
What's Next On The Journey?
In preparations for the Asia leg of SEVENTEEN's "Be The Sun" tour, the group is expected to carry out multiple group activities over the following months. Referencing back to DK's lead role as King Arthur in Korea's Xcalibur musical, a documentary following the journey is set to release soon as well. To keep up with DK's solo activities, be sure to follow his Instagram and SEVENTEEN's Twitter account as well.
Want more on SEVENTEEN? Check out our coverage on the LA3C Festival Lineup here.