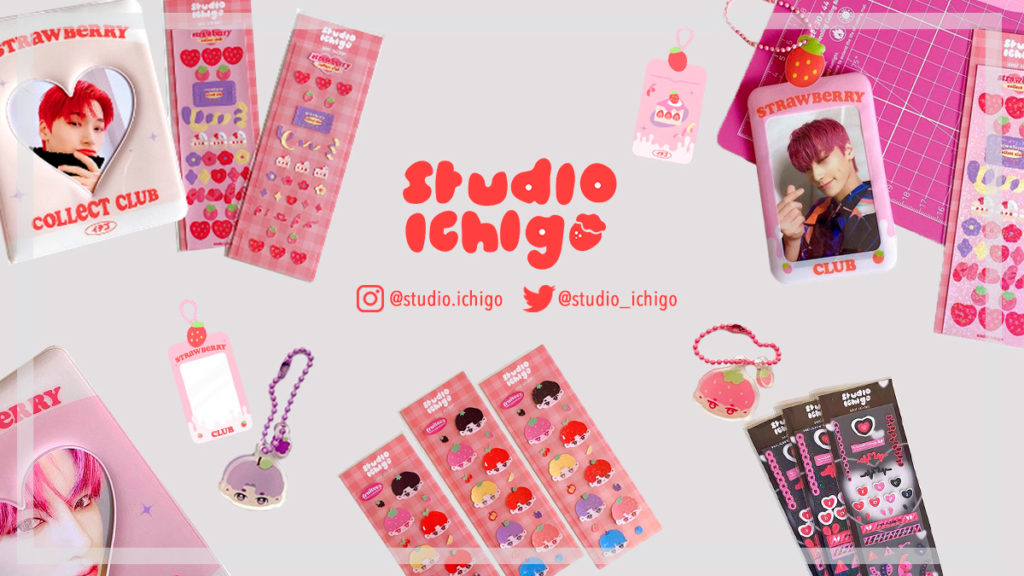 Now more than ever, it's important to support independent businesses and creators – so EnVi turned to you, our readers, to help us with an ongoing spotlight on shops from the K-pop small business community!  Our first featured online shop this month is Studio Ichigo! We sat down with its business owner and creator, Lorna, to learn about their products and inspirations. Warning – prepare your wallets!
Twitter: @studio_ichigo
Instagram: studio.ichigo
Based in: United Kingdom
Inspired by a home studio, Studio Ichigo is an online shop that sells a range of multi-fandom K-pop goods and is most known for its cute designs and colorful items. Started back in 2019, Studio Ichigo began creating homemade products like stickers and other stationery items and has now expanded to dolls and apparel.
Featured products:
What's your process of creating and curating products?
I started designing keychains and stickers for fun a couple of years ago and then invested in a sticker cutting machine and funded my first ever batch of keychains, which I got manufactured overseas. From then on, I have continued to reinvest the profit towards making a wider range of products such as apparel and accessories.
What are the inspirations for your item designs?
Normally, I will get inspiration from songs and music videos, and start sketching it out. It's always important not to copy the ideas of the original graphics artist or use logos from the group/artist, but symbolism and meanings from the music videos sometimes spark an idea.
Why did you start selling your work?
I posted drawings on my Instagram story of some stickers that I was making for fun, and people replied saying they wanted to buy them. I'd wanted to make a sticker shop for a while, as I love K-pop journaling, so I planned it and decided to do it!
How do you market and advertise your items?
Over time, I built up my following on Instagram by posting my designs. I mostly use Twitter to keep in contact with group order managers. I opened an Etsy shop in addition to my main website last year and that helped my customer base grow too.
Have you encountered issues throughout the process of product making?
With most of my more complicated products, there will always be some issues to overcome. For example, when making an ita bag inspired by Baekhyun's Delight album I had to make several samples prior to selling in order to perfect it. I also make dolls which are the most complicated products of all because so much specific refinement is needed, down to literally choosing the thread colors for each area of embroidery.
What's your favorite product?
My personal favorite product is the Delight ita bag. I wanted to make sure it was a highly customized and unique product – I designed custom zipper charms specifically for that bag. It was one of my more challenging items but I had so much fun designing it and I'm so glad people liked it too!
What are your best-sellers?
My best-selling products are both my collect book for photocards and my K-pop dolls. I think people like my collect book as it's not linked to any specific group so any fan can use it! As a plushie lover, I find K-pop dolls fun to collect. Some people use them as comfort in stressful situations, too, which I think is wonderful. It warms my heart knowing that something I've made could help someone through a difficult time.
Did something catch your eye?  Snatch them up now! If you're looking for more shops, check out our recent lists here!
Thumbnail created by @clau_klau_