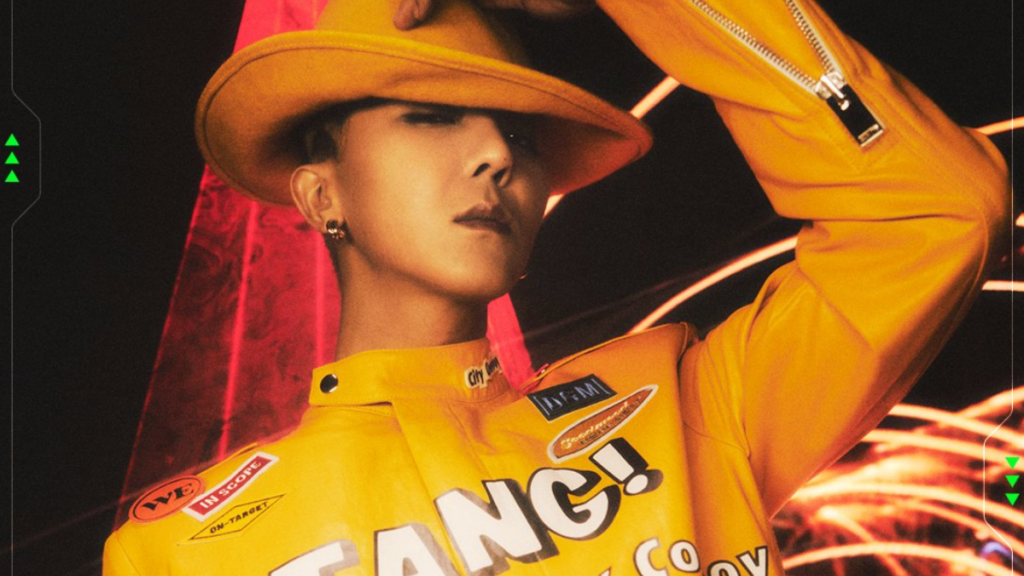 Listing Song Mino's myriad of accomplishments might require more than a few lines. A household name, the rapper, composer, producer, fashion icon, TV personality, and painter has branched out into a variety of jobs. With a budding career in arts, several fashion gigs, and chart-topping hits as his most recent accolades, MINO is ready to take us To Infinity and beyond with his latest album.
Infinite Skills
Song Mino first found success as part of the four-piece group, WINNER. The artist, however, has made himself known for a long roll of activities that include variety shows, fashion runways, and even international art exhibitions. Following a successful year of promotions, MINO culminates 2021 with the release of his third full album, To Infinity.
Released on December 7, the record contains 10 songs, lead by the track "TANG!♡." While MINO is credited as a composer, writer, and producer, To Infinity also counts with high-profile features. Among others, IKON's Bobby, and lIlBOI add richness to an already varied album that spans through different genres. Hip-hop, R&B, and more avant-garde sounds blend in a work described by MINO as "genre-fluid, brimming with experimental tunes." The album, probably the rapper's most innovative to this day, succeeds at showing beyond any doubt MINO's "infinite skills."
To Infinity
To Infinity opens up with the sweet-sounding, but sensual "Love in da car," where melodic rap takes center stage. The follow-up is the title track "TANG!♡" a hip-hop song with a catchy chorus, lighthearted and relatable in equal parts. Co-written by MINO, Airplay, and Illjun, it tells the story of a clumsy pursuit of love, where the singer keeps failing at wooing the object of his affections. "If you look at the lyrics, the lover tries to do all their best to gain love, but fails to do so every time because they are unskilled and not good at love," explained MINO at the press conference ahead of his album unveiling.
"Pyramid," featuring lIlBOI and Gaeko, and "Language," in collaboration with Bobby, are the next tracks. The first one is a song with rap-rock elements that builds around booming drums. Meanwhile, the second is a hard-hitting hip-hop track, reminiscent of the duo's previous exploits as MOBB. In "Kill," MINO explores a slower-paced rap accompanied by brassy riffs that at parts remind of his chart-topper "Body." When it comes to lyrics, however, "Muah" would be a closer counterpart of the 2016 hit. Smart wordplay and MINO's signature sound make for a daring track that's easy to vibe along.
And Beyond
The mood later switches with "Question Mark," a clearly experimental foray described as "a song that feels as if you're shrouded by fog." Next up is "Drunk Talk," featuring sogumm. Just like the name suggests, the song talks about drunk-dialing an ex that's seemingly over the relationship. "Sorry, I must have said nonsense again/ I don't know/ I should just sleep, I'm drunk," raps MINO in a deflated tone that contrasts with sogumm's dreamy vocals. Still trapped in the aftermath of a breakup, "Losing U" finds the WINNER member at his most vulnerable, longing for the past and "tormented by the memories." The song, previously performed at MINO's "Maniac Concert," combines the rapper's raw vocals with a melancholic piano.
Wrapping up is the poetic "Sad Walk," alongside Sunwoo Jung-a (SWJA). Known for her impressive credits, the producer and songwriter surprises by lending her vocals to a song about farewells. In what appears to be a conversation between two people, the track tells the story of a couple stretching the final moments together before parting for good. It is a bittersweet ending for an album that could have as well extended infinitely.
TANG!♡
Accompanying To Infinity, the music video for "TANG!♡" was released. Timely appropriate to join the Western trend, MINO dives into the role of a modern-day cowboy. Although he prefers to describe it as a "digital gunman." Retro nostalgia, futuristic elements, and the fashion prowess MINO is known for stand out through the 3:16-minute video. Clad in flashy looks, the star attempts to "get the girl," with less than stellar results. There's frustration, a pile of oversized gifts collapsing in a desert, and a giant teddy bear exploding in flames every time MINO fails to woo the beautiful woman. But we don't question any of that in favor of enjoying the visually enthralling graphics, impeccable styling, and quirky plot.
Though one might suppose there's some cult space cowboy film behind the inspiration for "TANG!♡" MINO admitted the source is actually an animated movie. "In the movie Toy Story, Buzz has a line called 'To infinity and beyond'. [The album title] was taken from it. It was impressive to see an ordinary person dreaming of infinity," he explained. "TANG!♡" is a vivid reflection of that inspiration.
Artist ONHIM and Album Innovations
Although MINO's album is exceptional in its own right, the rapper's all-encompassing creative power has also shone through. The artist's involvement in every aspect of his work has been evident with all the innovative ideas To Infinity has introduced. From art exhibitions to celebrity reaction videos, MINO is pioneering a different approach to music promotions.
Considering that he is now recognized as a painter under the pseudonym of "ONHIM," the multihyphenate has owned up to this new status. To commemorate the announcement of To Infinity, the artist opened "Concept Exhibition: Listen to Pieces." In this space, the member of WINNER showcased teasers of his songs and artwork he created while putting together his latest record. "Like its namesake, I didn't want my album to be confined by any limits. […] I decided to hold this concept exhibition, so my emotions could be delivered to all of you through visual and auditory means," MINO said.
However, the innovative nature of To Infinity doesn't stop there. In addition to the creative efforts, YG Entertainment, the music label MINO belongs to, announced important changes geared towards offering eco-friendly albums. "As both our company and artists are loved by global fans we are deeply aware of the importance of social responsibility and are listening to the voices of various fields," they stated. Undoubtedly, it is a big step for MINO and YG Entertainment.
Of Expectations and The Future
At the virtual press conference ahead of To Infinity's presentation, the artist spoke about his expectations for the album. The multi-faceted idol stated that he was not looking forward to grand or negative reviews of the album. Instead, he is hoping people will enjoy the music and become interested in his future releases. MINO, who until recently served as a producer in Show Me The Money 10, also hinted at WINNER's return in 2022.
For the time being, he continues to reach new heights with every project he takes on. For such a fully-fledged artist, it is little surprise that MINO is set on growing to infinity and beyond.

Craving more music reviews? Read everything about KAI's new album here.