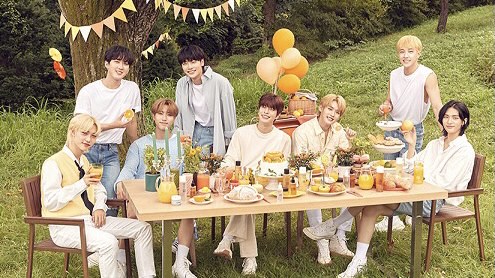 On September 6, Stray Kids were announced as the new faces of the skin-care brand NACIFIC.
Following their win on Kingdom: Legendary War and their successful promotions for their second full-length album, the eight-member group continues to forge ahead even at the close of the year with yet another brand deal under their belt. 
𝗡𝗔𝗖𝗜𝗙𝗜𝗖 𝗫 𝗦𝘁𝗿𝗮𝘆 𝗞𝗶𝗱𝘀

🤘빠라바밤🤘
새 모델이 왔어요☁
스트레이 키즈가 네시픽의 새 모델이란다~💨

네시픽과 스트레이키즈의 만남이라니..!
정말 좋아 살겠네~

앞으로 네시픽과 함께 할 스트레이 키즈의
다양한 모습 많이많이 기대해주세요! 많관부 🖤❤ #nacific #StrayKids pic.twitter.com/q1Eh0TFZ6S

— 네시픽 NACIFIC Official (@KrNacific) September 6, 2021
The Birth of Natural Beauty
NACIFIC is known for its sleek design and minimalist aesthetic. It features various products on its site that range from treating blackheads to exfoliants all sharing that same modern design. The brand is also known for its Fresh Herb Origin line, which happens to be a part of its best-selling Day & Night Set. 
The brand prides itself on producing products that are clean and natural that yield amazing results on the skin of their buyers. NACIFIC states that it aims to create the very best products through the use of natural ingredients. It also says that while it has products that its customers love, it always seeks to improve its products and conduct constant research as well as communicating with its buyers.
This bright and clean concept is one of the reasons NACIFIC says it chose Stray Kids as its new brand ambassadors. The brand stated that the group's healthy and bright energy matches well with NACIFIC's concept of pursuing natural beauty.
EXO's main rapper, Chanyeol, was the brand's most recent brand ambassador for 2020 and took part in various events while promoting NACIFIC's products. The same can be expected for Stray Kids!
Fan Reactions 
2021 has proven to be nothing short of fruitful for the eight member group. From makeup brand deals, clothing collaborations, magazine photoshoots, and more, Stray Kids have continued to grow and their fans have supported them through it all this year.
The group's collaboration with NACIFIC is no different, and STAYs took to twitter to share their excitement on the boys' newest accomplishment.
my boys looking so pretty aaaaaaa

STRAY KIDS X NACIFIC #StrayKidsNacific@Stray_Kids pic.twitter.com/KY1UFBfs2U

— matcha ↯ (@strayrxcha) September 6, 2021
Can't waiiit🥳 I hope they treat the kids well ❣️

STRAY KIDS X NACIFIC #StrayKidsNacific@Stray_Kids pic.twitter.com/7R8ap0Hggm

— sky❣️⚡ (@skyxskz) September 6, 2021
THE THUNDEROUS NEW BRAND EMBASSADORS FOR NACIFIC ARE HERE!!!!

NACIFIC X STRAY KIDS#NACIFIC #StrayKids #NOEASY #StrayKidsNacific@Stray_Kids pic.twitter.com/UJVfUF7bSj

— ☀ ☆ Dinaaa ⁸ 🐱 Streaming⚡️SSD 📌 (@_tsundere_angel) September 6, 2021
Yall always taking my money but that's fine because u r Stray Kids.
STRAY KIDS X NACIFIC #StrayKidsNacific@Stray_Kids

— SpearB's⚡ (@dwaekkinginamo) September 6, 2021
The CEO of NACIFIC – Kim Hyungmin – even posted about the NACIFIC x Stray Kids collaboration on his eight-memberpersonal instagram!
View this post on Instagram
Interested in reading more about Stray Kids? Check out our coverage on Stray Kids' second full-length album!
Thumbnail courtesy of Nacific and JYP Entertainment.