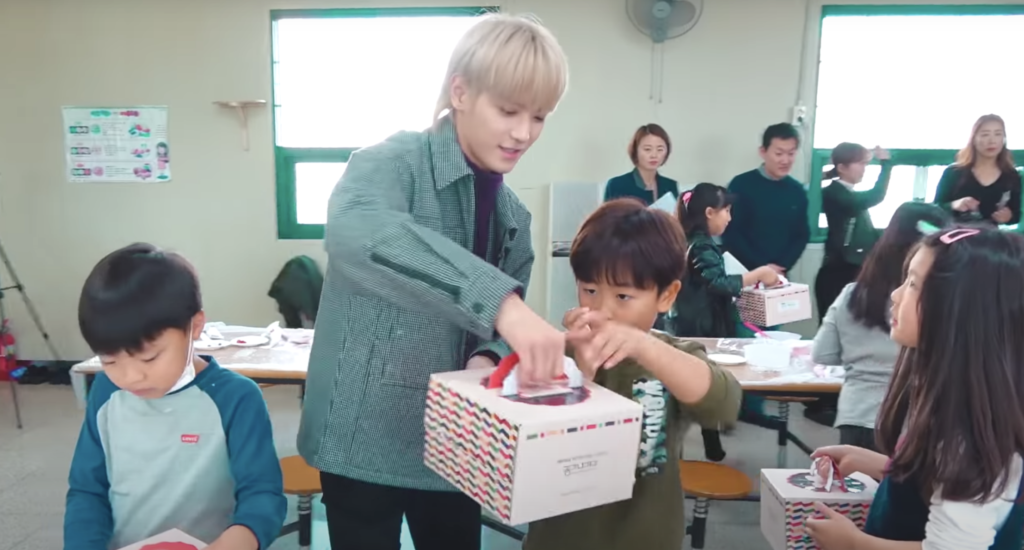 By @GTroubleArtist
On December 1, 2020, the Korean Animal Welfare Association tweeted about a ₩1,000,000 donation from NCT Taeyong's Korean fans. K-pop fans are known to make charitable donations in the names of their favorite idols. Taeyong is no exception.
NCT 태용님의 팬클럽에서 1,000,000원 후원해주셨습니다.

자세히보기:https://t.co/xzk876hqIE#동물자유연대 #NCT #NCT태용 #태용 #얼굴이순정만화 #태브리즈 #민초단태용 #인생은멀리서보면희극가까이서보면비극 #태용님미모는성은이망극 pic.twitter.com/e8WGG57ReA

— 동물자유연대 (@animalkorea) December 1, 2020
The Donation
K-pop idol Lee Taeyong is not only known for his amazing performance, but also for his kind heart. Since his debut, he has donated more than ₩1,000,000 per month, as a scholarship for students to the Dae Multicultural School Korea. However, he is not only donating money for scholarships; he was also volunteering regularly at the school from 2016 to 2018.
With those children education-related donations, his fans followed his cue and made their own donations in Taeyong's name. LeeTaeyongBar, Taeyong's China fanbase, has made annual donations as part of Taeyong's birthday project since 2017. Just like Taeyong, LeeTaeyongBar gave donations to schools, in the form of monetary support for six middle school students, alongside donations to buy school supplies and needs.
For the Glorious Day
2019년 생일 응원 Part11

산간 지역 학자 지원 사랑의 공익 프로그램

❶ 초등학교 식탁 20세트랑
한 초등학교에 책상 40세트 기증——이름은 이태용의 사랑레스토랑과 이태용의 사랑책상과 의자
❷태용의 이름으로 빈곤한 고아 남매와 중학교 불우학생 6명 지원한다. #태용 pic.twitter.com/Czff2Xic4d

— LeetaeyongBar (@LeetaeyongBar) July 1, 2019
Another example where Taeyong's fans have been philanthropically inspired is with UNICEF. Taeyong is a supporter of UNICEF and a charity-focused group from Indonesia organized donations to UNICEF in 2018 and 2020 on Taeyong's behalf.
The Taeyong Project
Another fab group, the Taeyong Project, has done a number of donations since 2018, especially last year (2020), when a lot of devastating situations happened around the world.
"Taeyong previously said, 'There are people who have a hard time running back, there are people who have to give up because they have a hard time going there, and there are people who find it hard and others can't find a way back. I think it all depends on the big framework of life. I think it's a good place for young people. And I feel the same way about it right now, so let's lean on each other when we're in trouble, comfort each other, cheer each other up, make youth more valuable." (From 2018 Lucky Box Message).' This message from Taeyong motivated us to make our youth more valuable by helping people, to do good for each other," said a member of the Taeyong Project.
Taeyong Lucky Box message mentioned by Taeyong Project (Translation credit: doyoung_ing)
Motivation
Researchers from the University of Bristol reported that donating to charities is a social act influenced by others. Some are influenced by strangers, and some by famous figures including celebrities. Celebrities can use their admiration to influence people to donate to charities, and encouragement from an important person can also make a big difference to their charitable decisions—just like how the Taeyong Project was encouraged by Taeyong's message.
Nonetheless, charitable giving is contagious, and a person is more likely to give when they see others giving.
Taeyong has motivated fans all over the world—from regional fanbases like LeeTaeyongBar to smaller groups and even individuals—to give back. He's created a positive network of influence, spreading kindness to help those less fortunate.
Taeyong's love and care for Ruby, Lucky and all animals who have met him also inspired me to make a donation under his name to World Wildlife Fund, which protects endangered animals and their homes #HappyTaeyongDay#OurRoseTaeyongDay #헤어질_염려가없는_태용날 pic.twitter.com/MDUVbGrlrc

— autumn (semi-ia 📚) (@_NeoCryptic) July 1, 2020
DONATED BY MYANMAR NCTzens to ROYAL HEART : CAT SHELTER, DOG SHELTER & ANIMAL RESCUE MDY 💚

we hope TY will love this kind of donation for his beloved little pets 🐶🐱#HAPPYTAEYONGDAY #701TYDay #태용아생일축하해 #태용 #TAEYONG pic.twitter.com/a9AkKaPtJX

— NCT TAEYONG – MYANMAR (@TaeyongMyanmar) July 1, 2018
Most people assume that generosity involves sacrifice—to give something up so someone else can have more. That assumption is incorrect since most people experience a bigger boost in happiness when they spend money on other people or help others. With that, we can say that giving is better than getting. When we give our kindness, we get the kindness back in the form of happiness.
As the Taeyong Project said, "We always want to do charity because we believe whoever gives kindness to people, they will get kindness too. Whoever gives people happiness, they will get happiness too. And since we did it because of Taeyong and we were inspired by his kindness, we want because of this (kindness), Taeyong will get happiness and kindness from the world too."
Let's spread our happiness and be kinder to one another. Be sure to check out the Ruby Project here.
Sources:
"Peer Effects in Charitable Giving: Evidence from the (Running) Field." https://onlinelibrary.wiley.com/doi/full/10.1111/ecoj.12114
"How can Bill and Melinda Gates increase other people's donations to fund public goods." https://www.nber.org/papers/w17954
"Charity Appeals Using Celebrity Endorsers: Celebrity Attributes Most Predictive of Audience Donation Intentions." https://www.researchgate.net/publication/273641740_Charity_Appeals_Using_Celebrity_Endorsers_Celebrity_Attributes_Most_Predictive_of_Audience_Donation_Intentions
"Social Influences and the Designation of Charitable Contributions: Evidence from the Workplace."
https://media.gradebuddy.com/documents/2184243/8ab1de59-5a5c-4d3c-9cc4-44b92967a4b1.pdf
"Spending Money on Others Promotes Happiness."
https://www.hbs.edu/ris/Publication%20Files/Norton_Michael_Spending%20money%20on%20others%20promotes%20happiness_ddd17e6e-fc21-438f-811e-62561cc97a18.pdf
Thumbnail: Taeyong, IG @copito.art