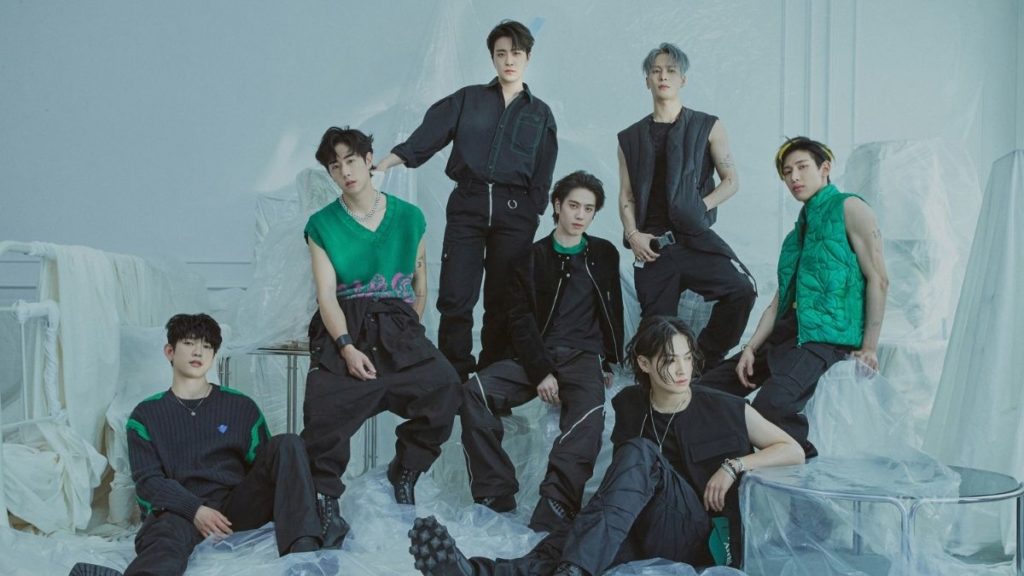 Long live GOT7! After a yearlong hiatus from group activities, the septet is finally back with a new, self-titled EP, GOT7. It is no question that each of the members—Mark, JAY B, Jackson, Jinyoung, Youngjae, Bambam, and Yugyeom—have their own distinct sense of style, perfectly encapsulating their own fashion tastes…and it is no question that the world has definitely taken notice. From coveting several brand ambassadorships combined to taking on fashion week by storm, fans and fashion lovers have marked them as modern style icons.
The same thing can be said when it comes to GOT7's taste in luxury jewelry. Their impressive array of luxury pieces range from your basic everyday selections—watches, necklaces, rings—all the way to the ones that just scream flex (think Jackson's diamond-studded shoelace accessories). The glamorous relationship between the group and their ice has not gone unnoticed to their fans, better known as Ahgases, and those who share the same appreciation for precious gems. Their love for jewels has even caught the eye of several maison houses, including renowned jewelry brands like Cartier and Tiffany & Co.
Here are some of EnVi's favorite jewelry pieces that they have worn throughout the years.
The "Seven-Piece Squad Set" from If & Co. Jewelry
In 2017, IF & Co. posted photos of the seven custom made necklaces on their Instagram page. Nicknamed the "Seven-Piece Squad Set" by the brand, each triangle-shaped necklace comes encrusted in either white or yellow 14K gold. Each pendant is specifically curated to the member's uniquely chosen design, including special engravings and added details of personal significance. When all seven pieces are put together, the triangles form a pentagon, the shape of GOT7's logo.
It is a way to signify that although each individual member has their own passions and personalities, GOT7 would not be complete without one other. The pendants played the starring role in GOT7's music video, "You Are" as the separated members desperately look for each other through the streets of Hong Kong. As the group reunites, the video concludes with the seven pieces finally coming together.
Bambam's Jacob & Co. "Astronomia Solar" Watch
After being announced as the Golden State Warriors first ambassador, Bambam was spotted front row at a their game wearing an eye-catching watch from jewelry company Jacob & Co. Priced at almost half a million dollars, the "Astronomia Solar" watch recreates the solar system using several different colored gems and diamonds in their signature Jacob-cut. After the pictures of Bambam sporting the watch went viral, the company founder–Jacob sent him a special message welcoming him to the Jacob & Co. family.
Jackson's "Luck" Pendant from MCI Jewelry
Jackson gave fans a tour of his accessory closet in his Beijing house during his episode of "Curated," an ongoing YouTube series by Esquire magazine. Among his extensive jewelry collection, he mentioned a beloved pendant—a square-shaped, red and yellow diamond-encrusted charm complete with the Chinese symbol for wishing luck—but it comes with a twist. As he explained in the video, Jackson customized the pendant so that it hangs upside down when paired with a chain, so that the meaning of the Chinese symbol goes from wishing luck to having luck already.
Mark's "Custom 1 of 1" Chain from Unnamed Identities NYC
In 2021, Mark teamed up with Unnamed Identities to create the up-and-coming brand's very first custom chain necklace order. Using retro reflective technology, the 14K gold chain was personally designed by brand owner–and Mark's friend–Christina Liu as a gift. The necklace can be seen on Mark in his album cover for his solo single earlier this year, "save me."
Yugyeom's '97 Line Friendship Bracelet from Cartier
In celebration of Yugyeom's birthday last year, he was given a Juste Un Clou Cartier bracelet in yellow gold. During an interview with Elle Korea, he told viewers that a matching bracelet was gifted to him by BTS' Jungkook, NCT's Jaehyun, ASTRO's Eunwoo, and Seventeen's Mingyu as a way to commemorate their friendship in the well-known '97 line idol friend group.
Youngjae's Igot Bold Ring from Wootique Jewelry
At the 2021 Golden Disc Awards, Youngjae was seen wearing an unreleased ring from Wootique Jewelry during GOT7's performance. The independent jewelry shop took notice and posted about the feature on their Instagram. Upon learning that it was the group's last performance before parting ways with JYP Entertainment, the boutique decided to dedicate the ring to Youngjae and GOT7, naming the piece the "Igot Bold Ring."
Jay B's Brooch from Tiffany & Co.
Earlier this year, Jay B attended Tiffany & Co.'s exclusive event, "Yellow is the New Blue," to celebrate the iconic jewelry house's color scheme rebrand. During the event, Jay B was seen wearing the brand's Paris Diamond Platinum Gold Flame brooch made of "18k yellow gold and platinum with round brilliant diamonds" and meant to resemble a dancing flame.
As a group known to stand out for their fashion and style, the members of GOT7 have made it a point to express themselves through flashy, luxury jewelry. As the members continue to become fine jewelry connoisseurs by collecting and even designing unique pieces, there is no telling what we will see around their necks or on their wrists next. 

Looking for more on GOT7's style? Check out style analysis, "GOT7 Got 7 Styles," here.