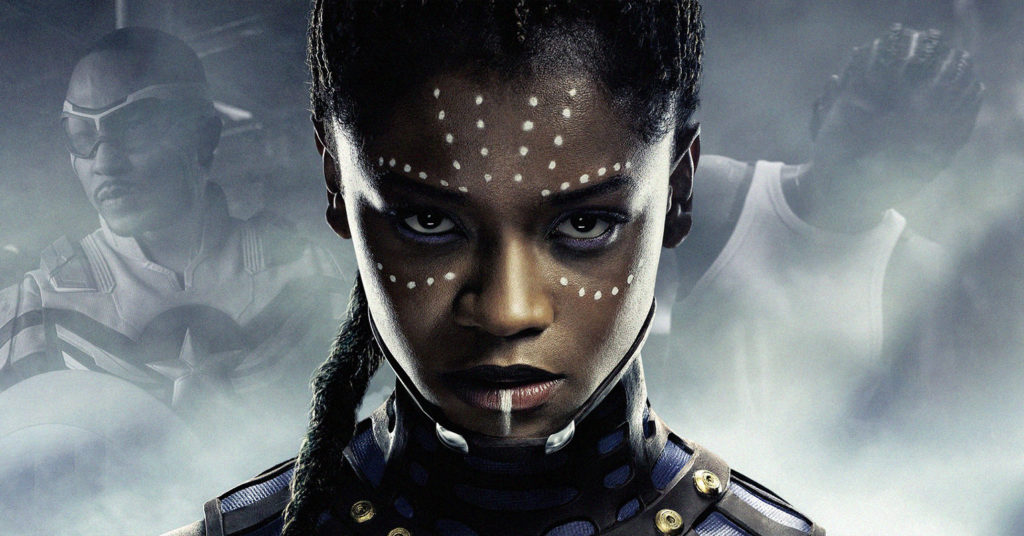 Marvel fans are undoubtedly on a high after the announcements made at the 2022 San Diego Comic-Con (SDCC). With thousands of attendees gathered in San Diego Convention Center's infamous exhibit hall (Hall H) and millions more watching the film studio's panel unfold online, excitement and anticipation were at an all-time high.
While many of Marvel Studios' announcements included characters of various backgrounds and ethnicities, it isn't hard to notice how undeniably Black these subsequent few "phases" are as we make our way through what is now donned as the Multiverse Saga of the Marvel Cinematic Universe (MCU). In celebration of these upcoming wins for Black creatives in the industry, here are all the Black-led projects—so far—you can look forward to in this new cinematic universe.
Black Panther: Wakanda Forever (November 11, 2022)
Arguably, the most anticipated announcement came from director Ryan Coogler and the cast of Black Panther: Wakanda Forever. Given the unfortunate death of actor (and Black Panther himself) Chadwick Boseman in 2020, fans have waited with bated breath to see how the studio would tackle his character and the overall story of Wakanda moving forward.
Thankfully, the sequel's first teaser trailer did not disappoint and delivered the first look at Dominique Thorne's debut as Riri Williams (Ironheart) and Michaela Coel as Dora Milajae warrior, Aneka.
While it's still unclear who will take on the Black Panther mantle after T'Challa, these two minutes alone invoke a raw emotion so powerful and yet so painful—all while honoring Boseman and T'Challa's memory as beloved heroes both in and outside of Wakanda.
Nia DaCosta Directs The Marvels (July 28, 2023)
Following the debut of 2019's Captain Marvel and the movie heroine's appearance in Avengers: Endgame, Brie Larson returns as one of the three titular characters in the upcoming sequel. Starring alongside Larson as a "Marvel" is Teyonah Parris and Iman Vellani reprising their roles as Monica Rambeau and Kamala Khan, respectively.
While Monica made her adult debut in WandaVision over a year ago, fans have yet to see a continuation of her storyline and journey as a budding superhero. Sporting a natural twist-out and determined attitude, Monica resonated with many Black women who had watched her blossom from the comfort of their homes, and it's refreshing to know there's still so much more to come in her next appearance.
It's also important to note The Marvels is directed by Nia DaCosta, making history as the first Black woman (and youngest filmmaker) to direct a Marvel film. She's previously seen success directing Little Woods and Candyman and can soon add superhero blockbuster to that list.
Secret Invasion (Summer 2023)
Samuel L. Jackson is no stranger to these action-packed adventures. His portrayal as Nick Fury has become just as important as the franchise itself—he is the glue to everything Avengers and beyond. Now he'll star in a new series on Disney+ series, Secret Invasion, a six-episode sci-fi thriller.
The last time we saw Fury (or a version of Fury) was in 2019's Spider-Man: Far From Home. After the major post-credit twist, it turns out he's been up to a lot more than what he led everyone to believe. In Secret Invasion, we'll learn what he and Agent Hill have been up to, as well as the Skrulls' invasion of Earth.
In a nutshell, the MCU's Nick Fury is everything we wish we could be—bold, daring, fearless, and most of all, dangerous. But we've also come to love his sense of humor and the softer side he rarely shows.
Ironheart (Fall 2023)
After the events of Wakanda Forever this fall, actress Dominique Thorne will star in her first Disney+ series, Ironheart. In the comics, Riri Williams is a 15-year-old engineering student who builds her own version of an Iron Man suit and later goes on to work with Tony Stark himself.
Since Robert Downey Jr.'s Iron Man has passed on from the superhero universe, an appearance is less than likely. However, an appearance from Rhodey (War Machine) could very much be in the works, especially since Don Cheadle is set to reprise the role in his own Disney+ series soon.
What's equally exciting about this series is that we'll get to see a young Black character directed by two Black women—Sam Bailey and Angela Barnes. Back in 2020, Captain America star Anthony Mackie criticized Marvel for the lack of diversity in their production crews during his time on set thus far. Since then, we've seen more Black creatives highlighted behind the scenes in directing, writing, hair, and makeup, but there's always room for even more.
Blade (November 3, 2023)
For the first time in nearly 20 years, cult-favorite vampire hunter Blade is making his cinematic return. At San Diego Comic-Con 2019, Marvel announced actor Mahershala Ali would play the titular character, and at Comic-Con 2022, confirmed a release on November 3, 2023.
Many fans credit the first Blade trilogy, led by actor Wesley Snipes, for kickstarting the comic book movie phenomenon we know today. Without Blade, so many of the more recent superhero movies would not exist, let alone in this capacity.
Ali marked his first portrayal of the character in the post-credit scene of Eternals, where he speaks off-screen to Kit Harrington's Dane Whitman a.k.a. the Black Knight. Fans are eager and enthusiastic to see another vampire renaissance in the MCU—and even happier to see a Black man at the center of it all.
Captain America: New World Order (May 3, 2024)
Following the finale of The Falcon and the Winter Soldier (TFAWS), Anthony Mackie's Sam Wilson has officially graduated from Falcon to Captain America. During the show's 2021 run, Mackie and Winter Soldier actor Sebastian Stan underwent an emotional and intense transformation and realization of their characters. While Bucky was successfully cleansed of his Winter Soldier programming, Sam finally accepted his rightful place as the new symbol of hope for America—regardless of historically racial tensions in the country.
While it was reported early on that Anthony Mackie signed a new contract with Marvel, the timeframe of his first solo movie had been up in the air until now. With an official release date and a new subtitle (mirroring the title of episode one in TFAWS), fans can expect to see Sam in all his red, white, blue, and Black glory in May 2024.
The plot so far is unknown, but with the release of the Thunderbolts film happening only two months after, it's safe to assume we'll see Sam and at least a few Thunderbolts characters cross paths in more ways than one—U.S. Agent John Walker, anyone?
The Kang Multiverse (2023-2025)
Some attentive fans would know that most of Phase Four has been leading up to a full-blown Kang the Conqueror domination. Starting with season one of Loki, we were introduced to Jonathan Majors as He Who Remains a.k.a. the first Kang variant.
Everything about this portrayal of He Who Remains—from his mannerisms to his inflections—was incredibly captivating and entertaining. It's not hard to see why Marvel's keeping him around and setting him up as the "big bad" of the Multiverse Saga. His next appearance is confirmed to be in Ant-Man and the Wasp: Quantumania, where he'll play a second and more comic-accurate version of Kang the Conqueror.
But that's not all. He's expected to appear in season two of Loki (currently filming), and the next two Avengers movies, appropriately titled Avengers: The Kang Dynasty and Avengers: Secret Wars. Although most comic aficionados know Kang as a blue-skinned supervillain, it speaks volumes that Marvel would rather forgo the blue and have Majors depict the character as his true self, Brown-skinned and all. In a world where film studios have been criticized for casting Black actors in "white/non-Black" sanctioned roles, this is yet another step in the right direction.
The Future's Looking Black
Compared to where the MCU was in Phases One, Two, and even Three, there's definitely been a great increase in diversity and representation across the board. And while it isn't anywhere near perfect, it's still so important the Black community continues to feel uplifted on and offscreen—and Marvel is finally getting it.
Because when we win, so does everyone else.
Follow Marvel Studios on Twitter and Instagram for more MCU updates.
For more Black-centric content, check out our list of five Black artists to spice up your summer, here!