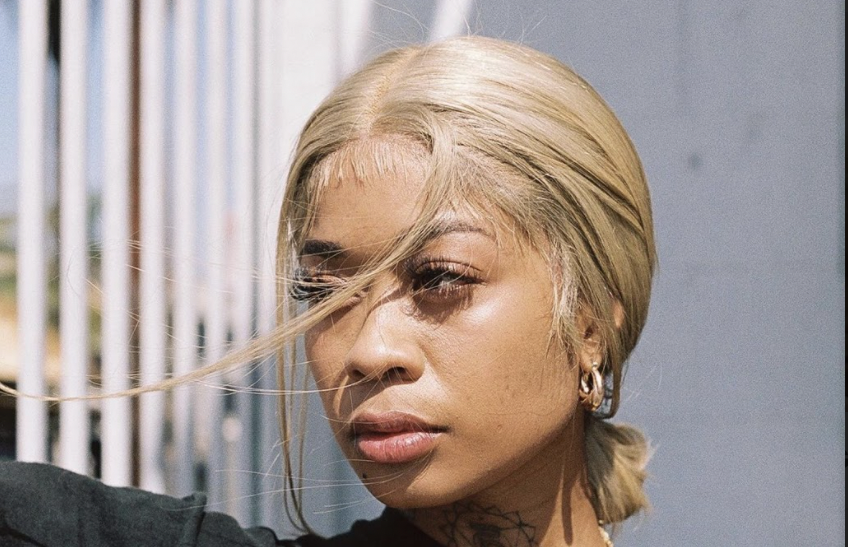 By Jenna | @puckfledis
TiaCorine's unique flow and storytelling has allowed her to carve her own musical path in an era where it's hard to stand out. "I feel like my songs tell a story, so I feel like they need to flow together to make a book. I feel like my project is a book," she revealed. The 25-year-old "Anime-Trap" artist had already seen viral success and acclaim all before signing her first record deal. Cited as a new favorite of her fellow game-changing peers SZA, Kehlani, and Rico Nasty, Tia is well on her way to becoming a household name. 
THE SAGA BEGINS
Tia attributes her diverse, multi-cultural background with her Shoshone Native American mother and her Japanese and African-American father, for her versatile music. She was also influenced by her step-father who enjoyed hip-hop and R&B artists such as Run DMC, Sugar Hill Gang, A Tribe Called Quest, Ginuwine, and Usher. "So that's how I got this cool 'melodic pop, but it sounds old school' sound," she said.
Despite all of the musical influences in her life–playing the flute, piano, and singing growing up, rapping and making her own music was not something Tia thought of doing. It wasn't until the age of 16 when she was invited to her friend's home studio that she realized this is something she needed to do.
The artist attended Winston-Salem State University but took a break to focus on her #1 fan, her daughter Zoe (who jumped into the interview to ask mom for the tv remote). Balancing motherhood, a day job, and doing shows, Tia still managed to bounce back into things and graduated at the top of her class in Exercise Physiology. From there, Tia grinded hard on her music which eventually led to her success through social media.
Tia's first big hit was the track "Lotto," produced by Yung Forest. After the song went viral on TikTok in 2018, it caught the attention of local radio stations, clubs, and DJs. One of the first songs to have viral success on the app from an up-and-coming artist, Tias music was introduced to a brand new audience. With over one million streams and counting on Spotify, the single's success alone was enough for Tia to buy a house in her home town Winston-Salem, feature on songs with other artists, and live comfortably with her daughter. 
In late 2019 after catching the attention of her new manager Marcel "Flip" Holmes, she signed to the North & South Carolina-based record label South Coast Music Group, becoming labelmates with DaBaby and Toosii.
ENTER THE CAVE WITH 34CORINE
On May 14, 2021, The Saga of 34Corine, the deluxe version of 34Corine was released. A re-release of her 2020 album that featured nine new songs and features. Delicately crafted, Tia selected the tracklist so that each song could tell a story. "It almost gives you the sense of actually turning the page," she stated, as she sat in front of her pink bedroom wall covered in animated characters, relaxed, and excited to talk music.
Tia worked alongside the well-loved producer Kenny Beats on the track "Luigi." A song the duo had been teasing since late last year and their fans went wild when she announced it was going to be on her deluxe album. When asked about working with Kenny, Tia recalled, "I made that song in two hours and I was so surprised because I never do that. He was just calling me a genius. 'you just proved that you are not a one-hit-wonder like, oh my gosh this is gonna go up.' He was just so excited and working with him is so easy. It's so easy." 
The fifteen-track deluxe LP also featured artists Frais006, who hopped on the album opener "Santa," and a surprise feature on the "Lotto" remix from labelmate DaBaby. Standout track "Taco," begins with an interlude from 90s buddy-cop franchise Rush Hour. Which further compliments Tia's attention to detail and use of pop-culture references continued from the original album's "Avril Lavigne."
Throughout the album Tia shifts styles and flows all-the-while keeping a consistent vibe and her signature sound. For first-time listeners, Tia keeps them on their toes by alternating between high and low vocal tones on songs like "34 Villain" and "Pancakes." Her lyrics float from being fun and quotable to full of attitude and self confidence.
EnVi spoke with Tia about her favorite verse from the project, taking her time to think about her answer Tia recited the lyrics, "I think you a leech now tryna intervene. I think it's funny how I'm still in the lead," from the track "Hotel Mink." She further explained, "that's probably one of my favorite ones because it's really personal. I was going through a time where somebody was blackballing me and it didn't work. You can't stop me, you can't stop this…You can be mad all you want, but I'm still gonna do this, I'm still gonna shine through this, and I did."
WHAT'S NEXT
Upcoming plans for Tia include more Kenny Beats collaborations. She teased to EnVi, "we are actually planning on releasing a project together. We have four or five [songs] already done and we just wanted to cook up a few more, but it's definitely coming. We have a crazy track together called "Chaka Khan" and…y'all are not ready for that, that right there is gonna change some things."
Aware of the relationship that Kenny and Tia have, EnVi asked if there is an episode of The Cave in the works with the pair, "He actually told me the last time I was in LA, he was like 'Yo we have to get you on The Cave the next time you come.' So that's definitely coming," Tia said.
Tia mentioned the idea of her own anime or cartoon show one day. Growing up, anime always played a huge part in Tia's life. "I watch a lot of cartoons and stuff," she remarked. "I feel like that's just my insides like I'm just bright and colorful inside—I'm pink like I'm just pink! I want to hopefully have my own animated series and also do voiceovers."
With endless possibilities on the horizon for the artist, Tia has many aspirations that she still wants to accomplish including acting. "I really love thrillers," she mentioned. "I'm not ready for a horror movie yet! I'm a little scared, but I can do a thriller." 
When it comes to the vibrant and versatile artist, there's no telling all the things she's capable of. Since The Saga of 34Corine is her only LP thus far, this is truly just the beginning for TiaCorine.
Learn more about TiaCorines South Coast Music Group labelmate Toosii and his latest album, here!
Thumbnail by @sirasounds