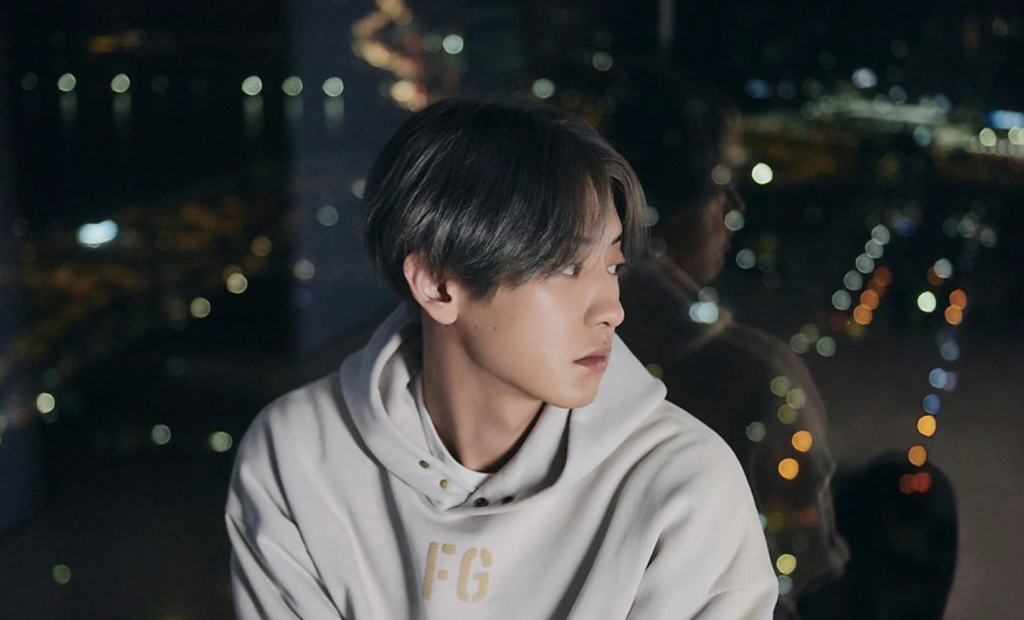 Por: Mafe Morales | @brekkerxuxi
Traducido por: Lucía Medrano | @marxbang
El pasado 6 de abril, Park Chanyeol, miembro de EXO, lanzó su sencillo "Tomorrow" como un regalo de despedida para sus fans luego ir a cumplir su servicio militar obligatorio el 29 de marzo del presente año. Se ha vuelto tradición entre los miembros de EXO lanzar una canción como el último regalo a sus fans antes de iniciar su servicio militar. 
"Tomorrow" es una canción acústica pop minimalista con letras profundas. El dulce y suave rango vocal de Chanyeol encaja a la perfección con la canción que expresa las dudas y preocupaciones que pasaban por su mente, cuánto miedo le provocaba la mañana siguiente a una  noche llena de pensamientos y cómo esperaba ser alcanzado por la luz. 
La canción trajo un mix de emociones para las fans que expresaron su orgullo y buenos deseos en retorno, quien se abrió así mismo y contó sus luchas con la ansiedad. 
Chanyeol doesn't really share his struggles with people (he said it in starshow 360) it's always happy news or happy stories when it comes to him. I am so glad he gets to show the not-so-rainbow side of his life in his songs ?

— ? (@pcychoyeolgy) April 6, 2021
Chanyeol también participó en la banda sonora de la película The box como voz principal, que acompañó su rol como actor, cantante y compositor. La película fue estrenada el 24 de marzo y se le permitió la entrada a fans quienes apreciaron su voz y dotes actorales. 
Expresó que se siente honrado de haber trabajado en esta película y su pensamiento actual frente al inicio de su servicio militar
"I feel honored & fortunate that I was able to work on this movie & show it to you before I go to the army. I will enter with a comfortable heart. I'm prepared for it. I'll stay healthy, not get hurt & come back safely"#3월24일_찬열_더박스_개봉#CHANYEOLinTheBox#TheBoxPremiere pic.twitter.com/fzSWBINGWg

— ???????????? ♡ 찬열 (@no_loey_no_life) March 18, 2021
Chanyeol ha crecido como artista, va desde rapero, vocalista, productor y creador de Studio NNG, y su pasión por la música no ha sido pasada por alto por las personas que lo han acompañado en sus años de trayectoria. 
Amy Wadge is a Grammy winning songwriter, 'Tomorrow' was her FIRST Kpop act, & she even mentioned how 'amazing' Chanyeol was! This speaks volumes on how respected Chanyeol is as a musician, simply can't wait to see more achievements coming his way ?#TomorrowWithChanyeol #찬열 pic.twitter.com/eNNbnUvtre

— ? ⁶¹ ? (@SeasonsOfLoey) April 6, 2021
Chanyeol dejó un mensaje al final del video de cumpleaños subido en el canal del Studio NNG donde le promete a sus fans encontrarse cada 27, pues el estudio subirá videos mensualmente todo los 27 durante el tiempo de su servicio militar.
#CHANYEOL's handwritten messages at the end of NNG's video:

"(I'm) doing well, everyone! ♡"
"Let's meet on every 27th ♡*"

*I think by this he means every november 27th/his bday? ?#StudioNNG #LOEYxStudioNNG pic.twitter.com/l04ZlpEqwE

— 찬체리? (@chanyhoney92) March 29, 2021
Echa un vistazo al vídeo musical de "Tomorrow", y asegúrate de escuchar otros temas de la BSO de la película, como "Break Your Box", "Without You" y "Raining".
En caso de que te lo hayas perdido, ¡lee todo sobre el último lanzamiento de Baekhyun de "Bambi" aquí!