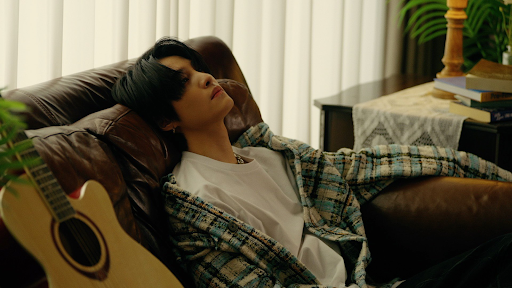 On September 4, WayV's main rapper YangYang surprised fans with his refreshing vocals in a new cover! Published through WayV's Youtube Channel and Weibo, the video features YangYang singing his version of Shawn Mendes' "Look Up at the Stars." The cabin-like setting brings a heartfelt feel to the video, as the rapper lingers around a phone anxious to call an assumed loved one. The rock elements of the song bring out a new color of YangYang's voice, showcasing just how talented WayV's youngest member is.
YangYang the Ace
YangYang has previously shown his many talents to fans through PlayV, a video series on the WayV YouTube channel that shows the talents of the members. This includes his dance to "My Heart" by Christopher and his an original song, "Leonidas" which was produced by fellow WayV member, Kun. He also featured in the song "Asteroid" by IMLAY. Fans have seen the rapper's vocal abilities throughout the years, but this cover shows just how much he has improved and practiced. On Instagram, YangYang wrote that the cover was "Something I wanted to show you guys a long time ago" making it special for the singer and his fans. 
Yangqis for YangYang
With over one million views on Weibo within 24 hours, fans couldn't help but show their support for the surprise release.
What's Up Next?
While there is no official news for WayV's highly anticipated return, the group performed impressive stages at the SMTOWN concerts in Korea and Japan in the last weeks of August. They are also set to perform in Bangkok on October 15 at the Annyeong, Bangkok show. This performance will be welcoming back WinWin into the group, as he has been working on the filming for his dramas, "The Shadow" and "Sweet Games." Ten and YangYang are also appearing in the Food Truck Battle Season 2 Fanmeeting in October. While WayV is booked and busy, we hope to hear news of a WayV comeback soon!
Want more Wayv? Check out our rundown of Best Wayv moments for their 3rd Wayversary!