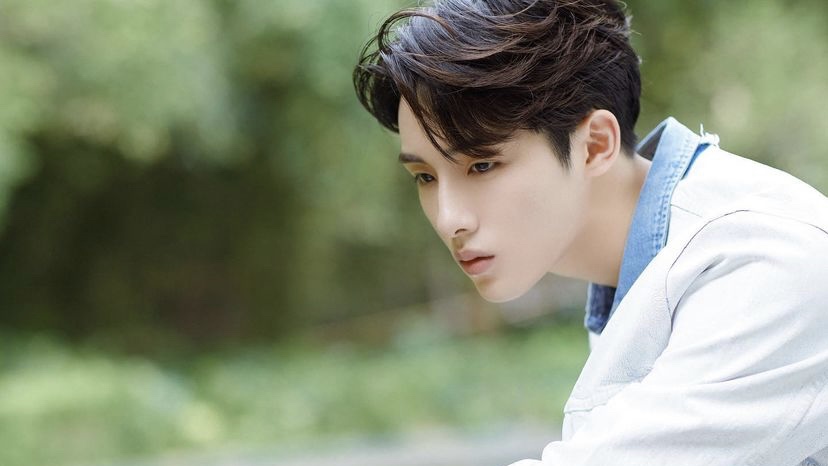 After a front-row appearance at Shanghai Fashion Week and stepping into the beauty world as one of Charlotte Tilbury's new faces, WayV and NCT's Winwin continues to take the year by storm. Taking a bite into acting, Winwin joins the roster of accomplished Chinese actors for Ru Yue, an upcoming fantasy-romance drama. Set to start filming on October 25, Ru Yue is co-produced by Tencent Pictures and Yuekai Entertainment. Leading the project is director Li Mu Ge (Rattan, Goodbye My Princess).
#WINWIN will be starring in he's first ever C-Drama called 'Ru Yue' which is set in during a fiction fantasy Republic era of China and filming for this drama is scheduled to start happening today October 25 (also I believe he's playing a vampire character in this drama) pic.twitter.com/wYPLJkJg6a

— NCT Updates ↔ (@NCTupdating) October 24, 2021
Winwin will star alongside several established actors and actresses. Vengo Gao, best known for Candle In The Tomb: The Wrath of Time (2019) and Eternal Love (2017), is in the lead role. In addition, Taiwanese musician and actress Ouyang Nana, whose breakout roles include Secret Fruit (2017) and Bleeding Steel (2017), will also be in the drama. 
A Genre-Blending Historical Fantasy
The news of Ru Yue comes just in time for Halloween. The supernatural fantasy is based on a novel of the same name by author Ni Luo. Set in the Republican Era of China–between 1912 and 1949–Ru Yue blends the supernatural with romance, following an ancient and famous vampire, Shen Zhiheng (Vengo Gao). Milan (Ouyang Nana) and her friend, Situ Weilian (Winwin), foil an assassination attempt on Shen Zhiheng and save his life. He seeks Milan out to repay her for saving his life. Meanwhile, military man Li Yingliang channels his hatred of Shen Zhiheng into chasing him down. Yingliang intends to reveal Shen Zhihen's secrets and inevitably kill him.
As Situ Weilian, Winwin will play Zhiheng's cold-hearted half-brother. Situ Weilian uses his good looks and alter-ego as a doctor to hide his true identity as a vampire.
Director Li Mu Ge is no stranger to supernatural romances like Ru Yue. His most recent production, Rattan (2021), is a fresh take on a sci-fi romance. Rattan is about an alien-plant hybrid once hunted and killed in ancient times but now resurrected in modern-day China. Rattan is praised for its unique plotline, the chemistry between its two leads, and its fleshed-out storyline that defies standard conventions associated with C-dramas. 
Fans Can't Wait for Actor Winwin
Fans of the idol are thrilled to see Winwin acting, and took to Twitter to share their excitement over the news.
ACTOR WINWIN IS HERE! https://t.co/2wTDzXdF3b

— Queen V | Bite Me 🧛🏿‍♀️ (@KpopWithV) October 24, 2021
OMG OMG EVERYBODY SHUT UP HES COMING ACTOR WINWIN IS COMING https://t.co/aXMO5aSedR

— cam ♪ lu ia (@luviewol) October 24, 2021
ACTOR WINWIN!!! VAMPIRE WINWIN!!! AAAAAAAAAAAAAAAAAAA YEEEEEESSSSSSSSSSSSSSSSS!!!
YAAASSSSSSSSSSSSSSS!!! https://t.co/HaNMOhbgj6

— Shanice 🌹 (@nctqueenie) October 24, 2021
WINWIN ACTOR OH YEAH OH YEAH pic.twitter.com/Nm1wovmiWU

— len🐰 (@kapejaemin) October 24, 2021
Omg finally the day has come!!! 😭😭😭😭 Actor Winwin jiayou!!!! https://t.co/JZhopxJwgx

— Abby (@winlelenct) October 24, 2021
In Good Company
Winwin isn't the only WayV member to make their drama debut. WayV's vocalist, Xiaojun, starred in 2021's Hello, My Youth, where he played high school student Chang Yan.
With a star-studded cast, an accomplished director at the helm, and a unique plot, Rue Yue is set to be both a show to anticipate and make for a stellar C-drama debut for Winwin. While there is no air date yet, we can't wait to see vampire Winwin take full form soon! 
Check out our coverage on ASTRO's Sanha in Crazy Love for more idols on the small screen!
Thumbnail from @wwinn_7  .