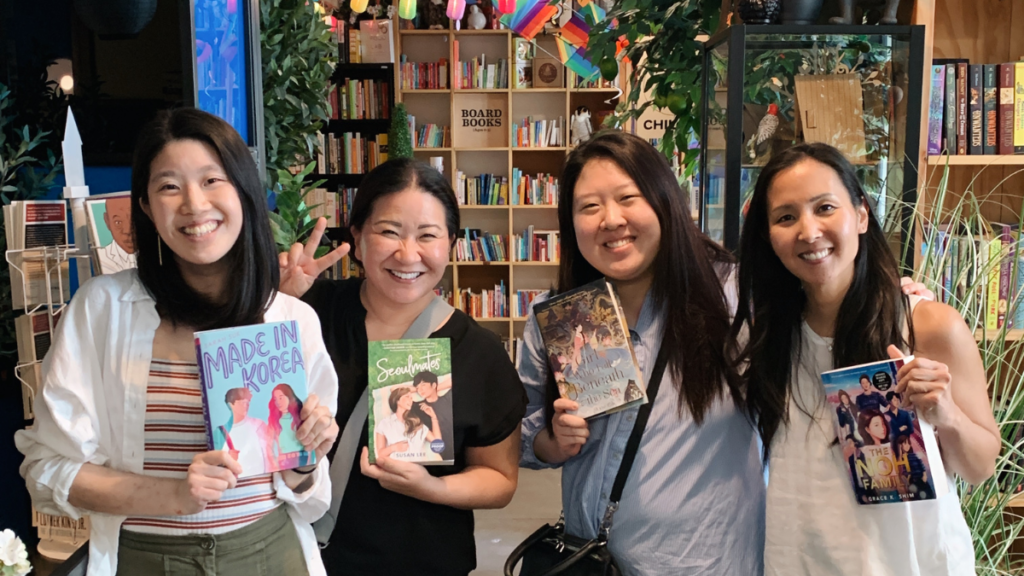 K-pop fans know that the question "Who's your bias?" will never receive a simple answer.
As four young adult (YA) authors—Axie Oh (Rebel Seoul, Rogue Heart, XOXO, The Girl Who Fell Beneath the Sea), Susan Lee (Seoulmates, out 9/20), Grace K. Shim (The Noh Family), and Sarah Suk (Made in Korea)—joined the Zoom call one May evening, this question had to start the conversation. The reason? Not only are these authors friends, but they also all attended and met up at BTS' Permission to Dance on Stage concert in Las Vegas this past April.
EnVi sat down to talk with Suk, Lee, Shim, and Oh about their author friendship, their stories centering Korean characters as Korean American and Korean Canadian writers, as well as their experiences at the latest BTS concert.
A Question of Bias
Sarah Suk jumped in first, firmly stating her bias is the rapper, main dancer, and sunshine member of BTS, j-hope. A smile danced on her lips, as she explained this was "confirmed at the concert." But she did run through a variety of scenarios to ensure j-hope was her bias. When Suk recounted her thought process, she mentioned leader RM (if she "had to marry one of them") and maknae Jungkook (if she had to tutor one of them in English, as she is fluent in both English and Korean). Susan Lee, who went to the concert with Suk, added while laughing, "Sarah was going through an existential crisis."
Meanwhile, Lee has her one and only from BTS, although her bias wrecker is OT7. "My bias from the beginning has been Tae," she said fondly. Referring to mischievous vocalist V by one of his many endearing nicknames, the author of the upcoming novel Seoulmates continued, "It has always been Tae."
Axie Oh joined in on the love for the youngest BTS members, saying that "Golden Maknae" Jungkook is her bias. As a long time fan of K-pop, she has noticed she tends to be drawn to the "aces" of a group. Airy vocalist, dynamic dancer and center, songwriter, producer, and director as well as the creator behind Golden Closet Film (G.C.F) Jungkook definitely fits this bill.
And while Grace K. Shim is not ARMY (she went to the concert with family), she did have her own tales about BTS. Part of the full concert experience was getting a crash course on the seven members' names, faces, and how to recognize them. "Every time their faces flashed on the screen, [it was] like a flash card lightning round that my sister and I were playing." Shim's ARMY friends on the call nodded, relating to these struggles and remembering the time when they, too, had started to learn BTS' names and faces among the ever-changing hair colors and album concepts.
Permission to Dance on Stage and K-pop "Origin Stories"
Around 200,000 people attended BTS' Permission to Dance on Stage concert in Las Vegas' Allegiant Stadium across the four days—April 8, 9, 15, and 16—and all of them came away with different memories. For Shim, witnessing non-Koreans and non-Asians in the crowd "singing along with the Korean words" of BTS' songs struck her most. Lee had similar thoughts about BTS' reach, although a moment that stood out to her was focused on the members themselves. "When they gave their ments unapologetically in Korean in Vegas, that meant so much [to me]," in comparison to the Los Angeles concert when the seven prepared comments in English, though these were still heartfelt. For Lee, expressing their thoughts in their native Korean indicated that BTS were "not losing touch" with their roots nor with who they are.
Just like BTS experienced, and continue to experience, a road full of twists and turns to get to this Las Vegas stadium, so did the four authors. Shim, in particular, had an entertaining story to tell. Not only was she recently settling in at home after a family vacation, but once it was determined that she was going to the concert ("My sister literally just emails [and] she goes, 'So here's your [plane] ticket and then here's your BTS [ticket],' Shim recalled as the rest of us chuckled along), her flight through a budget airline got canceled. She just managed to grab one of the two seats remaining on the last flight that would get her to Las Vegas in time for the concert. Looking back on this adventure, Shim said, "I think it was in the cards that I needed to come to this concert."
Oh, Suk, and Lee did not have journeys to attend the BTS concert quite like Shim (although Canadian Suk did decide to go about a month before the date), but they did take various paths to dive into K-pop. Their "K-pop origin stories," if you will, as dubbed during the conversation. Since Suk's older sister was a fan of K-pop when they were younger, the Made in Korea author naturally gravitated towards the music. Later on, she would translate variety show appearances and upload these versions to a fan forum after downloading the videos on LimeWire (#throwback), allowing non-Korean speaking fans to enjoy them.
Las Vegas resident Oh's "origin story" is also framed by family. Her mom listened to K-pop, and Oh listened to SHINHWA, SUPER JUNIOR, and EXO in high school. She also remembered her aunt and uncle gifting her Fin.K.L's "entire discography." As Oh recalled these moments and her experiences listening to her Diskman on the bus going to school, she said, "I never looked back."
Compared to Suk and Oh, Lee had a different relationship with K-pop. "I don't know if I was a fan so much as I liked to listen to it because it was just a part of what was playing in the background of my house," she noted. Lee continued, musing that "I just really always separated Korean stuff and American stuff in my mind, so that included music." (She brought this personal experience into her debut novel, Seoulmates, and its main character Hannah Cho, who also tends to push away anything related to her Korean heritage). "I have embraced more of my Korean side because I found things that I've chosen to enjoy," Lee concluded. These things include BTS' and Seventeen's music.
Where It All Began
Sometimes it's serendipitous when you connect with another person—or an artist like BTS. Although Suk, Shim, and Lee only met Oh in person for the first time at the BTS concert after being connected online for years (the first three are part of a writing group called the Kimchingoos together), Shim said it "felt like we had known each other for a long time."
It was difficult to pinpoint who had met whom initially and when, but the four agreed with Lee when she stated, "When we found each other, it was really a gift to join together." The Seoulmates author continued, "We got very lucky because we started off around the same time and have had really similarly paced journeys." When Oh touched on the isolating reality of writing and building a community, she echoed these sentiments: "If you find people who also want the same things as you do, you can walk that path together." Luckily, the four have each other (and more) as their support systems and as people to grow with while they continue their publishing journeys.
Oh was the first of the friends to be published. In 2017, Tu Books, an imprint of Lee & Low, released her debut, Rebel Seoul, a sci-fi novel set in a futuristic Seoul and inspired by her love of mecha anime and K-dramas. Rogue Heart completed the duology in 2019. Lee commented that Oh has been a "trailblazer in a lot of ways." A study conducted by the Cooperative Children's Book Center, School of Education, University of Wisconsin-Madison revealed that only 7% of books for young readers published in 2018 featured Asian Pacific Islander/Asian Pacific American characters. In contrast, 27% featured Animals/Other. In the face of these often discouraging numbers, Oh has stood out as a role model and mentor for other Asian creators striving to get their stories out in the western publishing world.
The publishing journeys of Suk, Shim, and Lee have begun a little more recently. Suk published her debut, Made in Korea, in 2021. However, her writing experience takes her back to the times when she penned stories for her Neopets and their newspaper called The Neopian Times. "It was just a constant in my life," Suk mused. "The career is the writing," she continued, explaining the mentality that drove her forward. Made in Korea, which shared a publication month with Oh's third novel, XOXO, is about two high schoolers from the Korean diaspora—Valerie is Korean American and Wes is a "third culture kid," having grown up around the world—who run businesses out of their lockers. Tensions run high as Valerie fights to continue her status as the go-to K-beauty business and Wes, the quiet new kid, challenges this standing, but sparks unexpectedly fly between the two entrepreneurs.
Wes and Valerie may compete for the title of most successful K-business at school, but family and friendship is a common denominator for both of these characters. "[B]ecause I write for kids and teens [and] those relationships are so formative in those years…it has to be a big presence in my stories," Suk noted.
Family Ties in the #22Debuts
The Noh Family, Shim's debut, followed a year later, publishing this past May. An Oklahoma girl discovers she has an estranged (and ultra-rich) family on her deceased father's side in South Korea after she takes a 23andMe test. Shim's family also experienced a similar story, she elaborated during the call. This revelation prompted her to "explore this theme of 'Are you family because you're related?'"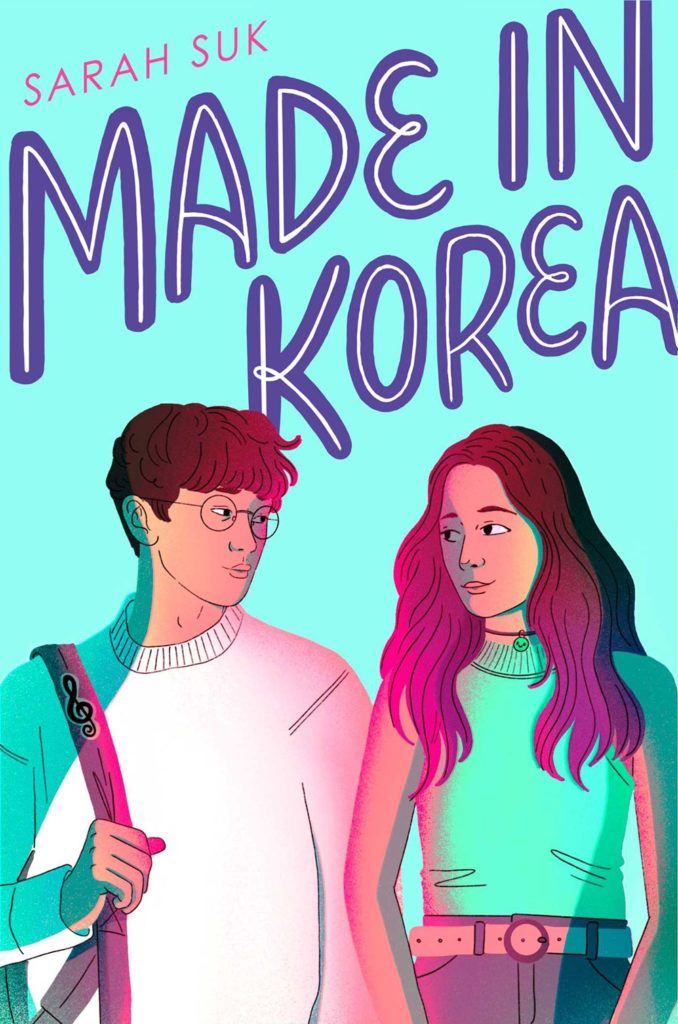 Incidentally, Shim had never really considered writing as a career. "There's so many careers that need writing as a skill," she said of how she grew up viewing writing. But it wasn't "in-and-of-itself anything you could pursue as a career." When Shim gave a "Chapel Talk" in high school (a privilege given to seniors to deliver a talk on a topic of their choosing, which were often personal stories), she realized the kind of impact her words could have on others. Her Chapel Talk was about her grandmother, who had recently passed away. "She was probably one of the only people that I felt really bonded with me or could see me, even though we only saw each other once a year," Shim explained. "I surprisingly did not cry, but I remember afterwards a lot of my teachers were crying," she reflected. Years later, Shim began pursuing writing as a career, as it eventually became a necessary outlet. "There was nothing else I could do but write."
There's also a strong family element in Oh's latest novel, the instant New York Times bestseller The Girl Who Fell Beneath the Sea. Inspired by the Korean myth of Shim Cheong and the Sea God who takes her as a bride, The Girl Who Fell Beneath the Sea introduces a new voice to the story—that of a girl named Mina, whose brother Joon is Shim Cheong's lover. Before Shim Cheong can be sacrificed to the Sea God to temporarily appease his stormy wrath, Mina takes the legendary beauty's place. This novel, Oh stated, is "very much the book of my heart," and such a strong family element drives it because family is "something that really mattered to me, and it made sense for the story."
Lee's debut novel, Seoulmates, comes out this September. A fun friends-to-enemies-to-lovers story, Seoulmates weaves this refreshing romance with an exploration of Korean identity and a healthy splash of squeal-worthy tropes like "ordinary girl meets famous (K-drama) star." However, Lee noted she doesn't "want to be a writer that only talks about Korean identity." She added, "But I think right now that's what's on my heart, so that's why family and these friendships are centered in these stories."
Just as there is a diversity in BTS biases and publishing paths between the four authors, so do their writing journeys vary. As Lee observed, "I was not a reader or a writer growing up." She also had a long career in Human Resources for prolific corporations such as Spotify and Warby Parker. This path shifted to focus on writing because "I had stories to tell, and I get super stubborn. If there's something that I want to do, I'm going to just dig my heels in and try and do it." To wrap up her thoughts, Lee gave a small smile as she said, "It's just all unfolding as I go."
What Will I Get to See at the End of This Path?
As our conversation arrived at the two-hour mark, we concluded with another BTS-related question: "If you could pitch your books as a BTS song, which one would you choose?" Since Shim's The Noh Family is all about DNA tests and family discoveries, everyone on the call agreed the 2017 hit "DNA" fit perfectly. Oh tends to write her books to a dedicated album and for XOXO, her novel about a cello prodigy and a K-pop idol falling in love in Seoul, it was Map of the Soul: 7. The Girl From the Sea was written to original soundtracks (OSTs) from historical dramas, but she mentioned "Sea," the hidden track on Love Yourself: Her, would be her choice for her latest book.
Lee continued the theme of sentimental BTS songs with her picks from the group's Youth Trilogy, notably "Spring Day," Hold Me Tight," and "Save Me" (with a sprinkle of "Ready to Love" by Seventeen). Suk's Made in Korea would be the bright "Boy With Luv" and following a clarifying question and a little more thought, a dash of the growly "Boy In Luv" from BTS' 2014 album Skool Luv Affair.
Throughout their nine-year career as BTS, the seven have tried a variety of genres and have told a multitude of stories, from the pure ambition in No More Dream to the reflection on their artistic identity in the recently released anthology album Proof. As for the stories Lee, Oh, Shim, and Suk want to tell, those span a wide range, too. However, a focus on opportunities echoes throughout all of their responses.
Lee knows she wants to continue writing about romance. She elaborated on this, stating, "I want to write about kids and adults falling in love, the messiness of that and the joy of that. I want to center that around Korean kids and Korean adults as often as I can." Shim has similar thoughts: "I think my early books I want to write are more centered around identity," a theme Lee had also touched upon earlier in the conversation. But Shim also doesn't want to write just about identity, firmly concluding, "I want to write stories with a diverse cast including Asian Americans as the lead and Korean Americans as the lead."
For Oh, the opportunity to explore different kinds of stories is important. "I like having flexibility," she said, "but always staying true to me." She also deliberated, "We want to embrace our culture, but don't want it forced upon us," speaking on how the Hallyu Wave has impacted the visibility of Korean culture in the mainstream and publishing world. Lee also added on to these thoughts, noting, "I don't want there to be a scarcity mentality" surrounding whose stories get to make it to readers, especially those by and featuring Koreans. There are endless stories and experiences out there that deserve to be heard, like Suk stated, "I just want to do what is meaningful for me, and I want to create lots of different things." She continued, adding, "I want to just pursue whatever I feel led to next."
These four YA authors and BTS have more in common than one might believe at first. Sold-out stadium tours, breaking records left-and-right in the music industry and beyond, debuting on The New York Times bestseller list, writing books beloved by many in the United States and around the world all have years of storytelling and a desire to try something new at their foundations. As Suk declared, the "potential is limitless" indeed.
Keep up with Susan Lee, Axie Oh, Grace K. Shim, and Sarah Suk on social media, and add their books on Goodreads:
Want more bookish content? Check out EnVi's book recommendations for K-pop fans here!