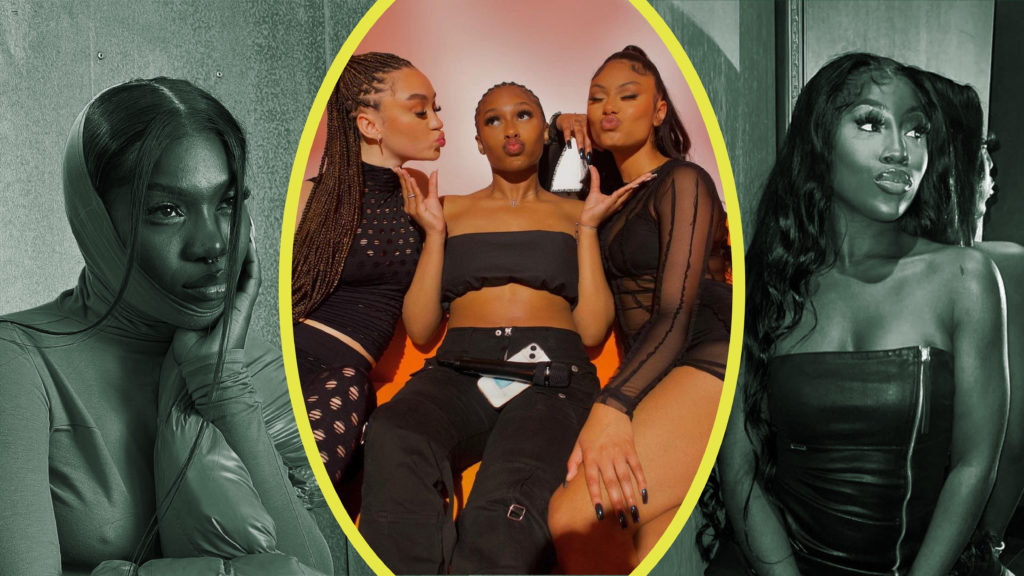 Summer's here and it's the perfect time to have fun, unwind, and get into some new music. EnVi's Formation Team has compiled a list of five rising Black artists to look out for this summer. From hip-hop to pop to R&B and soul, these artists have something for everyone to enjoy.
Bree Runway
Bree Runway is a genre-bending UK pop star. Known for her versatile catalog of music and high-quality visuals, she has created a lane of her own and set herself apart from her peers. Her brand and sound have been solidified in the music industry, though she has yet to release her debut album. Even when her career was in its infancy, she received praises from the likes of Michelle Obama. Since signing to EMI Records in 2018, Bree has released songs like "Gucci," "HOT HOT," and "Pressure."
As a fashion-forward artist, she weaves this passion into her music and videos. This resulted in her song "Gucci" being featured in Gucci's 2021 virtual show, "The Hacker Project: A Merging of Codes Between Balenciaga and Gucci." As a rising artist, Bree has laid down the foundation to become one of this generation's standout musicians.
Summer Playlist Recommendation: "Pressure"
FLO
UK girl group, FLO, has taken over the internet with their viral debut single, "Cardboard Box." The up-and-coming trio includes members Jorja, Renée, and Stella who were all originally childhood friends. The hit tune tackles the aftermath of infidelity and moving on from a toxic relationship. The group's sound and aesthetic are meant to be reminiscent of their R&B girl group predecessors from the 90s and early aughts. The stacked harmonies across the song give it that nostalgic touch, which can be credited to co-composer MNEK. The song's infectious melody and clever lyrics also showcase the member's songwriting and composition skills.
In just a few short months, the track has amassed 2.6 million views on YouTube, and over four million listens on Spotify. Under Island Records, they also recently signed a joint deal with Republic Records, after getting cosigns from notable artists including Jojo, SZA, Tayla Parx, and more. With no signs of slowing down their momentum, FLO recently released their debut EP, The Lead to much critical acclaim.
Summer Playlist Recommendation: "Cardboard Box"
Doechii
An upcoming rapper, 22-year-old Doechii has taken the music industry by storm. For many, their first introduction to Doechii was through the song "Yucky Blucky Fruitcake," which instantly made her a viral sensation. In the track, listeners got to hear Doechii's most authentic self which resonated with Black girls across the internet. It later became a TikTok trending song for popular makeup looks that set the app ablaze.
Doechii's career further skyrocketed when she released the R&B track, "Girls." Unapologetically LGBTQ+, she has also been lauded as a positive inspiration for Black girls. While she is mostly known as a rapper, Doechii does not stick to one genre and has released tracks encompassing pop and R&B. In 2022, Doechii made history as the first-ever woman rapper to be signed to the historic hip-hop label, TDE, home to SZA, Schoolboy Q and previously Kendrick Lemar. Following the announcement, she made her Coachella debut, performed on The Late Night Show starring Jimmy Fallon, and was named part of XXL's Freshman Class of 2022.
Summer Playlist Recommendation: "Crazy"
Lucky Daye
R&B singer-songwriter, Lucky Daye, has been a testament to perseverance. After he initially made waves in music in the late 2000s, he has only now begun to see the fruits of his labor. It wasn't until the 2021 release of his song, "Over," that brought him into the mainstream. The song narrates his experience of feeling hopeless while trying to leave a toxic relationship. After the track went viral on TikTok, it served as the lead single for his sophomore album, Candydrip.
Prior to his newfound notoriety, Lucky Daye was known for his impressive songwriting and composition skills. Penning tracks for platinum-selling artists like Mary J. Blige, Ne-Yo, Ella Mai, and ZAYN. He also contributed to the fan-favorite track, "FOOL" from NCT 127's WE ARE SUPERHUMAN mini-album. With his experience through the careers of other artists, Lucky Daye honed in on his own projects which lead to multiple Grammy nominations and one win at this year's ceremony for Best Urban Contemporary Album. His latest album, Candydrip, has received critical acclaim and was named one of Billboard's "50 Best Albums of 2022, So Far."
Summer Playlist Recommendation: "Too Much"
Marzz
Laria McCormick, also known as Marzz, is a 20-year-old rising R&B and soul singer from Louisville, Kentucky. Recognized for her soulful and melodic singing voice, she has cited Lauryn Hill, Erykah Badu, and rock band ZZ Top as some of her main influences. However, as the child of the local pastor, she felt like she had to keep her queer identity and love of secular music to herself, which led to her filling notebooks with song lyrics to express herself.
After she came out, she began adding her voice to her intricate self-written song lyrics, which caught the eye of prolific producer Timbaland. Her first EP, Love Letterz, caused her to go viral on TikTok as singers frequently posted duets to her songs. The debut single, "Cleopatra," and the song that followed, "Countless Times," performed so well that her label re-released the EP as a deluxe album in 2022 with new tracks. One of the new tracks, "FYM," served as the gateway for her Love Letter theater tour. Simultaneously, Marzz is also opening up for H.E.R on the Back of My Mind arena tour this summer.
Summer Playlist Recommendation: "Countless Times"
Black artists continue to push the envelope in the music space. For many of these artists, this is the beginning of a long career of musical success. And though a plethora of these black creatives have yet to release their debut albums, they already have a signature sound and brand. Bending genres and making waves within the industry, these artists are the perfect addition to your summer celebration playlist.
Want to keep up with more black artists? Read more FORMATION coverage here!