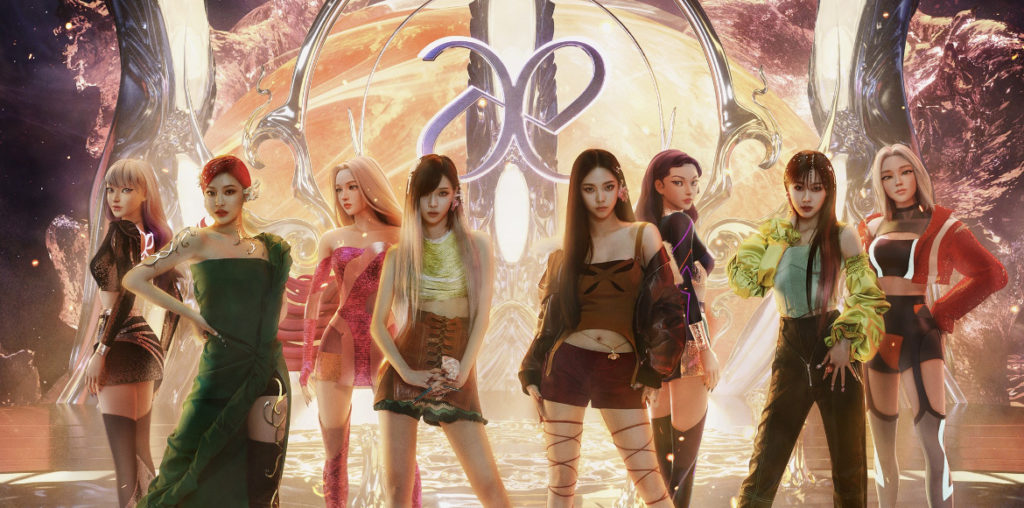 By Valerie Lopez | @valschwarie
Back and ready to attack, "super rookies" æspa gear up for their first official comeback on May 17. The girl group will be dropping their second single called "Next Level" at 6 PM KST.
On May 6 at 12 AM KST, the girl group surprised MY, their fans, with their first teasers for the comeback single: a still image and cryptic video of the words "Next Level." In the short ten second video, the words glitched on the screen as an intense, cinematic Marvel-esque tune played. 
aespa 에스파 〖Next Level〗#aespa #æspa #에스파 pic.twitter.com/MF1zZFScHn

— aespa (@aespa_official) May 5, 2021
Later that day at 9 AM KST, the official announcement for æspa's comeback was released, revealing that "Next Level" was the name of their upcoming single.
Teasers Only æspa Can Do
Starting the drop of individual member teasers was æspa's leader and main dancer, Karina, on May 7 at 12 PM KST. Karina sat on a sleek iridescent motorcycle in front of a purple-faded-into-pink background. In fact, each member posed in front of a bright, gradient background, continuing with their unique, luminescent aesthetic from their first teasers and music video for "Black Mamba." 
On May 8, the second member teaser released was for æspa's lead vocalist and visual, Winter. She sat on the ledge of a railing beside small flowers and a large mushroom-shaped object, all highlighted by a bright orange sky. 
The third teaser to be released was for Giselle, æspa's main rapper. Giselle stood tall next to a silver motorcycle, similar to bandmate Karina's, and in front of large, blue rocket-like contraptions. The background behind her contrasted greatly, as there were orange explosive lights near a meteor-sized object and blue lights emanating from the rockets. 
The final member teaser to drop was the group's main singer and youngest member, Ningning. She stood on water in the middle of two rows of pillars lined with flowers and illuminated by a pink and orange light. 
In the final set of pictures, the members posed with a different set of attire from their individual teasers. All of their new clothes had natural colors like brown, green, and red. In the first photo, the four members stood in front of a giant "æ" sign. The letter is surrounded by metallic tree trunk-like pillars. In the next image, æspa were joined by their digital avatars, who wore the same outfits from æspa's debut images.
aespa 에스파 〖Next Level〗
➫ 2021.05.17 6PM KST#aespa #æspa #에스파#NextLevel pic.twitter.com/ODv0mmkRym

— aespa (@aespa_official) May 10, 2021
What We Know
While there is much mystery around the comeback, there are some definitive facts. After Karina's teaser images were posted, some of the creatives behind the teasers took to Instagram to share their excitement. Photographer Bryan Huynh, CGI artist Rodolfo, and stylist Cece Liu came together to create the teaser images. The chest armor Karina wore was designed by Nusi Quero, a well-known artist who specializes in crafting unique bodices and body armor.
According to posts on Huynh's Instagram stories, some of the aesthetics were inspired by Japanese role-playing games (JRPGs), among them is the world-famous Final Fantasy franchise. One of his stories featured a screencap of the game Final Fantasy X and in another post he shared that Winter's hair is inspired by Tifa Lockhart from Final Fantasy VII and A2 from NieR:Automata. 
Although the artists only participated in the concept images, it is clear that they are building on æspa's dual world concept with the KWANGYA, the virtual space where æspa's A.I. counterparts live. Perhaps the reference to video games could be the reason why the track is called "Next Level."
A Strong Debut
æspa debuted in November 2020 with their hit single "Black Mamba." In just 24 hours, the song reached 21.4 million views on YouTube, and in 51 days, the song hit 100 million views, breaking the record for 24 hours views and making æspa the fastest K-pop act to achieve 100 million views on a debut music video. The song also performed well on streaming platforms, earning a spot on the Billboard Global Music chart and QQ Music Korean Chart. æspa currently has approximately 1.2 million monthly listeners on Spotify.
On January 17, æspa hit another milestone in their career when they got their first music show win with "Black Mamba" on SBS Inkigayo. This was the first time in 14 years that a group from SM Entertainment won first place on a music show with a debut single, making them the fourth group in all of the company's history.
In addition to winning on a Korean music show, over the course of the past few months, æspa have also earned awards for their debut. On January 13, æspa won their first "Rookie of the Year – Digital" at the Gaon Chart Music Award. They received their second "Rookie of the Year" award at the Seoul Music Awards on January 31. 
Since their debut, the group has released one other music video: a cover of the SMTOWN winter ballad "Forever" by Yoo Youngjin. æspa got cozy in their cover with a home set and elaborate winter-themed stage, a stark contrast to the vibrant, video game-esque visuals in the "Black Mamba" music video.
What's To Come
Based on the group's strong debut and video game level aesthetics in their teaser images, there is no other place æspa can go but up. They have spent a lot of time preparing the teaser images and concept behind the "Next Level" single. Their upcoming release is sure to take their music to the next level.
With less than a week until æspa's comeback, there is still much to know about the track. The group will release more details as May 17 approaches.
Need a refresher on æspa's concept? Check out our piece on æspa's strong debut!
Thumbnail Courtesy of SM Entertainment