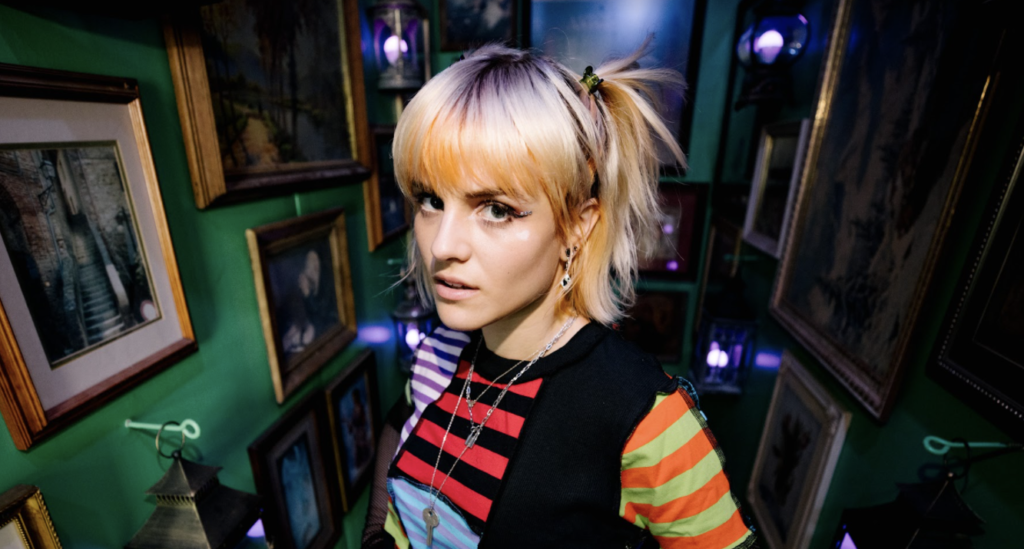 As with any career choice, the road to success doesn't always lead to happiness. But when you're chasing a dream that no longer makes you happy, you start wondering what your real purpose in life is. For Sarah Barrios — singer, songwriter, avid book reader — her destiny was always in the palm of her hands. It was just up to her to reach out and take it. EnVi sat down with Sarah to discuss her artistry, the importance of mental health, and feeling comfortable with vulnerability.
Family Ties
Growing up in Torrington, Connecticut, Sarah was always surrounded by a shared love of music in her family. Both her parents were musicians in college, and although they couldn't have predicted it, they had passed the same passion on to their daughter. "My dad was a drummer, and my mom was more of a rock singer like Pat Benetar," Sarah said. "One year, I had asked for a record player for Christmas so I could listen to my parent's bands on some old 45s they had, and it was just so cool because I felt like I was experiencing it with them."
Despite Sarah's emerging curiosity in the music world, she studied to be an elementary school teacher and even received a full-ride to her community college. But, student life in Connecticut just wasn't cutting it for the pop singer, and she felt as if she could do so much more. "I've always been somebody who was very 'bookish' and loved school," she said. "But, after a year, it just wasn't fulfilling to me anymore, and I knew this couldn't be all there was." So, with the blessing of her parents, Sarah decided to drop out to pursue music full-time.
"They told me if this is what I want, I just have to run with it," she said. "That's kind of been my parents' thought process with everything, just go 100%, and it'll work out." So with that motto, she and her two brothers dropped out of school to pursue various creative careers. Thus, Sarah Barrios was reborn and ready to bring her A-game.
A New Perspective
In April 2020, Sarah finally landed a record deal under Visionary and Arista Records in L.A. to kick start her journey. However, when the pandemic hit, that journey became quite different than what she was expecting. "I remember coming home from New York a week later, and we were told we couldn't leave the house," Sarah said. "I was excited at first because I was ready to put out new music, but it gave me the opportunity to spend time with people that I wouldn't have time to be with."
A sense of community has become a large focal point of what Sarah enjoys about being an artist. While she was stuck at home during quarantine, she used her free time to communicate with fans more often via Instagram live, Twitch streaming, and several other platforms. It was her support system and music that kept her going throughout the pandemic, despite the mental struggles she faced.  
"My mental health was at an all-time low during that time," Sarah said. "But there's something special about sitting with that depression and anxiety, and seeing where you could go with it." She described herself as a natural homebody — even pre-pandemic — who loved to sit at home, play video games, and read books. But, she quickly realized that being alone with your thoughts for so long is overwhelming, and sometimes you need a creative outlet to pour those emotions out.
"The pandemic was about writing about my depression and anxiety, and now I'm writing myself out of it," she said. "I realized how much I needed human interaction, and that learning experience has helped me write music that's more personal now."
"Have We Met Before" with Eric Nam
Since then, Sarah has shared some of the most intimate sides of herself with a slew of singles and two EPs. And as she continues to grow her loyal fanbase, more listeners are finding themselves captivated by her authenticity. One of her most recent singles, "Have We Met Before?" was no exception when she teamed up with K-pop sensation Eric Nam.
"I didn't think people would like it as much as they did," Sarah confessed. "Sometimes when you work with another artist, their fanbase is not necessarily open to hearing a new voice on a record, but it was the complete opposite with this one." Before meeting Eric, Sarah was unaware of K-pop and the passionate fans that come with it, so the warm welcome was a pleasant surprise.
After writing a song with him almost four years ago, the two artists kept in touch and remained good friends. It wasn't until Sarah finished writing "Have We Met Before?" with fellow songwriter vaultboy that she realized Eric would be a perfect match for her cinematic romance. "We finished writing it, and I thought that Eric's voice would sound perfect on it," she said. "When I listen to his music, it feels like a movie to me, and that's exactly what I wanted for this song."
Besides her admiration for Eric's work, Sarah's also become heavily intrigued by other K-pop artists and their ability to promote self-confidence. "While I was having a tough time, mentally, throughout quarantine, I definitely fell down the hole of K-pop," she said. "It was an anchor for me because it was so empowering, confident, and I felt like the baddest bitch listening to it."
If you're wondering which group she mentioned in particular, it's the girls of Blackpink. "Every member has something that I'm kind of obsessed with, but I feel like Jisoo's my girl," Sarah laughed. "We're very similar in that she's the oldest of the group, we play a lot of video games, she's a little quirky, and I love her for it."
The Book Nerd
When EnVi asked about her fascination with books, Sarah's face instantly lit up as if it was Christmas Day. Although music is her full-time love, there's rarely a moment where the singer is not burying herself into a new sci-fi fantasy. 
"I just finished the first book in the Shadow and Bones series because I don't want to watch the show before reading the books," she laughed. "But this is the first time that I've started reading a series where I can see myself getting absorbed into this world that's not just an enemies-to-lovers trope."
Naturally, with songwriters, there's always some type of external inspiration that can help trigger the next song. In Sarah's case, books have a way of bleeding into her music now and then, even if it's not a direct interpretation. "I like to incorporate certain character moments from books and put it into a song," she explained. "For me, listening to music is very much the same as reading books — I can see the whole story in my head playing out."
Sarah's fascination with words extends beyond songs and books. She used to write poetry as a teenager, and it's made her writing even more eloquent. "Poetry is a great way to start songwriting, even if it doesn't turn into a song," she said. "There's something really beautiful about words that have rhythm and melodies to them without necessarily having music."
"Have We Met Before?" is the perfect example of how Sarah makes one song feel like an entire poem, book, and move in less than three minutes.
Hayley Williams & Vulnerability
Artists and musicians are expected to be as authentic as possible in their music, even if that means baring their soul to the world. As overwhelming as it sounds, Sarah's been able to find solace in sharing her wounds with others because she knows she isn't alone. 
"I want to give [my fans] a sense of hope and make them feel not alone by giving them a safe space in my music," she said. "When reading books, I get to go somewhere else and become someone else, and I think music is that same thing for a lot of people."
One person who's inspired her to be less afraid of vulnerability is Paramore lead singer, Hayley Williams. "Hayley is my light at the end of the tunnel," Sarah said. "I really love watching her interviews because she's so blatantly open with her experiences and how she's gone through it." Sarah also stated how she feels seen and heard listening to Hayley's music, hoping she can be that beacon of hope to her online family.
With More to Come
So what's next for the small-town heroine? She's still serving relatable realness with her newest single, "IH8EVERY1," a pop-punk summer anthem. "It went viral on TikTok, and the listeners asked me to finish it, so I did," she commented. "It's different from my usual sound, but I'm obsessed with it."
The song is a fun and dramatic way of telling a person you like them by claiming, "I hate everyone but you, and it's got me so confused." It's hard to believe this is Sarah's first attempt at pop-punk because she feels right at home in it. Then again, she did grow up in that scene, and her parents are literal rockstars, so it makes sense.
When asked which artists she would recruit for a band, her answers were quite eclectic but entertaining, nonetheless. "We gotta have Hayley [Williams] in there," she gushed. "Stevie Nicks because she's such a bad bitch, Harry Styles, Eric because he could make up for my dance moves, Blackpink's Jisoo, TWICE's Nayeon, and Ed Sheeran." 
The genre of choice is unknown at the moment, but if Sarah had it her way, her dream band would surely break the internet. The world has yet to see what Sarah Barrios is all about.
You can check out "IH8EVERY1" here and catch Sarah performing at Lollapalooza this summer! Tickets are available now.
Want to deep dive into more upcoming talent? Check out our dance spotlight on Tap That here!
Thumbnail Courtesy of Jamie Rosenberg