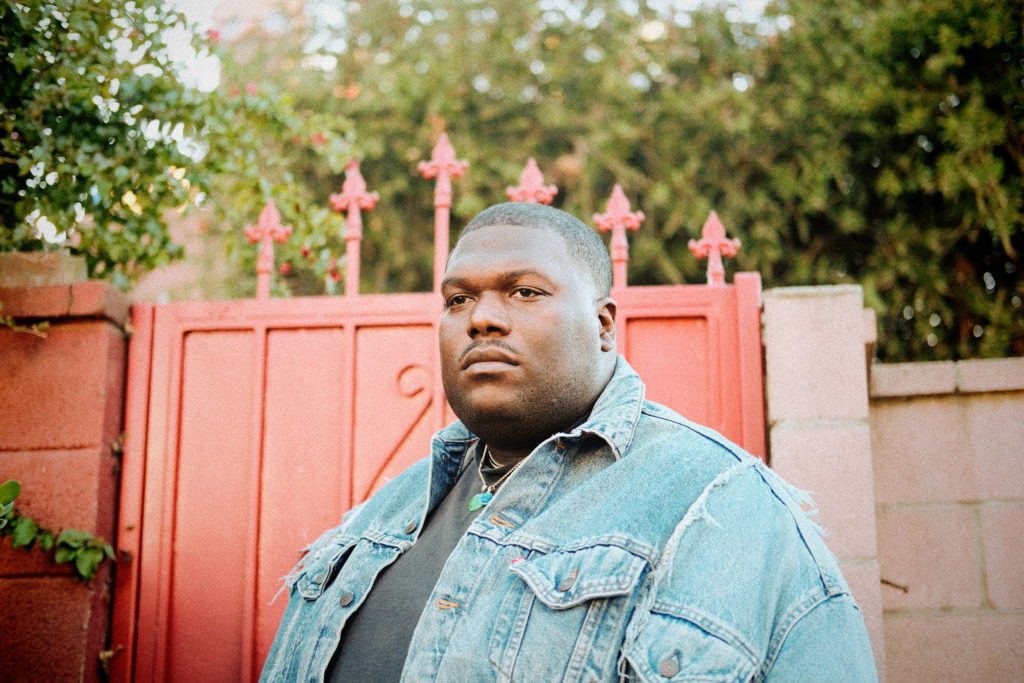 Raw and genuine are the only words that can describe the August 08's lyricism in his latest EP Towards The Moon. Released on July 8, Towards The Moon is the second part to August's two part album project Seasick, the first being the album Towards The Sun. 
Sitting in a mid century Eames lounge chair in a cozy corner of his house, August 08 was chill and relaxed as he took time out of his day for a virtual press conference about the new EP. It was no holds barred as he responded to questions about all topics, including the music making process, transitioning from a songwriter and vulnerability. August's openness and honesty could be felt by all as he answered casually and with familiarity,  
Transitioning
Though he is only 30-years-old, August has gone through a lot when it comes to his journey as a musician. He originally started as a songwriter and was involved in many hit songs such as Justin Bieber's  "Sorry" and Shawn Mendes' "If I Can't Have You." 
Songwriting, however, was not the end goal for August. "I've always been creative, songwriting was just a way of me being able to experiment with everything to get to this place where I can just make whatever the hell I wanna make."  Expressing himself, and telling his stories was what August wanted to truly achieve. Songwriting for an artist was "completely different" than writing for himself. "I have a message that I want to get across versus what I want to give someone else."
"What I hope to achieve is to help people heal… I hope my music can be somewhat of a guide to helping [people] get through [things]."
Vulnerability
For August "growing up it was easier to be hard than it was to be soft." August, however, decided to stop running from his emotions. As a songwriter he learned, "leaning into your emotional side is the best thing for you because that cuts through directly to people because we're all human."
As someone who believes "music is a direct connection to your emotions," when emotions come up during the music making process, August just cries it out. 
"When I was a kid like 11 or 12, I was like I'm never gonna cry, I'm gonna be hard, I'm gonna be numb. But me being an adult now, I'm just like 'yo Im gonna go cry and I'm gonna go feel these things.' And [if] the music leads those emotions to come out, I will allow it to happen." Being emotionally vulnerable has not only helped August grow as an artist but also as a person. "Like after creating the music, I realize 'oh shit I might need to grow up a little bit' because I'm petty as hell and insecure as hell."
Seasick
Created from his cabin fever symptoms of the COVID-19 pandemic, "Towards The Sun," was the titular track of the first album in the project. This project was different from his past projects as it was the first time he felt he could be raw, genuine, and vulnerable with his emotions. "I never felt like I had the creative space [before] to just make whatever I wanted to." 
"'Towards The Sun' kinda just came to me. I went from being this person who never was at  home, couldn't be home, to being at home. I just had to channel that inner emotional tie to myself and just let it all go. That song was literally just me letting it all go." 
And while the first part of the project may seem open and vulnerable, August describes Towards The Moon as "more of an emotional journey. It's just honestly a further climb." The strong drums and deep strings of the titular track of the EP paired with the lyrics, "There's no firewood to burn / Guess we're in trouble / As we sail / Towards the moon" highlight the emotional turbulence August experienced. 
August also gifted his fans with a music video for "Water Sign (with Jhené Aiko)." The track is an R&B love song about getting high off of love. With a smooth beat, perfect vocal harmony,  and mystical blue imagery, the music video created a beautiful, calming, and as fans called it, a majestic track. 
Yet to Come
There's a lot to look forward to when it comes to August 08 and his future plans and aspirations. Highlighting his growth, August will be performing at Day N Vegas festival on Saturday, September 3, alongside some of the singers he used to listen to for comfort. 
J.Cole, Tanna Leone, and Jhené Aiko were some of the artists August mentioned he is most excited to see perform at the festival.
Vegas, I'll see you soon! Can't wait to hit the stage at @daynvegas ! Register for first access to passes at https://t.co/8g0YayG9FT pic.twitter.com/hYsbB8pyXI

— "Towards The Moon" OUT NOW (@august08) June 7, 2022
And although a tour has not been announced it is within reason for fans to expect one after one of August's recents tweets. 
cant wait to go on tour

— "Towards The Moon" OUT NOW (@august08) June 3, 2022
When asked about the songs he is most excited to perform from Towards The Sun and Towards The Moon  if he toured, August replied " 'role models' [which] is my favorite. I'm excited to play that song and the song with Joji called 'What We Used To Be."
As for some other things August wants to try he mentioned he wants to "write a tv show or write a movie one day," "direct some people's music videos," and "be on the cover of a bass pro shop magazine." 
Make sure to keep up with August 08 on Instagram, Twitter, and TikTok. You can listen to his music on Spotify and Apple Music.
Thumbnail Credit to Universal Music Group