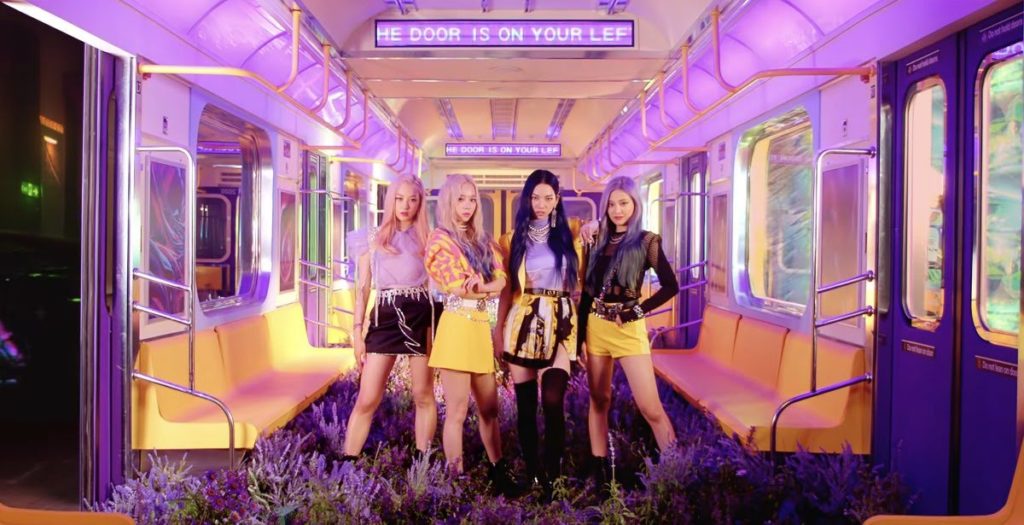 By Valerie Lopez | @valschwarie
On May 15 12 AM KST, SM Entertainment's rookie girl group æspa surprised fans with a 10-minute video expanding on the lore related to their hit debut track "Black Mamba." The video, titled "æspa ep1. Black Mamba – SM Culture Universe," introduces the four æspa members— Karina, Winter, Giselle, and Ningning— as the main characters of their own Marvel-like hero story. The release of the short film precedes the group's first official comeback on May 17 with the single "Next Level."
The Calm Before the Storm
Prior to the release of the film, SM Entertainment released a blog post on Naver, Korea's most popular search engine website, recapping æspa's concept on May 13. The review discussed the storyline behind "Black Mamba," including all the details and keywords that fans need to take note of. 
In summary, the æ-æspa avatars spawned from æspa's digital footprint. When the two groups come together in SYNK, the two parties share secrets, thoughts, and emotions. æspa and æ-æspa grow their bond through music, which makes them become MY, a term that doubles as "my most precious friend" and æspa's fandom name. æ-æspa left the FLAT, their home world in the digital space, and entered the real world through a process called REKALL. They are only able to enter the real world when P.O.S, their portal, opens. However, the connection is broken when the Black Mamba interrupts their SYNK. æspa takes on the "Next Level" into the KWANGYA, the world that lies beyond the FLAT, in order to meet their avatars again.
A day later on May 14, æspa also dropped a short animated teaser for "Next Level" on May 14 at 12 PM KST. The video shows a neighborhood becoming engulfed in pixels and æspa's signature luminescent flowers with a funky tune over it.
aespa 에스파 〖Next Level〗
➫ 2021.05.17 6PM KST#aespa #æspa #에스파#NextLevel #POS pic.twitter.com/q2Ky0sA8Vr

— aespa (@aespa_official) May 14, 2021
A Breathtaking Teaser: æspa 'ep1. Black Mamba'
A visual re-telling of the summary SM Entertainment released on Naver, "æspa 'ep.1 Black Mamba'" provides fans with a short film explaining the connection between æspa's debut track "Black Mamba" and their upcoming single "Next Level." 
After an intense opening sequence of their æspa logo, the film opens with the classic origin story question: "Where did we come from?" The scene switches to an unknown animated figure watching various P.O.S emerge, allowing æ-æspa to REKALL. Photos of the æspa girls with their digital counterparts appear as the video focuses on the girls, spending time with their respective avatars. The first member shown is Giselle, who takes a course on the "æ" alongside her avatar, both of which appear in the lesson content as models in a fashion show. Next is Winter, who bonds with her avatar by playing an action-filled virtual reality shooting game. Ningning, with both æ-Ningning and unknown male avatars, hack into the presentation of a business meeting to showcase their digital drawing of a butterfly. Last and certainly not least, is Karina. She meets with her avatar, swimming to one of the P.O.S located underwater. This is when the digital sphere glitches; the professor's hologram disappears as does æ-æspa. When Karina resurfaces, æ-Karina returns with a dark aura around her, and Karina's eyes become black. 
Like any Marvel movie, the credits roll and a preview scene appears. The sequence is entirely animated in a comic book style. æ-æspa regroup in the FLAT with the mysterious avatar from the beginning of the film. She calls herself Nævis, "the one who opens doors." æ-æspa then decides to depart on a journey to reunite with their human forms. Nævis opens a P.O.S into the KWANGYA. The episode ends when Black Mamba charges towards them and the words "Next Level" pop up on the screen.
CAWMAN: A New Multi-Media Genre of K-pop Storytelling
In the video, there is a single credit given in the description: "powered by CAWMAN." CAWMAN is an acronym that stands for Cartoon, Animation, Webtoon, Motion Graphic, Avatar, Novel, which are various media in which stories are told. This is the media in which SM Entertainment plan to expand on the SM Culture Universe. The use of different media was present in the æspa film, which featured a mix of live-action acting, animation, webtoon, and motion graphics.
An Overwhelming Response
In response to the first installment of æspa's tale, fans were nothing short of excited with the content and influx of new information about æspa's world. The release of the short film caused "Black Mamba" and æspa to trend on Twitter in various countries, including South Korea, Malaysia, Indonesia, and the Philippines.
aespa's entire concept is everything I have been begging for in kpop for literal years, I honestly never thought I'd see it but wow am I so happy

— caa (@taeyongnct) May 14, 2021
Damn Aespa got me like pic.twitter.com/5oDbIJbxsM

— ✊?Geoffro✊? (@Geoffrodamus) May 14, 2021
While some fans focused on the plot within æspa's tale, others took to social media to discuss the possible roles other SM groups may play. 
there's a lot of similarities between kai's mmmh teaser and aespa's sm cultural universe story, especially when it comes to kwangya pic.twitter.com/pxoMB57nBh

— shiv ٩(◕‿◕。)۶ (@D0TAES) May 14, 2021
What if Irene is the black mamba and Seulgi is Nævis since in Naughty it looks like they are already in Kwangya? The Villain & Nævis also seems to look very similar(might be twins) while I&S always have the twinning concepts ???@aespa_official @RVsmtown #aespa #RedVelvet pic.twitter.com/fZX4ebfQqM

— ?Koongie??? (@BiankaiC) May 14, 2021
Opening the SMCU with æspa
SM Entertainment initially teased the creation of their SM Culture Universe (SMCU)— a play on words of the classic Marvel Cinematic Universe (MCU)— in November 2020 during their presentation at the "2020 Korea·World Chinese Entrepreneurs Business Week" forum. At this forum, Super Junior's Siwon explained SM Entertainment's role in the globalization of K-pop starting by discussing Super Junior's success and making his way down the list to the importance of "culture technology" and the company's vision of creating their own large-scale entertainment project. Siwon coined the term "SM Culture Universe" to describe the epic storytelling phenomenon, which draws inspiration from the elaborate storylines in comic books.
"SMCU is not just a world view interpreted as a symbol or metaphor, but an attractive character and story. The storytelling content is a new vision and project for expressing artists and music. These SMCU projects soon started with the girl group æspa, including æspa in SMCU, EXO, Red Velvet, NCT, etc," Siwon said in the speech. 
While much is not known about future projects, it is certainly possible for the company's artists to collaborate on a mixed-timeline story— as teased through the supergroup SuperM, consisting of members from SM Entertainment groups SHINee, EXO, and NCT. Because of the eclectic lineup, SuperM were dubbed the "Avengers of K-pop." The large-scale collaboration, which was promoted heavily in the United States, made SuperM jump into the spotlight with their energetic debut track "Jopping," the entire mini-album debuting at No.1 on the Billboard 200 Albums Chart. In addition to having a grand entrance into the U.S. market, SuperM collaborated with Marvel in late 2020, launching merchandise to promote their first full album Super One, further cementing SM Entertainment's grasp on the global market for K-pop with their unique entertainment projects. 
What's Next?
The surprise release of "æspa 'ep.1 Black Mamba'" has certainly marked the start of a new era— both for æspa and SM Entertainment. This content is supplemental to the "Next Level" single that æspa will release on May 17. "Next Level" is described by SM Entertainment as a "hip-hop dance track with a groovy rap and energetic bass riff," a style different from their EDM debut track "Black Mamba" and cover of Yoo Youngjin's R&B ballad, "Forever." 
While there are limitless possibilities for what will happen next, there is one thing that is certain: what is happening with æspa is grand— just like the entire plot of the SM Culture Universe. MY, fans of æspa, will be looking forward to what is next in terms of æspa's music and plotline because their entire concept is undoubtedly next level.
Thumbnail courtesy of SM Entertainment.
Want more æspa? Check out our review of aespa's first teasers for "Next Level" here!