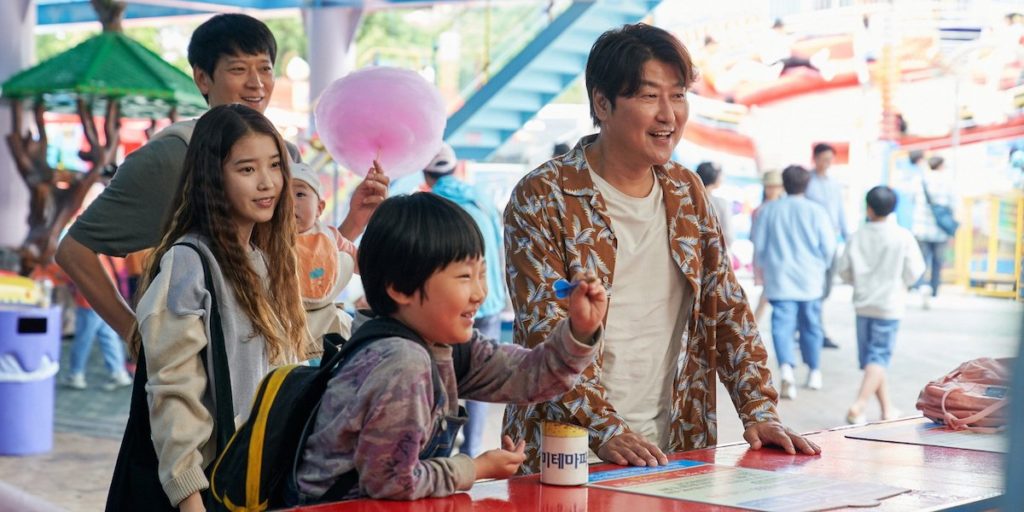 Not many understand found family dynamics like Hirokazu Kore-eda. Even fewer directors are able to tug at your heartstrings and make you sympathize with characters who believe themselves to be unlovable.
In his debut Korean film, Broker, the Japanese director chose several A-list actors for this project, namely Song Kang-ho, Kang Dong-won, and Lee Ji-eun, also known as IU. Broker also has an outstanding production team with Hong Kyung Pyo as director of photography and Jung Jaeil as the film's composer, both who had previously worked together on Parasite.
The Details
Following the release of Shoplifters in 2018, Kore-eda once again depicts a story about humanity and nontraditional family. Broker follows two illegal baby brokers and a mother who go on a road trip to find the right loving parents for the baby. The cinematography of Hong Kyung-pyo (Parasite, Burning, The Wailing) paired with Kore-eda's direction and the support of the light yet compelling score by Jung Jae-il (Parasite, Squid Game, Okja) combine to successfully portray the journey of watching someone find their way home—whether physical or spiritual.
This new film challenges the saying "blood is thicker than water" in every scene. Broker is a story that shows everyone is worthy of a second chance and that most people are not evil; rather, we are complex beings who are also flawed. The boundary of morality is tested while maintaining Kore-eda's primary idea of exploring the dynamics of chosen family. The audience is challenged to look beyond the legality of an action and think about what may lie beneath said action. The result is a warm, nuanced, and heart-wrenching socio-realist drama. 
Broker asks a variety of questions: What is the true meaning of family? What is the foundation of a family? Is a conventional structure alone enough to be called 'family'? Or is the heart the foundation of the family?
The Cast
Kore-eda is not afraid of creating an authentic yet difficult story, and the Broker actors rise to this challenge.
Song Kang-ho plays Sang-hyeon, and accentuates his character's great sense of humor while absorbing himself into the story of a desolate individual. Song's charming and warm father-figure feels authentic, and the power of this portrayal was proven through his win for the Best Actor at this year's Cannes Film Festival, making him the first South Korean actor to achieve this. 
Alongside Song shines Lee Ji-eun, who is undoubtedly the heart and soul of Broker. In this film, it becomes clear that Kore-eda's admiration for Lee's acting has grown into trusting her to play an intricate character. Lee portrays a young woman named Moon So-young who closes herself off to strangers at first. So-young then begins to open up as she gradually gains more trust in the group of people who were once strangers. Although this is Lee's big screen debut, she is able to portray a calculative character through her expressions, and each piece of dialogue flows with ease. IU stands out in a lot of scenes, but one that really tugs at viewers' hearts is when the brokers were lying in the darkness. Although their expressions are hidden, the audience is able to feel the characters' gratitude for each other's existence only through the emotions in her voice.
Kang Dong-won and Bae Doona also prove themselves to be essential in expressing the film's themes. The two also exhibited their ability to adapt when Kore-eda called on them for vulnerability and determination. For Bae, it is her ability to play Detective Soo-jin who possesses an adamant nature that leads to several disputes to sway So-young's principles. On the other hand, Kang's Dong-soo is a gentle character who tries to reconcile with So-young. Their two characters are not exactly good nor bad as they go through poignant arcs and transformations while witnessing So-young's dilemma.
Through Kore-eda's craftsmanship, an authentic script, and a star-studded cast that brings each character to life as three-dimensional individuals, Broker undeniably touches viewers' hearts.
"Thank you for being born."
Broker is similar to other road trip stories: it starts at one point, then reaches another, and there are good and bad things that happen along the way. However, what makes Kore-eda's work stand out is the humanity of each character. Kore-eda is patient, and his films often move with slow, minimal camera movements but burst full of colors. He never rushes to tell these stories, rather patiently weaves together moments into distinct endings.
Broker is a film portraying a group of strangers who coincidentally start their own family together and a story about small acts of kindness. It is a film about choosing a family and letting them go, and one that teaches others to empathize and appreciate building genuine relationships. And Broker, at its core, is about acknowledging and accepting others the way they are, vulnerability and all.
Kore-eda shows that humans cannot walk alone as Broker unfolds. Humans, as social beings, need other people. Some become travel companions, and others we may just meet along the way, but there are a few people who stay with us during the trip. And when you see them, remember to say "thank you" for being part of the journey.
Want more film reviews? Check out EnVi's piece on Hidden Letters, a documentary shown during this year's Tribeca Film Festival, here!