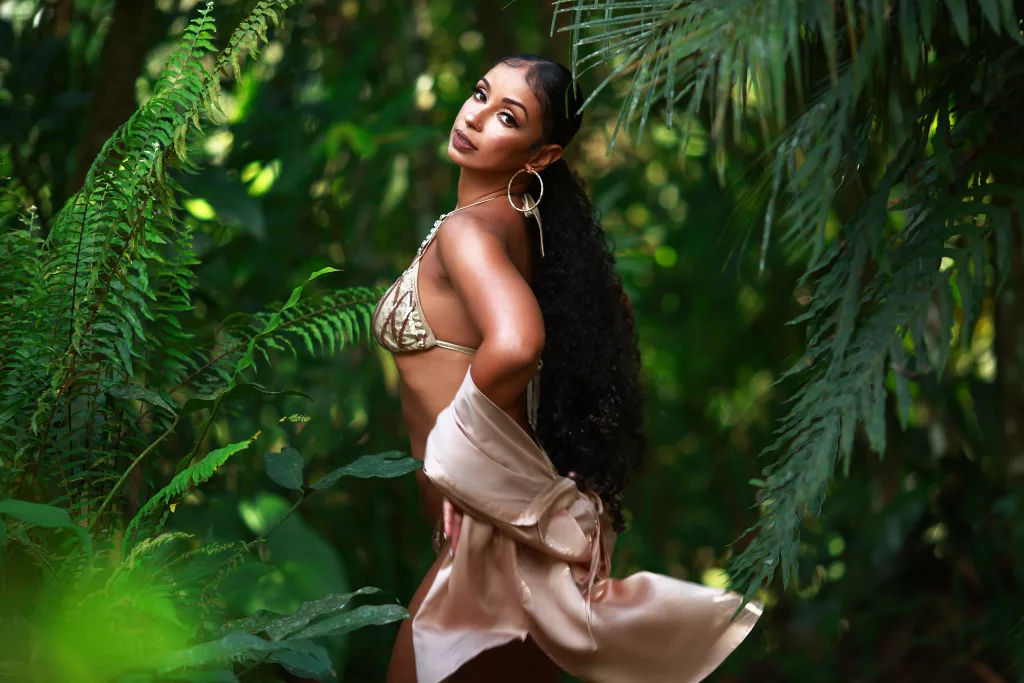 Celebrating the 25th anniversary of her self-titled debut album, Grammy award winner and multifaceted artist, Mýa, teamed up with creative network 1824 in a press conference to discuss her legacy, longevity in the industry and the importance of preserving your joy. 
Growing Up an Artist
Hailing from Washington, D.C, Mýa had her hand in everything creative since she was a kid. During the press conference, she reminisced on the times her Dad and his band would hold practice sessions in their garage and, eager to learn, she would always join them. When asked about D.C. culture and its influence on her career, she instantly mentioned go-go bands; go-go is a "percussion, livebased genre," Mýa explained. Developed in Washington, D.C., go-go stems from funk music of the late 60's and early 70's, and has African roots. Inspired by the go-go bands in Washington, D.C., she wanted to learn to play the congo. However, at the request of her parents, she picked up the violin instead. Although her dream of playing in a band did not come to fruition, she still links her love of rhythm to the genre. This led her into dancing. She learned jazz and ballet but, ultimately, focused on tap, proving to be a true prodigy. Her song "My Love Is Like.. Wo" not only showcases her tap dancing ability, but also her creativity when it comes to music videos.
A Force to Be Reckoned With
At only 18 years old, Mýa released her debut album, Mya. The album goes through themes of developing self confidence and longing for love. Her debut was a huge success, with R&B it-boy, Sisqo, featured on her single "It's All About Me." The music video showcases an engaging storyline where Mýa, playing an uninterested concert goer, gets pulled backstage by Sisqo. An anthem for those who are not getting their fair share in a relationship, the song opens up with "I cook your dinner/I wash your clothes/ Baby hell no that's not how it goes/ It's all about me tonight." The album not only introduced the world to Mýa's undeniable talent and dedication to her craft, but was a hit, selling close to 1.5 million copies.
Always keeping her experiences close to her, she never bound herself to create music for a specific genre. From her classic R&B hits like "Taste This", to her collaboration with dancehall legend, Beenie Man, in "Girls Dem Sugar," to the melodic, acoustic sensibilities of "Coolin," her various sonic influences and dislike of labels when it comes to her sound are evident in her catalog.
Wellness Advocate
When it comes to lifestyle, Mýa is a champion of prioritizing wellness. Referring to her extensive career, she emphasized that the key to longevity and success is to "incubate your joy." Along with other moments of inspiration gems, she explained how keeping her joy close was the best thing she's done for herself. As she learned from personal experience, having a supportive circle that not only increases your joy, but also protects it like it's their own, makes all the difference. Once you reach success, there is a point where outsiders will work hard to take you away from a joyous place you created. Having a support system helps with staying true to yourself and makes it easier to be focused on your ultimate goals.
Nowadays, as CEO and artist of her own label, Planet 9, Mýa has expanded her brand beyond music. While an ambassador for The Humane Society of the United States, she also opened up the Mýa Arts and Tech Foundation which "provides education through the arts and technology for inner city and suburban youth throughout the Washington D.C area."
Boundless Inspiration
Despite celebrating a career of 25 years, Mýa is just getting started. While continuously performing, she always pushes her fans and the people around her to be their most authentic selves. During the press conference, she also shared a lot of advice about life and bettering yourself; "Lean on your faith," "Remain a student," "If it's not joyful, it's not worth it." Whether you are a new artist wishing to make a name for yourself in the industry, or simply trying to figure out your own path in life, Mýa's words are guiding points for anyone wanting to take steps to invest in their own wellness.
Keep up with Mýa by connecting with her on Instagram, Twitter, Spotify and Apple Music.
For more words of wisdom by women, check out the latest installment of EnVi's Words of Women series, featuring evolvetogether's Cynthia Sakai, here.