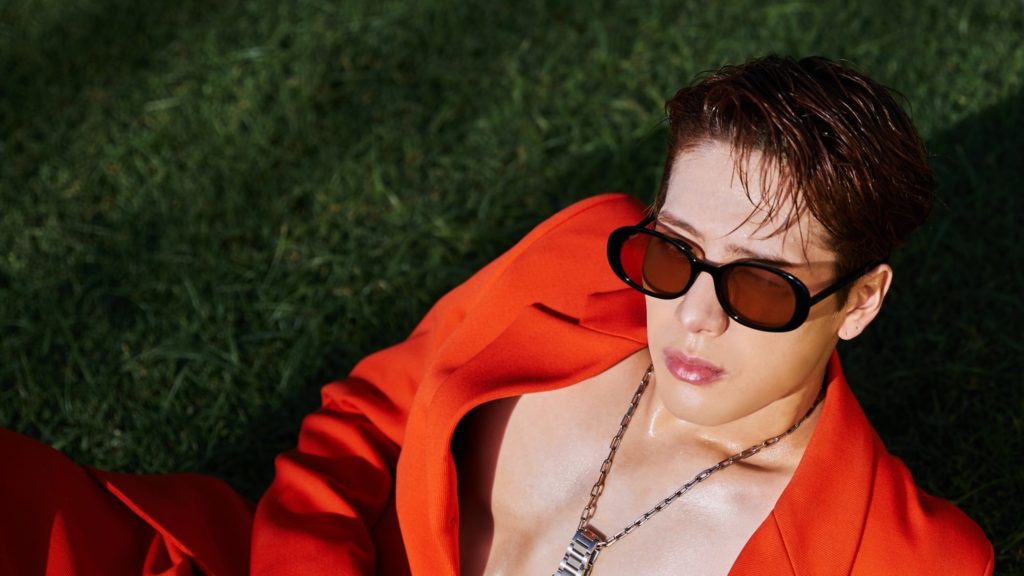 On March 7, Jackson Wang surprised fans by releasing a new mixtape titled LOST & FOUND. TEAM WANG, the rapper's self-founded label, shared that the mixtape was composed of a few of Jackson's unreleased songs.
With no pre-existing teasers, Jackson's new mixtape was announced to be released on March 7 at 1 PM Beijing Time. MEA WorldWide [MEAWW] stated that he was "pulling a Beyoncé" because the legendary artist suddenly released her self-titled album, Beyoncé, in 2013.
A Look Into The Mixtape
The music project consists of eight total tracks. The mixtape kicks off with "Poison," a groovy track with a heavy bassline. The lyrics, "I keep drinking your poison / And I don't know why," express the frustration with yearning over a toxic relationship. "Dead" is a retro synthwave song. He feels his partner has become too caught up in other things and he no longer feels like a priority. With the lyrics, "Be under covers, lovers, dead to the world," he simply wishes for a time where it's just the two of them, blocking out the world.
The third track, "I Don't Have It," has a dramatic build utilizing orchestra instruments, specifically the horns. With "I can't hold you till the morning / I can't give you what you want," Jackson makes it clear that whatever this person wants from him he can't give them that. The next song on the tracklist is "Power." This upbeat track is a moment of self-reflection post breakup. With lyrics, "Whiskey and heartbreak don't mix / Some things just can't be fixed," he reflects that no matter what coping mechanisms he uses, his relationship will never be what it was before.
"Blackout" is the fifth song on the mixtape. This downtempo track is dedicated to the highs of life and not wanting to come down. "In My Bed" has trap R&B influences with sensual lyrics. Jackson is credited as a co-writer for the song. The lyrics "Won't you stay another night / All I really wanna do is hold you / Say that you'll be mine"—almost reads like a confession. One where he doesn't want his lover to leave and wants them to stay one more night.
"The Moment" has a slow tempo with lo-fi elements. Jackson is also credited on this song as a co-writer. The lyrics speak of an intimate moment full of love, so passionate, it leaves you buzzing. "Passion makes it burn like that / Waves send shocks all through my body." The last track is "Vibes," which concludes the mixtape. It has a steady beat paired with a looping guitar chord. The lyrics, "I'm dying to be your man till it's over or at least till I'm sober," tells of his infatuation with a person. It is almost entertaining the idea of being with them—until he eventually comes to his senses.
Finding The Lost Songs
There was speculation over the title and the cover of the mixtape. On streaming platforms, the mixtape's listed release is set in 2019. This raised theories that Jackson went the "extra mile" to explain how these songs were "lost" and they have finally been "found." Fans believe this theory has been confirmed after TEAM WANG shared that the project consisted of older songs.
Taking Over Global Charts
Despite the sudden release, the project is receiving a lot of love and praise worldwide. Within three hours of it's release, LOST & FOUND became the best selling 2022 digital album on NetEase Cloud Music. It sold over 75,000 copies and reached total sales of 1.8 million yuan in just 24 hours. The mixtape reached #1 on the WorldWide iTunes Album chart, his first time doing so. Jackson also achieved his first ever #1 Pop Album in the United States on iTunes and peaked #13 for all genres. This is his highest peak for both categories. LOST & FOUND also topped the international iTunes charts, peaking #1 in 19 different countries. The project debuted at #7 on European iTunes Album charts. The hashtag #JacksonWangLostFound even trended worldwide at #7 on Twitter.
Fans Reactions
Jackys, Jackson's fans, and Ahgases, GOT7 fans, ran to Twitter to express how proud they were of Jackson's hard work.
Jackys also went to Twitter to share their reactions to some of the lyrics.
The Grind Don't Stop
The mixtape follows his solo debut album MIRRORS released in 2019. The album featured eight tracks in both English and Mandarin. Wang collaborated with hit artists GoldLink on "Bad Back" and Rich Brian on "Titanic."
In 2021, the artist teased on "The Late Late Show With James Corden" that his upcoming project will be "something people don't expect." In August of 2021, Wang took to Twitter to talk about how he prepared over 20 new songs for his next solo project. Since then, the Chinese artist has released several singles, including his self-titled single "王嘉尔 JACKSON WANG." It is a song with deep sentiments as the lyrics share of his journey as he transitioned from an Olympic-level fencer to a worldwide star. 
TEAM WANG teased that Jackson is "cooking something even bigger." Between concerts, various collaborations, Chinese variety show and magazine cover appearances—the artist doesn't plan on stopping anytime soon.
You can listen to LOST & FOUND on Spotify and Apple Music. Make sure to follow Jackson's official Twitter and Instagram, as well as TEAM WANG Records official Twitter and Instagram.
Want more Jackson Wang content? Read our coverage on his single ""王嘉尔 JACKSON WANG" here!