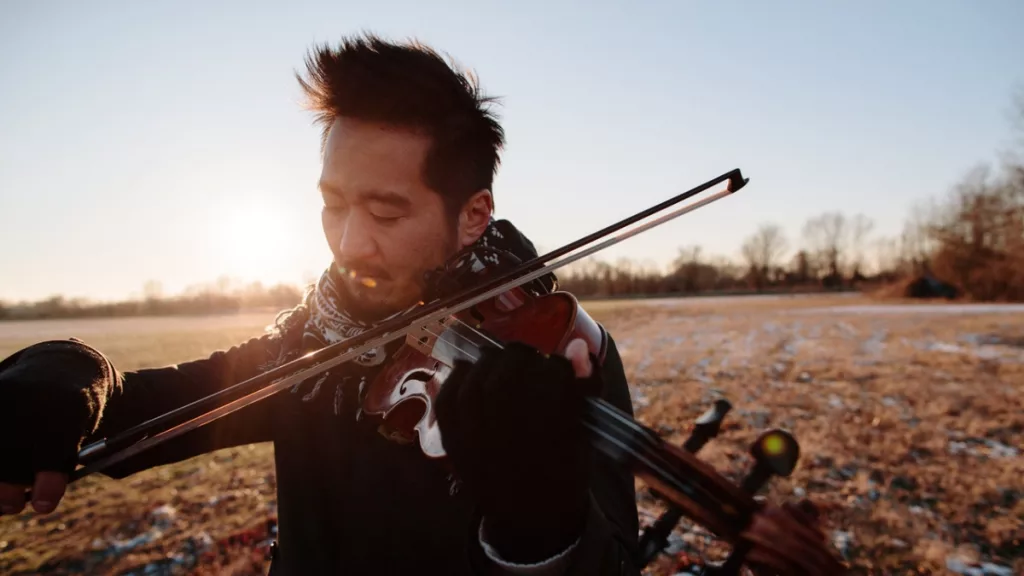 After six years of constructing and composing, director Kaoru Ishibashi, professionally known as Kishi Bashi, unraveled the threads of American history onto the strings of his violin in his song film OMOIYARI (2022). What originally started off as a musical commission piece for Executive Order 9066 — the directive that incarcerated Japanese Americans during World War II — has transformed into a fully-fledged feature that rings from the heart.
As Kishi Bashi soared into a deeper discussion on American identity, the musical documentary captured the depth of the Japanese word "omoiyari" — the empathy and compassion for others. OMOIYARI stepped into multigenerational stories and memories from Japanese American incarceration camps during World War II. And within this time capsule of a journey, the film faced America's future through the lens of the past. Pairing omoiyari and an optimistic outlook on social change, Kishi Bashi chatted with EnVi over Zoom to start a hopeful conversation on America through his own Japanese American identity.
KISHI BASHI: Music Maketh Man
As the musical mastermind behind the film score and musical composition, Kishi Bashi is, at his core, a musician. Having started playing the violin when he was seven, he holds over forty years of violin musicianship, thirty years of music composition, and twenty years of songwriting.
"My career has been pretty long, but I've always done music," Kishi Bashi reminisced. "I started as a classical musician, so I was just reading stuff and playing what people told me to do. And then as I started to gain confidence in that, I got into jazz and improvisation, which is about making stuff up, and having your own kind of self-expression."
With a degree from Berklee College of Music, Kishi Bashi has long studied his violin's partner: improvisation. Translating the emotions that he felt on each incarceration camp onto his violin, each site awakened impromptu musical performances.
Pouring the sorrow, humiliation, and past trauma of the sites that he visited into his improvisations, he wished to express a specific trait, such as removal, to truly connect the music with the history that fueled it. Intending to not only highlight the history but underscore the "documentary style explanation on top of it," he recalled the multitude of different types of improvisations he created for the film. "I did a lot of different takes on songs. We only saw just a handful of them."
OMOIYARI: Empathy and Compassion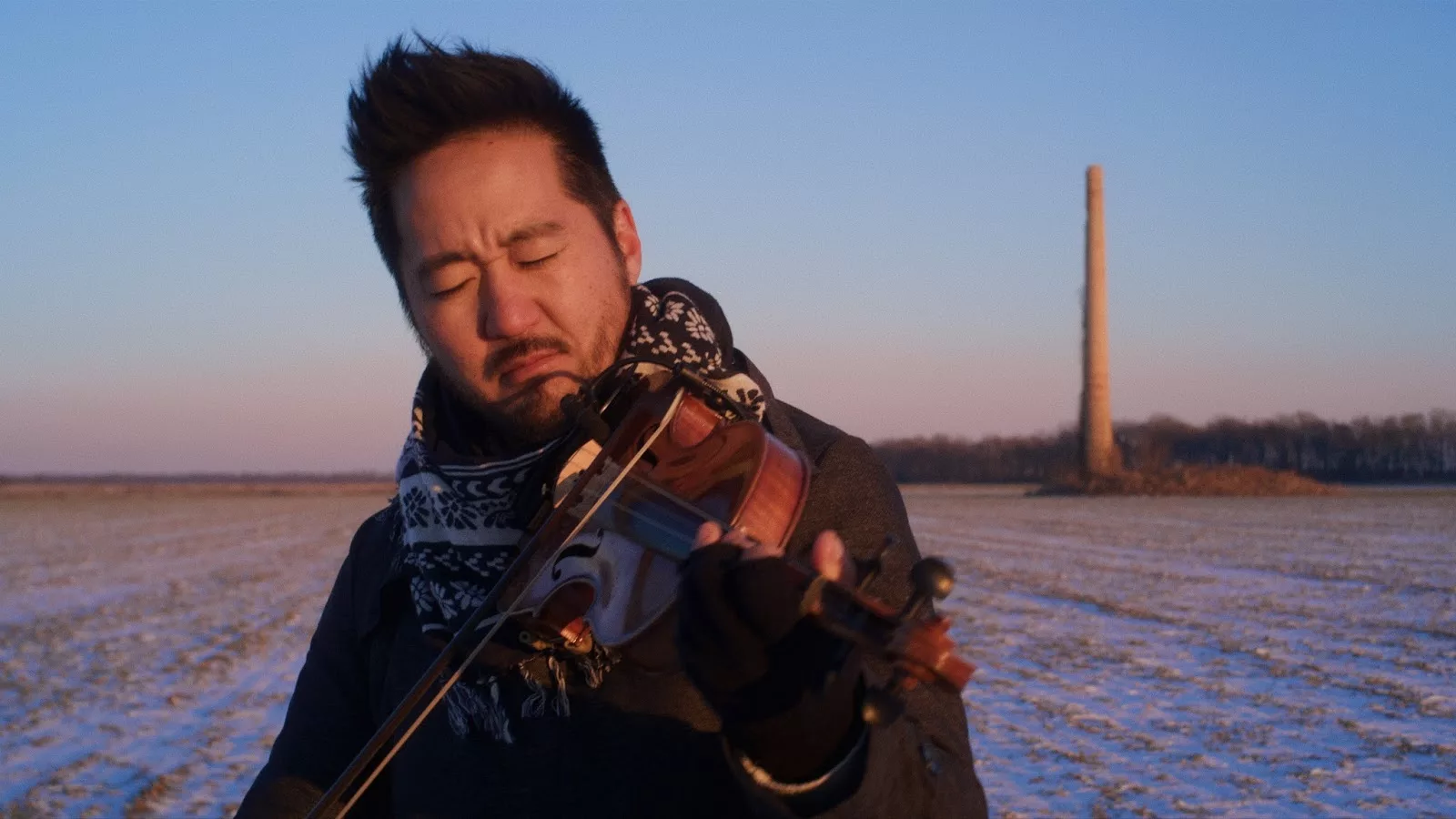 The creation of OMOIYARI naturally expanded from his commission from Nu Deco Ensemble on capturing his improvisations surrounding Executive Order 9066. While researching, Kishi Bashi started to realize the gravity of unspoken Japanese American history in documenting the creation of his commissioned symphonic piece.
But with continuous documentation that stemmed from wanting to capture more stories, a longer film came naturally. "We realized that we were kind of capturing it on screen," he explained. "So, we made a decision to maybe make it a little bit longer and before you know it, we planned some more trips to go film other places. And here we are, six years later, with the full-length film."
STORIES: Japanese American Incarceration Camps
Encountering the painful stories of forced assimilation firsthand, Kishi Bashi witnessed the impact of losing a key part of your identity — culture. But the capturing of stories that are lost within time was no easy feat, particularly within the incarceration camps that have now faded.
He recalled going to the incarceration camps and unveiling history's declining perspectives. "You go there and there's nobody there, so you have to imagine what it's like, or there's a beautiful photo record of all their times there," Kishi Bashi said. "And oftentimes, you see them smiling in these photos and they're just trying to do the best that they can, despite being completely uprooted from their lives."
Although there was disparity between the documented lighter moments and the true reality of the oppression the incarcerated Japanese Americans faced, omoiyari resonated deeply within these stories. Kishi Bashi found it moving to witness the impact of how people experienced and coped with the incarceration, retelling the story of how "some people met their love, the love of their lives in the camps. For them, it was destiny, despite the bad circumstances."
Through recognizing the resilience and mutual compassion that ran through these communities, the stories spoke of a greater human bond that rose above oppression. This story is not a story that died in the past, but rather one that reoccurs into the present day.
IDENTITY: Japanese, American, Japanese American
By capturing the voices of an untold people, the filming process came to change what Kishi Bashi thought of himself and perhaps everything that he came to know of his Japanese American identity. "There was this one site, Jerome, in Arkansas that was super cold, and I'm playing violin, improving," he mused.
He remembered learning a fact that ran against the popular narrative surrounding Japanese American incarceration camps. "These camps had a lot of only Japanese-speaking people in them, where half of the camp barely spoke in English. And now a lot of the people, the historians who are talking about this, really don't speak Japanese anymore because they were forced to give up their Japanese in order to assimilate" he said. And in a particularly moving moment, he pinpointed Jerome as the site where he "started to realize that there was a huge voice that was not being heard in this history" because their cultural identity was forcefully taken away.
This newfound fact was particularly painful to Kishi Bashi, who grew up in a family that embraced their Japanese heritage. Growing up speaking Japanese and heartily consuming manga, he was never ashamed of his Japanese identity. But he expressed the loss of cultural identity through language as something that can return. "I think parents do their best to give their kids back that culture, and then hopefully it's like a seed so that later in life they can pick it back up and relearn their language and reclaim it."
MUSIC: Messages
Kishi Bashi didn't shy away from using music as a messenger of the emotions that he felt visiting the incarceration camps. He insisted on the potential of music as an incredibly powerful platform that can create omoiyari and inform people. He uses this music methodology with "Red White and Blue," a new song that debuted in the film. Laughing at the satirical title, he explained how the song is a carrier "of being heartbroken by your own country and just feeling afraid again."
Layered in the feelings of betrayal inside one's own community, the song speaks of the history embedded within the incarcerated Japanese American community. "When these people were incarcerated in World War II, I'm pretty sure they felt the same way [as in "Red White and Blue"]," he said. "Their government failed to protect them against the prejudice and the racism that enabled them to become imprisoned in the country that they call home."
While the film embraced learning through history, Kishi Bashi described his composition process not based purely on fact, but also through emotion, "like how they were feeling at the time, were they in love, were they distressed, were they heartbroken, were they disconnected, or the kind of loneliness that emerges from disconnect."
And to this, he regarded the ever eternal concept of omoiyari as an emotional ability that extends through time. "You go back and you see they're falling in love and getting dumped, just like we do in our modern times. They're just like us. And that's the kind of empathy that I'm trying to create and cultivate with this music and the movie too," he declared.
FUTURE: From Now On
Through the six years of making this film, Kishi Bashi expressed how American society has adapted further openness to biculturalism. Although he admitted to the ongoing struggle of social issues in America against marginalized communities, he affirmed that the popular narrative has shifted, with "the idea of what Americans should be like not just about white people, but about a lot of immigrants who really contributed to this country and created this different America than what we had thought of in the past."
Powering on with optimism, he encouraged the younger audience to believe that "America is really changing for the better as far as diversity is concerned." Kishi Bashi insisted on this, saying that "we're cultivating more and more empathy as we become more sophisticated." And within this film about self-discovery and compassion, he extended a message of hope as he "wants people to feel how this is an empowering film for them to be able to feel more comfortable in their space here in America."
Music from the Song Film: Omoiyari (2023) is Kishi Bashi's upcoming album set for release in November, documenting the soundtrack of OMOIYARI. Combining unique versions of previously released songs with the film's orchestral score, the two-LP album carries the emotional weight of history and hope.
OMOIYARI is now screening in select theaters across America. To catch a more in-depth performance by Kishi Bashi, his OMOIYARI tour will take him across America starting this November. Check out more OMOIYARI content on their official website and Instagram.
Interested in more ACT!ON interview content? Read our piece on director Wesley Wang's nothing, except everything here!